Video: World Cup Reporter Destroys Man Who Tried to Kiss Her on Air
Days after a Russian World Cup fan apologized for kissing and sexually assaulting a reporter on camera in Moscow, a fan attempted to harass another journalist in Ekaterinburg.
Brazilian reporter Julia Guimarães dodged the assailant and warned him "never [to] do this to a woman," prompting an outpouring of support and admiration on social media.
The incident took place live on air, on Brazilian channel Sport TV, when broadcaster Julia Guimarães was wrapping up her segment from the streets outside the Russian stadium hosting Sunday's match between Senegal and Japan. Just as she finished speaking to camera, a man in a blazer jumped into frame and tried to kiss her, at which point she moved away from him. Visibly angry, Guimarães hit back.
"Don't do this! Never do this again," she shouted at him in English. "Don't do this, I don't allow you to do this, never, OK? This is not polite, this is not right. Never do this to a woman, OK? Respect."
The man can be heard saying: "I'm sorry. OK," as he walks away from her.
Brazil's Globo Esporte program posted a clip of the incident on Twitter.
"It's hard to find the words," Guimarães tweeted in response to the video. "Luckily, I have never experienced this in Brazil. Over here it has happened twice. Sad! Shameful!"
Speaking to Globo Esporte afterward, she said that she felt fortunate never to have experienced such an incident in her homeland, but revealed that the attempted kiss on Sunday followed a similar attempt by another fan to kiss her while she was reporting on the Egypt and Uruguay match on Friday.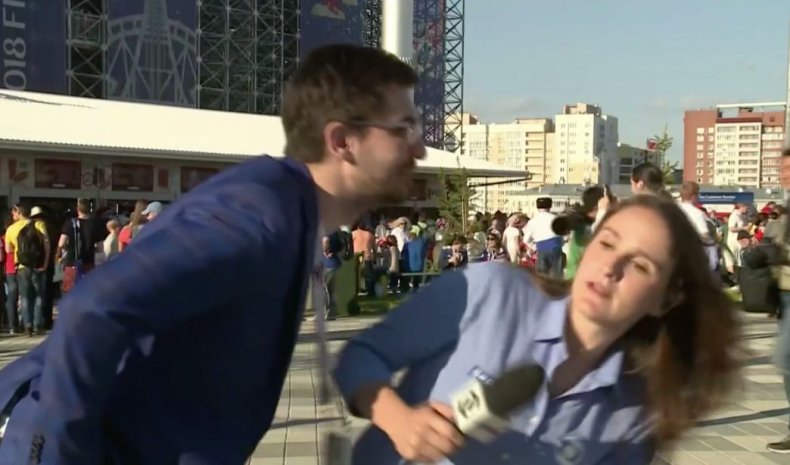 "I feel helpless, vulnerable," she said. "This time I gave an answer, but it's sad, people do not understand."
On the tournament's opening day, Deutsche Welle reporter Julieth González Therán experienced sexual assault while delivering a segment for DW Español. A much larger male fan had waited for her broadcast to begin, before rushing into frame, grabbing her and kissing her, and then running off.
The fan later visited the Deutsche Wellestudio in Moscow and read out a written apology, while video chatting with González Therán, who explained to him that his actions had made her uncomfortable, but accepted his apology.
Attitudes toward sexual harassment in Russia are markedly different than in the West, with state media openly defending men accused of harassment and even rape in the #MeToo and #Time'sUp movements.
The closest Russia has come to a high-profile harassment scandal in the wake of #MeToo has been a series of allegations from at least three female reporters against Russian lawmaker Leonid Slutsky. The Russian parliament's Ethics Committee threw out the allegations after a single session and the lower house's chairman advised journalists who fear unwanted sexual advances or feel unsafe in parliament to find other jobs, while female lawmakers blamed the women for inviting the alleged advances.
"Nobody ever harassed me," said Raisa Karmazina, a member of the Ethics Commission. "I was 300 times more beautiful than them, and I was not any stupider either. I have been working for 50 years. It will be 49 years of service on July 1, since I was aged 18, and nobody [has ever] harassed me."
Karmazina's colleague and the head of parliament's committee on women's rights, Tamara Pletnyova, suggested women should not report sexual harassment and dress conservatively if they fear unwanted advances or sexual behavior.