'Watchmen' on HBO: Was the Tulsa 1921 Massacre Real?
HBO's take on Watchmen began with a historical flashback to Tulsa in 1921 to a race riot-turned-massacre that has shaped much of the 2019 that the series plays out in. This massacre is based on a real historical event where over 300 African Americans lost their lives.
The real-life event began on the morning of May 30, 1921, after a young black man named Dick Rowland rode in an elevator with a white elevator operator named Sarah Page. According to the Tulsa Historical Society: "The details of what followed vary from person to person. Accounts of an incident circulated among the city's white community during the day and became more exaggerated with each telling."
According to History.com, Rowland was arrested the following day on sexual assault charges (charges that were eventually dismissed) and the local paper published a sensationalized account of the incident that led to a confrontation between 75 black men and 1,500 white men outside the courthouse where Rowland was being held. After shots were fired, the black group retreated to Greenwood, an affluent African American community known locally as "Black Wall Street."
The next day, a white mob starts burning and looting Greenwood, starting fires that would end up burning 35 city blocks, causing the governor to declare martial law and leading to the guardsmen to imprison black Tulsans, some for over a week.
Once the 1921 Tulsa riot had ceased, there was an official death count of 36, though up to 300 people may have died according to a 2001 Race Riot Commission, with over 800 people injured and 8,000 made homeless.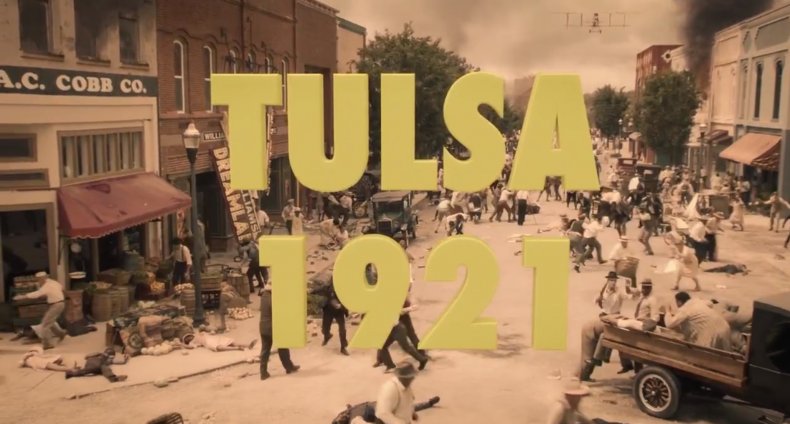 In Oklahoma, the subject has been required teaching in the state since 2000 and has been included in local history books since 2009. However, the massacre was still relatively forgotten across the U.S. before it featured on Watchmen.
In the series, relatives of victims of the 1921 Tulsa massacre have been granted reparations, known as "Redfordations" in Watchmen after the president in the show, actor Robert Redford.
According to Variety, the world of Watchmen as we see it in the HBO show is based on an alternate-history America where the descendants of the victims of the events at Tulsa took a case out against the state and the city made it all the way to the Supreme Court and won there.
Showrunner Damon Lindelof said of building this alternate history for the series: "This was to the point where we had to build an entirely fictitious Supreme Court. If Redford is elected in '92, then what was Nixon's Supreme Court, and what's Redford's, and if we're eventually solving for this thing called the Victims of Racial Violence Act that passes some form of reparations, how did that get passed?"
He said of his decision to focus part of his series on the events of Tulsa and his decision to tackle the controversial topic of racial reparations: "I don't know what it's like to move through the world as a person of color, and so I rely on the opinions of people of color to make this story as authentic as possible. We had to accept that it would be triggering in some instances, but we wanted to explore it nonetheless. The point was not to provoke, but we have to acknowledge that we are dealing with provocative material."
Watchmen airs Sundays at 9 p.m. ET on HBO