An estimated 13 million people in Texas were under boil water notices Thursday afternoon as officials responded to the winter storm that triggered power and water outages across the state.
While power was restored to an estimated 2 million Texans by Thursday, Chief W. Nim Kidd with the Texas Division of Emergency Management said water "will continue to be a challenge" due to frozen and broken water lines across Texas. The outages are not just affecting the drinking water that flows to residential customers but are also impacting the organizations and businesses that rely on institutional water, he said.
"The place we are right now, with almost every single water institution impacted—not only from the frozen lines in our homes but the frozen lines in the streets that are running institutional water—water will continue to be a challenge," Kidd said during a Thursday news conference.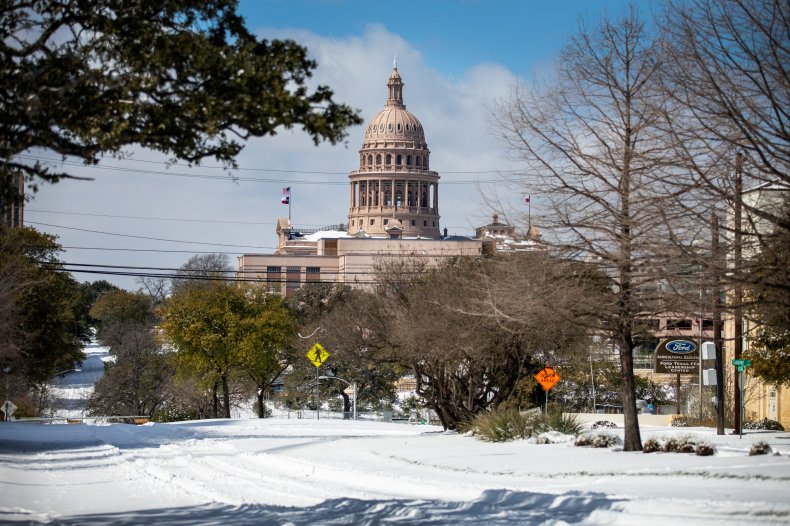 Toby Baker, the executive director of the Texas Commission on Environmental Quality (TCEQ) who appeared alongside Kidd and Texas Governor Greg Abbott during Thursday's news conference, said nearly 800 of the state's approximately 7,000 public drinking water systems reported problems as a result of the storm.
About 725 of those public drinking water systems reporting problems were under a boil water notice, which Baker said affects an estimated 13 million Texans.
Baker said state officials are working with local water systems to get them back up and running and are also collaborating with laboratories across the state to ensure they're ready to receive samples once those systems have been restored. Every system under the boil water notice will have to have their water samples cleared by a lab in order to lift the notices.
"To come out of a boil water notice, the requirement is that you do a bacteriological sample and analysis to make sure that water's clean," Baker said. "That's why we're working with the labs across the state to make sure that those labs are ready to take those samples as soon as the integrity of the systems is restored."
Texas officials have asked the U.S. Environmental Protection Agency (EPA) to send two mobile labs to the state to assist the local labs, Baker said.
The EPA confirmed to Newsweek that it received the request for the mobile labs.
"EPA has been closely coordinating with TCEQ to identify needs and any available assistance to help the state," the EPA said. "TCEQ has submitted their request to Texas Department of Emergency Management. EPA has identified mobile labs that can travel to Texas. Arrival times may vary based on weather conditions and the ability to arrive safely to the testing site."
Kidd said Texas' emergency response team is in contact with officials at the federal level and in other states to assist with Texas' current water challenge. In the meantime, he encouraged Texans to be careful about their water consumption.
"We need to continue to conserve water, we need to be careful with the use of water, and together we'll get through the water challenges," Kidd said.
This story was updated on February 19 to include a response from the EPA.