Water parks are being closed in Florida as freezing temperatures and wind chills are being warned for the state.
According to the National Weather Service (NWS), weather warnings for freezing temperatures has been issued for the counties of Inland Volusia, Northern Lake and Southern Lake. This includes the cities of Debary, Deland, Deltona, Eustis, Mount Dora, Leesburg, Tavares, Clermont, Mascotte, and Groveland. The warning remains in effect between 1:00 a.m. until 8:00 a.m. EST on Wednesday, as subfreezing temperatures as low as 30 degrees Fahrenheit are expected.
For northeast Florida and southeast Georgia, a freeze warning is in effect from midnight through to 10:00 a.m. EST on Wednesday, with temperatures dropping to as low as 26 degrees Fahrenheit.
NWS advises that residents should take appropriate action to ensure tender vegetation and outdoor pets have protection from the cold. It also warns that young children, the elderly and homeless will be especially vulnerable to the cold and care should be taken to ensure they are safe.
The freezing temperatures in the state have resulted in the closures of several water parks including those at Universal Orlando Resort and Walt Disney World.
According to Universal Orlando's Twitter page, Volcano Bay is closed due to cold weather and will remain so until Wednesday.
It is not clear whether it will reopen on Thursday. The Walt Disney World website advises that the Typhoon Lagoon Water Park and Disney's Blizzard Beach Water Park are also closed, though the former and Splash Mountain in the Magic Kingdom are closed for refurbishment.
At the time of reporting, Sea World Orlando remains open.
NWS has also issued an advisory from 7:00 p.m. this evening until 9:00 a.m. EST Wednesday morning for wind chills. According to the alert, south Florida will be affected by wind chills ranging from the mid 20s to the mid 30s.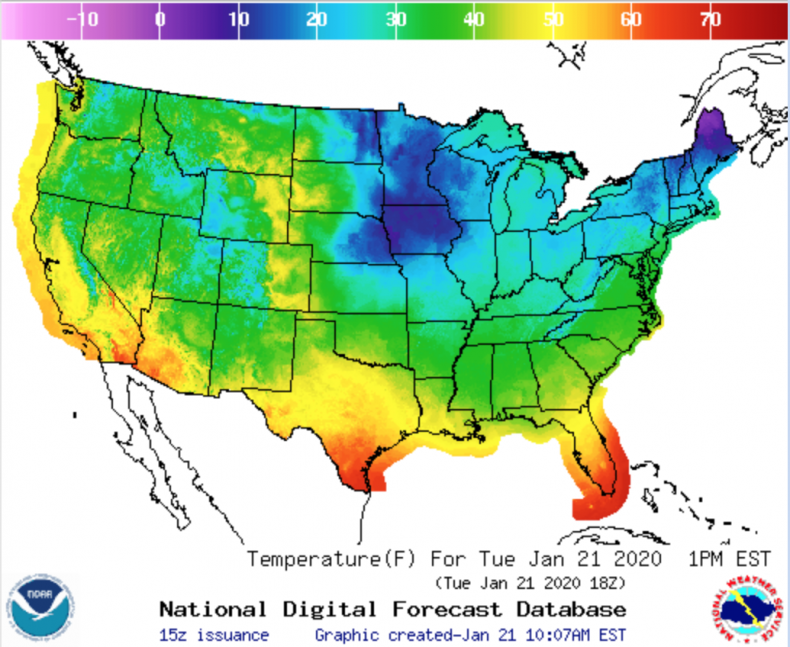 A wind chill advisory means that cold air and strong winds will combine to generate low wind chills, according to the NWS. This will result in frostbite and could potentially lead to hypothermia if precautions are not taken. For those needing to venture outdoors, make sure a hat and gloves are worn.
Portions of the northeast and northern Florida have an advisory until 10:00 a.m. EST Wednesday. The NWS forecasts that very cold wind chills will be as low as 20 to 25 degrees Fahrenheit in northern locations and 25 to 30 degrees Fahrenheit for central and southern locations.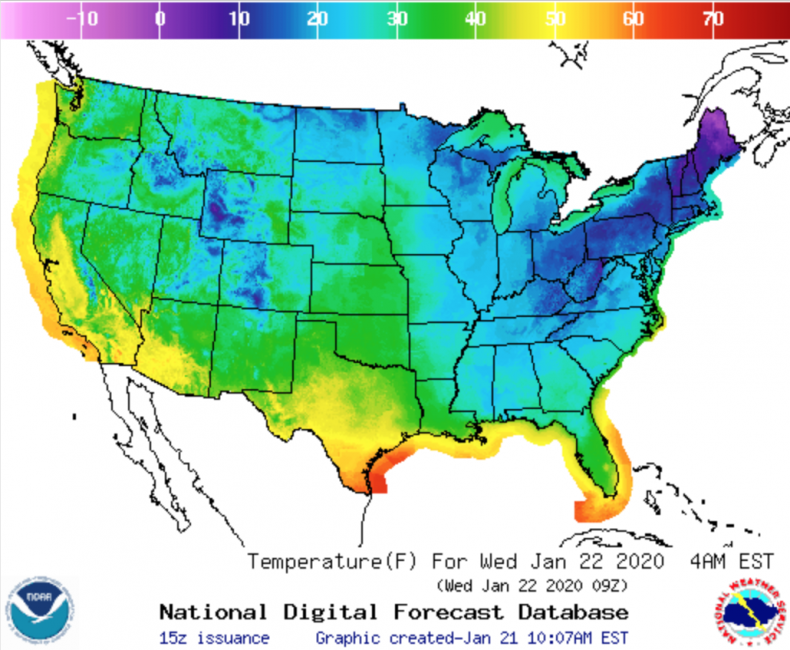 Cold weather is also forecast for the southern states through Wednesday, with below average temperatures remaining across eastern Texas and Oklahoma. This is due to a storm system approaching from the west, which will bring snow and freezing temperatures.