Safe for Kids: Some California Water Slides Closed After Boy Falls Off Ride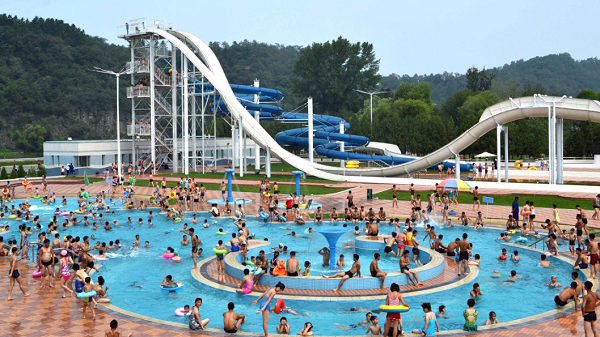 Water slides and roller coasters have long been enjoyed by thrill seekers at amusement parks in the U.S., but there has been a level of concern regarding the safety of these rides since America's first water park, Wet 'n Wild, opened in 1977.
Although there have been few deaths at the U.S.'s 405 amusement parks—including zoos, water parks, aquariums and science centers—at about 2.5 annually, according to a 2016 CNN report, park rides have been under an increasing level of scrutiny in recent years.
That may be why a water park in California shut down its highly anticipated new water slide on opening day after a little boy fell off the ride Saturday.
The Wave at Emerald Glen Park, located 27 miles from San Francisco in Dublin, closed a few of the water slides at its $43 million complex after a 10-year-old boy sprung from the three-story slide named the Emerald Plunge, East Bay Times reported. A photographer from the local newspaper captured footage of the 10-year-old boy spinning 180 degrees into the air after passing over one of the slide's chutes while on his way to the bottom.
Despite landing on a concrete walkway on his right shoulder, the boy ended up with only a few scrapes and bruises from his fall. A park spokeswoman told the newspaper that the boy was "just shaken up" by the incident and was fine following treatment by first-aid workers.
However, the accident was more than enough for park officials to pull the plug on the Emerald Plunge, which features an 80-degree drop to the ground, just 90 minutes after the ride began operating. The Dublin Screamer, adjacent to the Emerald Plunge, was also closed that same day, and park authorities decided Sunday to close down a third slide called the Riptide Rider.
In a statement released Monday by the city of Dublin, authorities announced the slides would remain closed until they are reviewed and deemed safe by the California Division of Occupational Safety and Health. Three other slides at the water park remain open for riders.
Riders must be at least 4 feet tall to experience the water slides at The Wave at Emerald Glen Park.
Last year, a slew of amusement parks came under fire for faulty regulations and security measures after a number of young people died or were injured in ride accidents during a five-day span in August. That included a 3-year-old boy falling out of a roller coaster at Pennsylvania's Idelwild and Soak Zone, a 10-year-old boy killed at Schlitterbahn Water Park in Kansas City and three children falling from a Ferris wheel at a Tennessee county fair. Earlier in the year, an 11-year-old girl was killed after her hair got caught in a spinning ride at a carnival in Nebraska.