Watercolor Painting by Adolf Hitler Sells for $161,000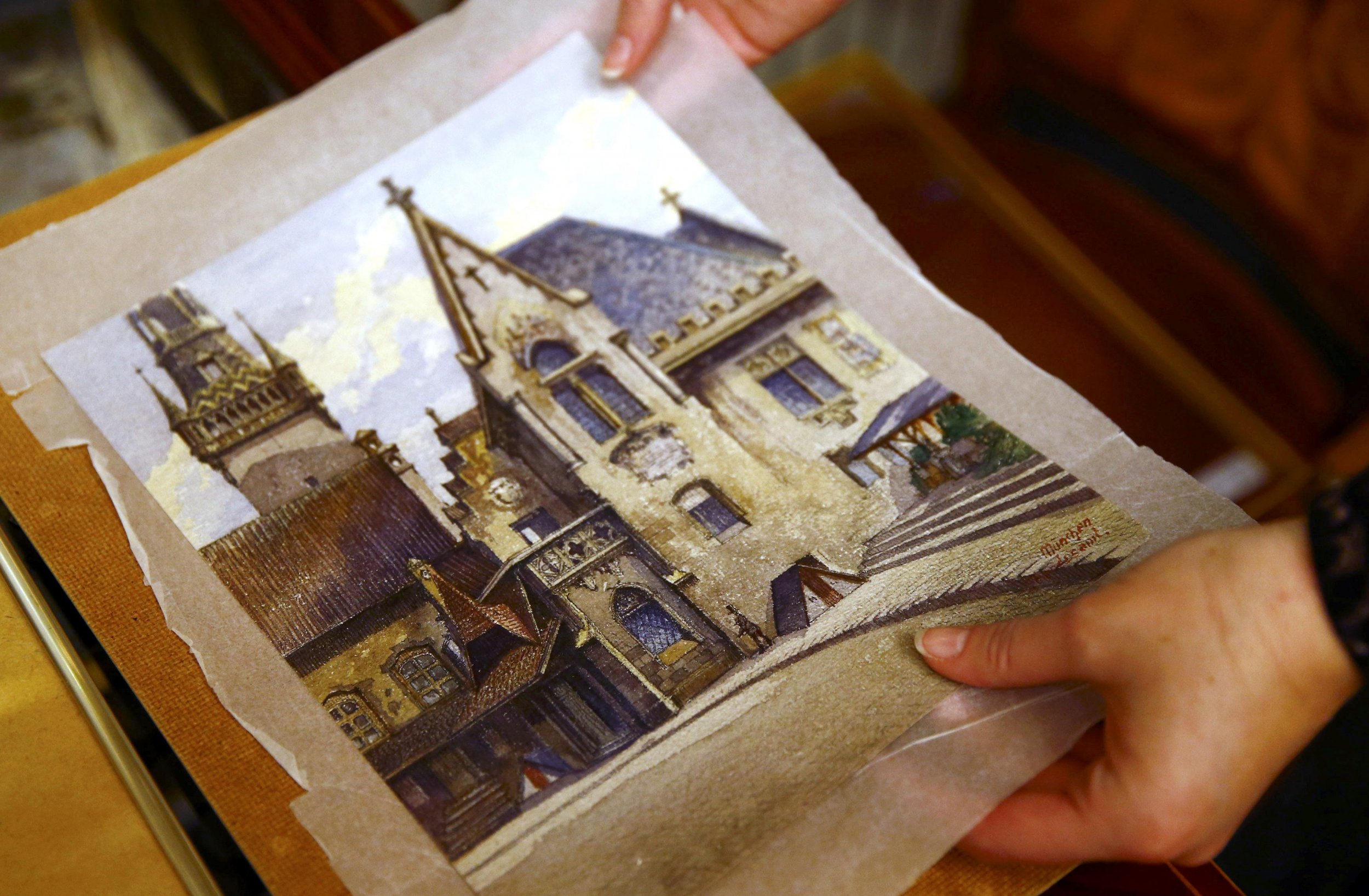 He's better known for planning the Nazi takeover of Germany and much of Europe, triggering World War II, and leading the extermination of six million Jews and millions of others deemed inferior to the Aryan race. But before he became an infamous dictator, Adolf Hitler was an aspiring artist whose ambitions of being a famous painter were dashed.
On Saturday, a watercolor signed "A. Hitler"—believed to be a creation of the Führer-in-making —sold for 130,000 euros, or roughly $161,000. Entitled Standesamt und Altes Rathaus Muenchen (Civil Registry Office and Old Town Hall of Munich), the painting went on the block at the Weidler auction house in Nuremberg, a city in the German state of Bavaria where Hitler staged mass rallies and gave impassioned speeches as leader of the Nazi Party during the 1930s. The city was also the site of the post-war Nuremberg Trials in 1945 and 1946, during which nearly two dozen Nazis were tried for war crimes.
The painting depicts the old town hall in the city of Munich, a mostly-deserted slice of street with just one lone speck of a figure visible in front of the building. The 28-centimeter by 22-centimeter painting is in very good condition, the auction house says, according to a statement it emailed to Newsweek. Its artistic merit, however, is a matter of debate.
"It's perfectly well done," Kathrin Weidler, director of the auction house, told the Associated Press, "but I'd rate its artistic value as fairly minimal."
Adolf Hitler moved to Vienna in 1908, apparently to continue pursuing a spot at the Academy of Fine Arts, but the prestigious institution rejected him twice. He began making ends meet by painting watercolor scenes of the city. The painting sold Saturday is thought to have been made in 1914, after Hitler had moved to Munich.
Bidders from four different continents vied for the depiction of Munich's old town hall before it went to a buyer from the Middle East, Weidler told the AP. She declined to provide any additional details.
The painting previously belonged to two sisters from Hesse, according to the German English-language news site, The Local. Their grandfather purchased it in 1916 and an aunt later brought it to the sisters from East Germany, the auction house says. Wrapped in tissue paper, it sat in a drawer for decades before they contacted the auction house to sell it.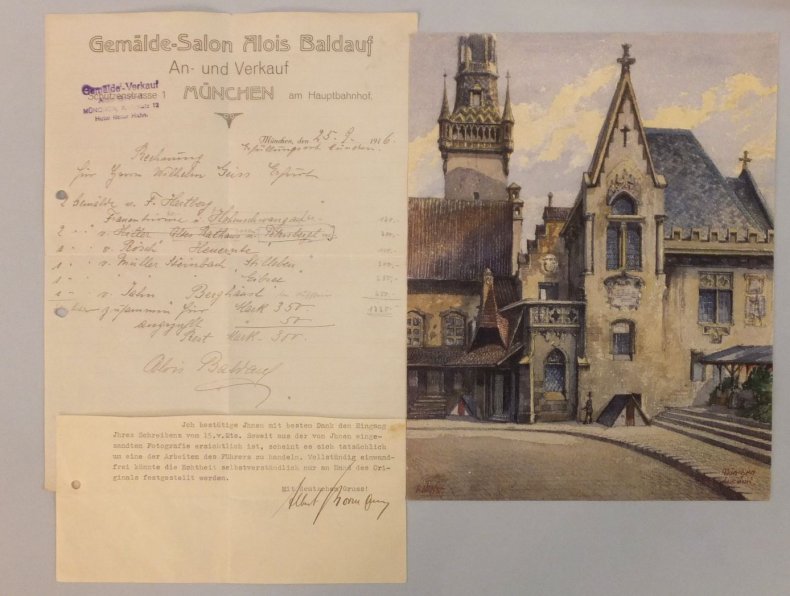 The block included an original handwritten bill of sale from a Munich gallery as well as a letter signed by Albert Bormann, the brother of Hitler's private secretary Martin Bormann. Weidler told Reuters these documents may account for the selling price, which was higher than that of previous Hitler artworks.
In 2009, 14 watercolors and one oil painting believed to be by Hitler sold for a total of $120,000 at the auction house Mullock's of Shropshire in England. Three years later, in 2012, an apparent mixed-media painting of a moon over the sea by Hitler, titled Maritime Nocturno, sold for 32,000 euros, which would now be just shy of $40,000. The Weidler auction house has sold five other works by Hitler at previous auctions for between 5,000 and 80,000 euros (roughly $6,000 to $100,000).
The sale of Hitler's art in the past has spurred debate between those who are deeply disconcerted by the thought of celebrating the creative endeavors of a man who caused so much destruction and spread so much hate, while others see it as part of history like any other artifact or piece of historic memorabilia.
"Who would want to have in their house a painting by the most horrible murderer in the history of mankind?" Rabbi Marvin Hier, founder and dean of the Simon Wiesenthal Center—an organization headquartered in Los Angeles that researches the Holocaust as well as historical and contemporary prejudice and racism—asked CNN when the set of paintings sold in 2009. "Any individual that would buy it to hang in their homes should be ashamed of themselves," he said, though he conceded that it would be different matter if such paintings were acquired by research institutions.
Richard Westwood-Brookes, a historical document expert at Mullock's disagreed.
"It's just as much as part of the Second World War as photographs of Churchill. It's something that happened and you can't ignore it," he told CNN. "The intention is that people will acquire this material and make sure it is preserved for future generations to study."