NASA astronaut Jessica Meir has captured a spectacular photo of Louisiana's Gulf Coast from the International Space Station, orbiting around 250 miles above the Earth.
The image—which was posted to Twitter—looks almost like a watercolor painting, with the Gulf of Mexico visible in the bottom left and the state's coastline taking up the rest of the frame.
"The #Mississippi River delta looking like somebody spilled their watercolors. That's #NewOrleans nestled up on Lake Pontchartrain to the right of center, and #BatonRouge up above the lake. #Louisiana #EarthArt," Meir wrote in the Twitter post accompanying the image.
The Mississippi River Delta—where the river meets the Gulf of Mexico—is the seventh largest river delta on Earth, encompassing around 4,200 square miles of coastal wetlands, according to the U.S Geological Survey (USGS.)
Louisiana's wetlands make up around 40 percent of the coastal wetlands in the lower 48 states, according to the USGS. These wetlands have been formed by floodwaters depositing sediments over thousands of years.
Louisiana's wetland ecosystem plays a hugely important role in the lives of the state's residents which are intimately tied to this habitat, as is the regional economy. Nearly 50 percent of the state's population lives on or near the coast.
The delta is also home to a large variety of wildlife, including the American alligator, and federally endangered animals such as the Louisiana black bear, piping plover, and green sea turtle, according to the National Wildlife Federation (NWF.) Migratory birds use the delta as a stopping-off point, while fish come to its waterways to breed.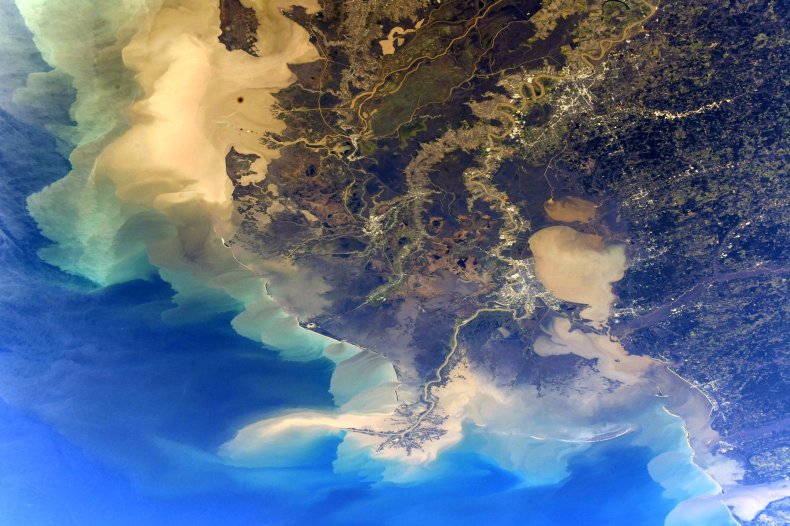 However, this ecosystem is under severe threat with the state losing about 24 square miles of wetlands every year. In fact, the state has lost an area of land roughly equivalent in size to Delaware since the 1930s. And if nothing is done to stop this decline, some parts of the Louisiana coast could move inland by around 33 miles by 2040, according to the NWF.
Losing wetland areas means losing vital "ecosystem services," such as their ability to provide protection against storm surges and high winds, reducing the damage caused by hurricanes.
While there are natural causes behind wetland loss—such as erosion caused by waves and subsidence (essentially, the sinking of the ground)—humans also have a significant role through the construction of infrastructure such as levees, canals and dams.
Meir, 42, arrived at the International Space Station in September 2019 and has been a member of both the Expedition 61 and 62 crews. In October that same year, she made history by taking part in the first all-female spacewalk alongside NASA astronaut colleague Christina Koch. The spacewalk was conducted in order to replace a malfunctioning battery charger on the space station.
During her time on the space station, Meir has taken part in cutting-edge research, including investigations into how our biological clocks respond to the effects of microgravity and sustainably growing plants in space.