Former Watergate Prosecutor Says There's 'More Than Enough Evidence' to Warrant Investigation into Rudy Giuliani
Enough evidence exists to investigate President Donald Trump's personal attorney Rudy Giuliani in a separate criminal probe surrounding the unfolding Ukraine scandal that has launched an impeachment inquiry for the president, a former Watergate prosecutor said.
"There is more than enough evidence to warrant an investigation of Giuliani," said attorney David Dorsen. Dorsen was the assistant chief counsel of the Senate Watergate Committee and served as an assistant attorney general in New York's Southern District.
Potential charges that could arise from an investigation into Giuliani include campaign law violations, bribery and obstruction of justice.
"The possibilities are many depending on the facts," Dorsen said. "It is a wide-ranging issue that could run afoul of some very serious criminal statutes."
Newsweek subscription offers >
Giuliani has denied wrongdoing but has acknowledged that he worked with Ukrainian officials to dig up dirt on former Vice President Joe Biden and his son Hunter. Two men who worked for him in this effort, Lev Parnas and Igor Fruman, were arrested last week and charged with campaign finance violations for trying to funnel foreign money to candidates for federal and state offices.
The New York Times and the Wall Street Journal have reported that federal prosecutors are already looking into Giuliani's business dealings with Ukraine and whether he violated federal lobbying laws. Reuters also reported on Tuesday that authorities were "examining Giuliani's interactions" with his two indicted associates.
Giuliani has said he is unaware of any criminal investigations against him. He's also asserted that federal prosecutors have no grounds to indict him because he was acting on behalf of his client: Trump.
But Dorsen said that attorney-client privilege doesn't necessarily apply to this case. Privilege only applies to legal advice from a lawyer to their client, not business advice or political advice. Plus, communication between a lawyer and a client on how to violate a law or engage in criminal activity is not protected by attorney-client privilege.
Newsweek subscription offers >
"Lawyers have a certain freedom to represent people after a crime is committed but when they represent them during the course of criminal conduct, I find that very worrisome," Dorsen said.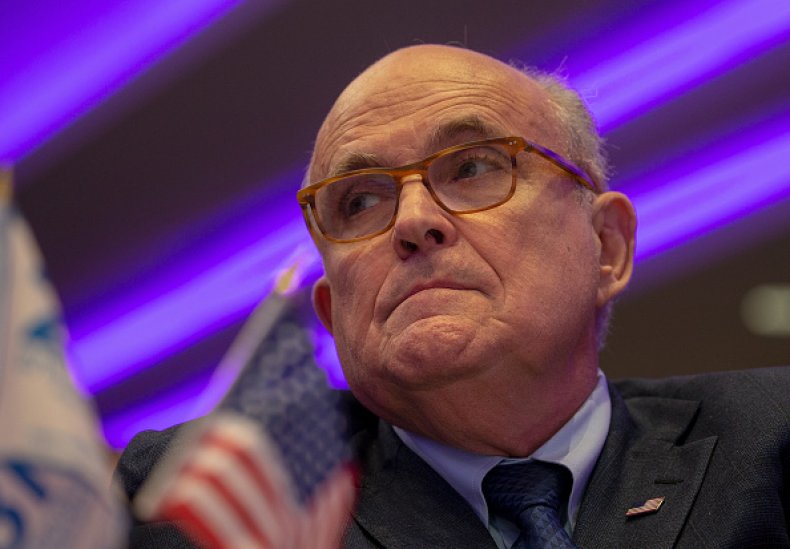 If an investigation were to show Giuliani's participation in criminal conduct, he added, prosecutors can attempt to arrange a deal with him in exchange for information on Trump and his role in the Ukraine matter.
It that happens, it wouldn't be the first time that Trump's personal lawyer turned on him. The president's longtime "fixer" Michael Cohen is currently serving a three-year prison sentence for a slew of crimes, including tax fraud, lying to Congress and campaign finance violations. Cohen told authorities that he only participated in these illegal schemes at the direction of Trump.
Trump has defended Giuliani as a "very good attorney" and slammed reported investigations as "shameful."
"So now they are after the legendary 'crime buster' and greatest Mayor in the history of NYC, Rudy Giuliani," Trump wrote in a tweet over the weekend. "He may seem a little rough around the edges sometimes, but he is also a great guy and wonderful lawyer. Such a one sided Witch Hunt going on in USA. Deep State. Shameful!"
Former Watergate Prosecutor Says There's 'More Than Enough Evidence' to Warrant Investigation into Rudy Giuliani | U.S.