Waterspout Spotted Off Eastpoint Coast As Tornado Watch Issued in Florida
A waterspout was spotted off the coast of Eastpoint, Florida, on Thursday afternoon. A weather alert for the waterspout and the hurricane associated with it was issued in Franklin County.
Joshua Parker, owner of Eastpoint Beer Company, filmed the waterspout as it emerged over Apalachicola Bay. Parker told ABC27 he spotted the waterspout soon after receiving a weather alert, adding: "And within about a minute, it hit like a freight train. We got a pretty sizable waterspout out across the bay there."
In the original video posted to the Eastpoint Beer Company Facebook page, Parker says: "There is a tornado on the water, it could be classified as a waterspout, but that is a tornado, basically in our front yard. That is amazing."
Other areas of Florida were impacted by the storm, with Okaloosa County Sheriff's Office reporting trees downed by a reported tornado around 3 p.m. ET on Thursday, as well as damaged buildings in the area. Local reporters also shared photos of damage in Panama City.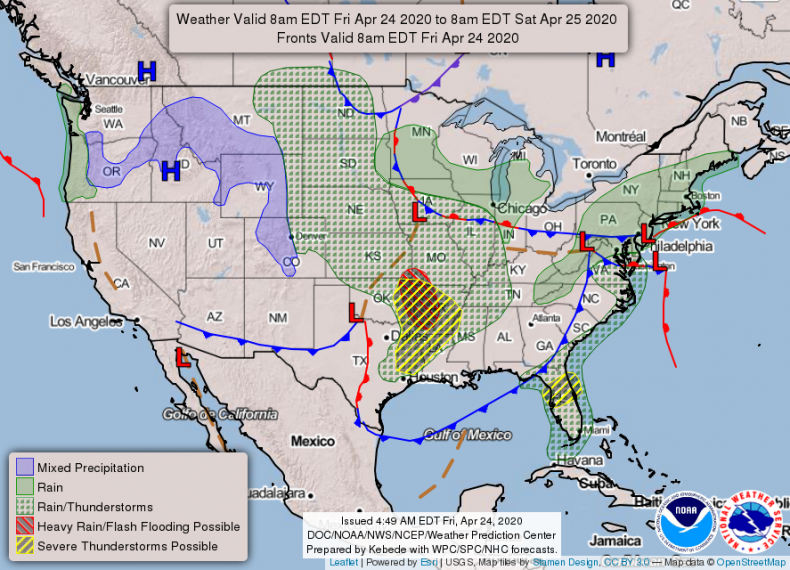 According to the National Weather Service, there are active tornado warnings in Hillsborough, Pasco, and Pinellas, set to expire at 5.30 a.m. on April 24.
There are active tornado watch warnings in Flagler, Marion, Putnam, Brevard, Citrus, Hardee, Hernando, Hillsborough, Lake, Levy, Manatee, Orange, Osceola, Pasco, Pinellas, Polk, Sarasota, Seminole, Sumter, and Volusia counties, set to expire at 11 a.m. ET on April 24.
Additionally, there are flood warnings in Gadsden and Jackson counties, set to expire at 1 p.m. ET.
Storms have been causing damage across the south since Wednesday, with reports of building damage, injuries, and seven deaths in Mississippi, Alabama, Georgia and Florida.
South Carolina also experienced extreme weather, with reports of flooding in Charleston. A Charleston reporter shared a video of a woman wading through deep water, and a Charleston resident shared a video of a flooded street, saying: "The water rose significantly from the video I posted just an hour ago! At least 3ft at the deepest, with high tide still coming up around 9ish."
In Georgia, Colquitt County reported extensive damage, including downed trees, power lines and damaged buildings, in the southern part of the county. Minor injuries were also reported in Adel, Cook County.
The Weather Channel reported that around 50,000 homes and businesses were without power on Thursday evening due to the storms.