A dramatic new video shows a massive grey waterspout on Smith Island in Maryland reaping havoc and ripping the roof off a house.
"That is a huge waterspout. Look how big that is," a woman can be heard saying on the video as the waterspout is pictured and strong winds can be heard in the distance on the Somerset County island.
Waterspouts are tornadoes that form over water or move from land to water, according to the National Oceanic and Atmospheric Service (NOAA).
"It's getting ready to hit the channel. It's in the channel. Oh gosh! Oh Lord!" the woman shouted as the waterspout is caused debris to fly around and a house's roof is seen getting torn off by the tornado.
"Jesus, god!" the woman yelled.
Chesapeake Bay Magazine reported that the waterspout came ashore just before 7:30 p.m. local time Thursday. It caused chaos, as Smith Island has a vulnerable low-lying waterfront.
"It took the third story off an Airbnb and destroyed the house next to it," witness Daniel Somers told Chesapeake Bay Magazine. "Also several shanties were destroyed as well as a boat flipped over."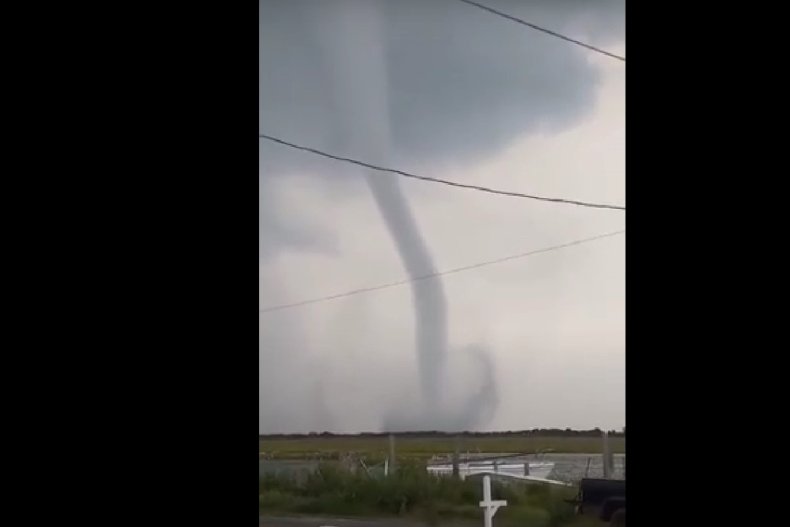 The National Weather Service in Wakefield, Virginia issued a special marine warning for the Chesapeake Bay in the area surrounding Smith Island, noting that the storm had wind gusts over 34 knots and warned of high waves in the harbor.
"We had multiple tornadoes and waterspouts knocking out houses and powerlines along the way," Ewell Fire Department President Robert Jones said. "Some minor injuries but overall nobody is badly hurt. I would have never imagined this to happen here."
Several thunderstorms hit the Chesapeake Bay region on Thursday night, causing widespread outages and lighting.
Baltimore area saw intense heat and humidity followed by thunderstorms on Thursday night, and those storms are projected to continue today.
Storms in Baltimore knocked down trees, blocking and disrupting roads. Flash floods also submerged vehicles.
WMAR news reported that there were at least 65 trees that fell in Baltimore. Mayor Brandon Scott said on Thursday evening that two to four inches of rain fell in Northeast Baltimore.
As of Friday morning, storms cut power for 21,960 Baltimore Gas & Electric customers, according to the utility company's outage map.
Several Baltimore County schools were forced to close on Friday after the severe storms left them without electricity.
Newsweek has reached out to the National Weather Service for an update.
Near the White House in Washington D.C., four people were in critical condition after being struck by lightning on Thursday night. Two men and two women were struck near a tree in Lafayette Park, close to the fencing surrounding the White House complex. Secret Service members and park police helped the victims at the scene before ambulances transported the injured to the hospital.