Waterworks Get Failing Grade From Civil Engineers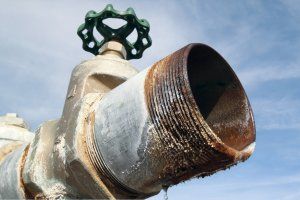 On Labor Day, president Obama announced plans to upgrade "roads and rails and runways." But according to a new report by the American Society of Civil Engineers (ASCE), another class of infrastructure is in more desperate shape: waterworks. National drinking and wastewater systems earned a D-minus in the group's annual report card, the lowest grade in their analysis—and among the most troubling. Each year, according to the report, as much as 10 billion gallons of sewage flow through America's taps; more than 19 million people are sickened. And every day, thousands of miles of old pipes—some made of wood or terra cotta—leak more water than people actually drink, resulting in sinkholes and floods.
While the problem is clear, solving the cost considerations is not. In sparsely populated New Mexico, for example, fixing the water system—which ASCE deemed a more pressing infrastructure project than roads and schools—would require nearly $1 billion. Nationally, the Environmental Protection Agency estimates the need at about $300 billion (ASCE's estimate is even higher). The Obama administration has secured $6 billion—not an insignificant sum, but, given the scope of the financial needs, a drop in the bucket.