Wauwatosa Mayor Says Firing of Officer Who Shot Teen Not His Decision
Mayor Dennis McBride of Wauwatosa, Wisconsin said that although many protesters have called for the firing of Officer Joseph Mensah, that decision does not lie with the police department or the mayor's office.
Mensah shot and killed Black teenager Alvin Cole in February during a disturbance at a Wisconsin shopping mall. Cole was in possession of an allegedly stolen handgun. Mensah fired at Cole five times after allegedly hearing a gunshot. In his criminal review released Wednesday, Milwaukee County District Attorney John Chisholm called Cole's shooting justified and declined to file criminal charges against Mensah. Public outcry over that decision led to demonstrations in Wauwatosa, with many calling for Mensah to be relieved of duty.
During a Monday news conference, McBride said that Mensah's employment "remains the same. His status remains the same because the Police and Fire Commission has a complaint that it is considering. It is not in the hands of the police department, the mayor's office or the common council at this time."
Wauwatosa Police Chief Barry Weber said there was no legal reason for Mensah to be fired. "Joseph Mensah's been cleared by the district attorney in three different cases," Weber said. "There's been no reason to this point, and none that I can see [for Mensah] to be removed from the force."
Newsweek reached out to the Milwaukee County District Attorney's office for comment.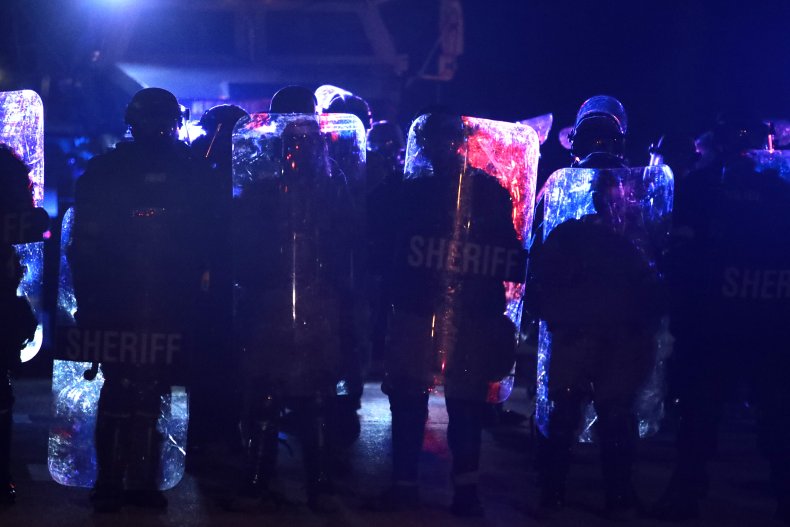 Cole's shooting was the third fatal shooting Mensah had been involved in within a span of five years. Mensah did not receive criminal charges for any of the shootings. People calling for Mensah's firing have used Mensah's history of shooting suspects as part of their reasoning. Chief Weber said there was more to those incidents than meets the eye.
"Let's not keep saying that these people are innocent," Weber said. "I've seen a lot over the past few months that the police department are murderers and these people should be made martyrs. They were acting illegally and it's unfortunate Joseph Mensah was the officer—he can't pick and choose what calls he goes on."
Mensah spoke about the shootings and his suspension from the police force during a July radio interview. "The common denominator in every single one—the suspect was armed," Mensah told WISN. "To call me a murderer without any conviction, without any charges, and then to do something like this, again, I'm angry, I'm frustrated, I'm confused."
Protests over the decision not to charge Mensah began Wednesday. City leaders placed Wauwatosa under a curfew. Some demonstrators who remained on the streets after curfew were arrested by local police, including four on Sunday night. According to a Monday news release from the Wauwatosa Police Department, the presence of law enforcement officers resulted in a "growing voluntary dispersal" of protesters, indicating that the number of protestors out after curfew may be decreasing.