Waves From Hurricane Dorian Send Kilo of Cocaine Worth $30k Crashing Onto Florida Beach
Hurricane Dorian is making its way north along the southeast coast, sending heavy rain, strong winds—and apparently, a single brick of cocaine crashing onto one of Florida's beaches.
According to Melbourne City Police, an officer on foot patrol was approached by someone reporting a "suspicious package" along the shore of Paradise Beach around 8 a.m. on Tuesday. Police said the package recovered at the scene was "consistent with a kilo of illegal drugs," and when taken in, tested positive for cocaine.
The package was sealed, though its outer wrapping appeared the have word "diamantar," the Spanish word for "diamond." Local authorities did not estimate the value of the item and are not providing further details while the matter is being looked into. The police department has since notified the Drug Enforcement Administration of its findings.
"The investigation is ongoing," said Cheryl Mall, Public Information Officer for the City of Melbourne. "Once the investigation is over, it [brick of cocaine] will be destroyed."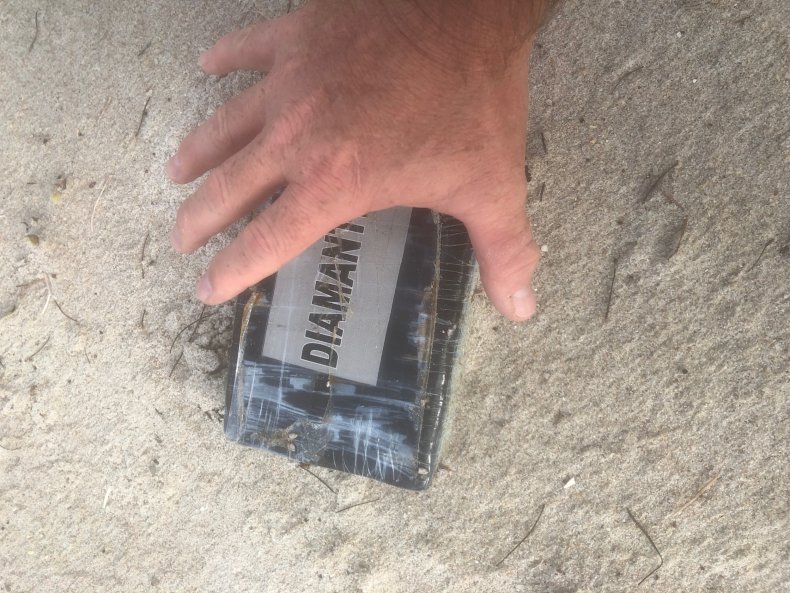 The discovery came days after police found 15 kilos of cocaine in an abandoned duffel bag along Cocoa Beach, which accounts for about five of the 72 miles of beach in Brevard County, Florida. A beachgoer reported the bag to local police around 5 p.m. Friday—prior to Dorian approaching the Florida coast, Cocoa Beach Police Sergeant Manny Hernandez told Newsweek on Wednesday.
"As soon as it's reported, we contact U.S. Customs and Border Protection, who then conduct their investigation," he said.
However, that hasn't stopped the police department from being inundated with questions and responses to the incident—many of them thinking the police had uncovered more than two dozen kilos of cocaine on the beach.
"There were 15 bricks of cocaine found in that duffel bag," Hernandez told Newsweek. "I just want to set the record straight."
Friday's event turned up what is likely to be the largest amount found on Cocoa Beach in recent years, according to Hernandez, who has been with the police department for the last 13 years. "Around here, just one kilo of cocaine goes for between $20,000 to $30,000."
Though Hurricane Dorian began grazing the eastern part of Florida Tuesday night, both Cocoa Beach and its neighbor Paradise Beach remain relatively unscathed.
"We are lucky," Mall said Wednesday, speaking for the City of Melbourne. "We were prepared for the worst thing that could happen, and we didn't have to put them into use."