Former Chief Strategy and Transformation Officer of Federal Student Aid A. Wayne Johnson criticized his former department as being the most "irresponsible" lender in the world.
Johnson worked at the Department of Education from 2017, when Education Secretary Betsy DeVos appointed him to the position of chief operating officer, until his resignation in October. Since leaving the department, Johnson has spoken out about the untenable state of student loan recipients and problems he witnessed within the system.
"The Department of Education is the largest consumer financial lender in the world, and we're the most—in my opinion—irresponsible," Johnson told CNBC on Sunday.
Johnson, who is currently campaigning to represent Georgia in the U.S. Senate, called the student loan situation "absolutely unsustainable." A large part of the problem, Johnson said, was the ever-increasing interest tied to student loans.
Similarly to private loans, people who receive a federal student loan are required to repay their loan amount plus interest. Interest, which, for federal loans is set by federal law, begins accruing when the loan is taken out. Although the Education Department has programs to temporarily alleviate the burden of student debt by allowing people to defer their payments, Johnson noted it doesn't stop interest from piling up.
"Student and parent borrowers are getting crushed," Johnson told CNBC. "It could be argued that we border on predatory."
Interest rates vary based on the date when the loan was taken out and the type of loan. Undergraduates who took out a federal loan on or after July 1 had a fixed interest rate of 4.53 percent and parents, graduate or professional students had an interest rate of 7.08 percent, according to the Education Department.
Johnson estimated that due to interest raising the amount owed, 75 percent of people with student loan debt wake up in the morning owing more than they did when they went to sleep.
The problems in the Department of Education's loan program didn't start with the Trump administration, according to Johnson. He told CNBC the issues go back about 10 years to when the federal government decided to get involved. He characterized the system as "broken" and "flawed" and said the federal government shouldn't be "in the business" of directly loaning money to consumers.
When she appointed him to his initial position as COO, DeVos credited Johnson with being the "right person" to modernize Federal Student Aid. In January 2018, about seven months after his appointment, Johnson was tapped to lead the newly formed Office of Strategy and Transformation.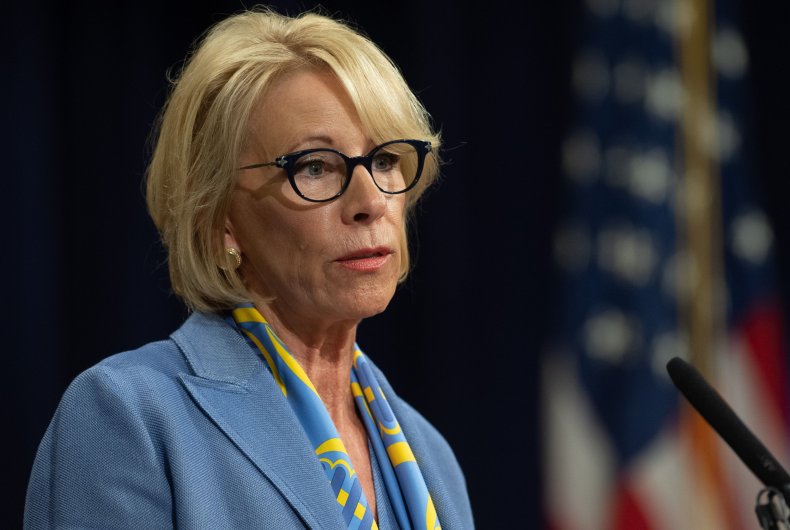 As an Education Department official, Johnson spearheaded the Next Generation Financial Services Environment, aimed at making the application and repayment process easier through an online platform. As a private citizen and Senate candidate, he has called for student loan forgiveness.
"The student loan program is currently, in its form, a broken system. It was an inappropriate experiment for the federal government to be in the direct lending business," Johnson told WMAZ. "We need to go ahead and wipe the slate clean with regard to the amount of current federal loans."
Johnson's plan, as outlined in a press release on his website, would provide students with a $50,000 grant for their education to be used at public and private colleges, as well as for training programs, professional licensing and vocational and trade schools. Those who already have student loans would receive a $50,000 reduction in the money they owed and people who already paid off their debt would receive a $50,000 income tax credit.
Forgiving student debt is a main part of several Democratic presidential candidates' platforms, including front-runners Senators Bernie Sanders and Elizabeth Warren. Johnson's former boss isn't keen on the idea. Days before Johnson's resignation, DeVos appeared on Fox News to discuss the state of American education with host Brett Baier. During the interview, she called plans to forgive student loan debt "crazy," claiming people who don't attend college will have to pay for those who do.
Johnson, a Republican, is hoping Georgia Governor Brian Kemp will appoint him to fill a Senate seat left vacant by Senator Johnny Isakson. In August, Isakson announced he would leave Congress before his term was over, citing several health complications. Whoever Kemp picks will face an election in 2020.