Wayne LaPierre 'a Liability' to the NRA—Seb Gorka
A former adviser to former president Donald Trump has called the National Rifle Association's CEO Wayne LaPierre "a liability."
Sebastian Gorka, the host of podcast America First with Sebastian Gorka, made the remarks during a recent appearance on Newsmax.
"I'm really incredibly disappointed that Wayne LaPierre was quote unquote, re-elected" to lead the organization, he told anchor Grant Stinchfield.
"With him in the chair, the NRA, it's become a dormant organization. He's a liability."
Gorka said gun owners should turn to other gun groups to hit back at Democrats' push for gun safety legislation in the wake of the mass shooting at an elementary school in Uvalde, Texas.
"We have to rely upon other organizations like Gun Owners of America, because this is a midterm election. This is crucial," he said.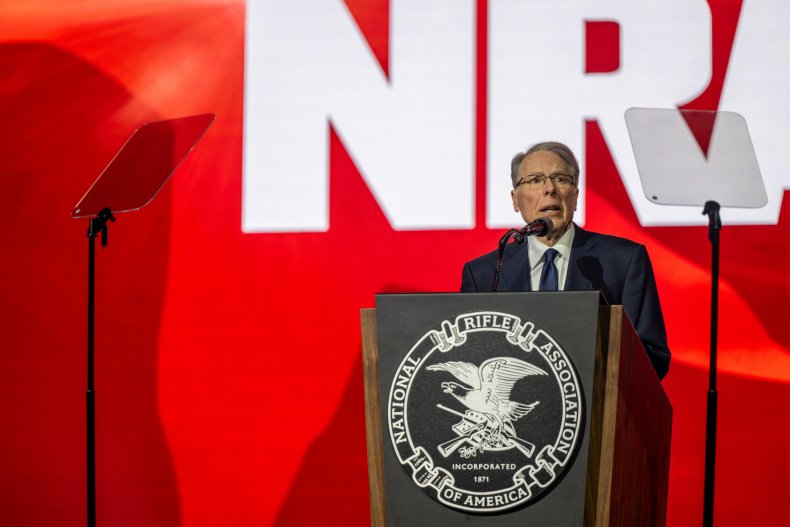 "This is one of the issues. They have nothing else to run on. So what they're going to run on is Roe v. Wade and gun safety. That's it. Because they can't talk about the border. They can't talk about the economy. They can't talk about national security, and they want one thing: they want us unable to challenge them."
The NRA has been contacted for comment.
Gorka went on to insist that "nothing" Democrats are recommending will prevent mass shooting.
"Nothing will stop the next school shooting," he said. "Nothing they have recommended will stop the 50 people who were shot in Chicago over this Memorial weekend. Nothing they are proposing will do anything except harm the rights of law-abiding citizens."
Gorka went on to refer to President Joe Biden as a "senile old man."
Referencing remarks made by the president on Monday, he added: "He talks about how a nine millimeter round is a high power round that blows your lungs out of your body.
"These are the people who know nothing about guns, and they get to legislate or use the ATF against us. You have a very simple message. It's from the Alamo. You know come and take it if you dare."
Biden on Monday told reporters he was going to continue pushing for gun safety legislation, a day after he and first lady Jill Biden comforted Uvalde families grieving the loss of 19 children and two teachers who were killed by a gunman with an AR-15-style rifle.
He indicated that there could be bipartisan support to tighten restrictions on the kind of high-powered weapon used by the gunman in Uvalde.
"I think things have gotten so bad that everybody is getting more rational about it," he said. "At least that's my hope and prayer."