'We Absolutely Don't Need' Trump's Planned Visit to Kenosha, Wisconsin Lt. Gov. Says
Wisconsin Lieutenant Governor Mandela Barnes said Sunday that Kenosha residents don't "need" President Donald Trump to visit at a time when tensions are high following last week's shooting of Jacob Blake.
Barnes spoke with CNN's Inside Politics Sunday morning after appearing at a rally for Blake on Saturday. Blake was shot by a Kenosha police officer seven times in the back on August 23, according to the Kenosha Police Department. The Wisconsin Department of Justice Division of Criminal Investigation and the Federal Bureau of Investigation are investigating the incident while the officers involved are on administrative leave, according to Kenosha police.
Judd Deere, a White House spokesperson, told reporters on Saturday that Trump will visit Kenosha on Tuesday. The president plans to assess the damage that resulted from recent protests and meet with local law enforcement, according to the Associated Press.
"I don't know how, given any of the previous statements that the president made, that he intends to come here to be helpful," Barnes told CNN's John King. "We absolutely don't need that right now."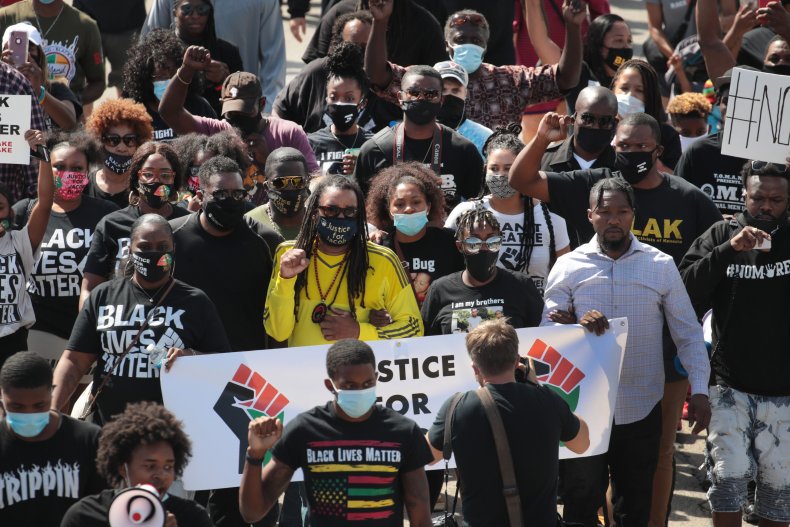 King mentioned comments that former National Association for the Advancement of Colored People President (NAACP) Cornell William Brooks made during an interview with CNN on Saturday, in which Brooks said he worried Trump would further inflame the situation. By going to Kenosha, Brooks said Trump was " turning Air Force One into a gasoline truck. That is to say, he's bringing gas to a fire."
"I completely agree with it," Barnes said of Brooks' Saturday comments. "You look at the incendiary remarks that the president has made. They centered an entire convention around creating more animosity and creating more division around what's going on in Kenosha."
Trump has repeatedly criticized Democrat-run cities and states this summer as protests that began in response to the death of George Floyd in May continued with news of other incidents of violence against Black Americans. One of the themes of last week's Republican National Convention, during which Trump accepted his party's presidential nomination for 2020, was Trump's vow to "restore law and order" in the U.S.
Barnes has been critical of the Kenosha Police Department since news of Blake's shooting spread last week. Before Jacob Blake's father spoke at the rally in front of the Kenosha County Courthouse on Saturday, Barnes addressed the crowd to express his frustration with the department, which he said was not living up to its mission statement to "serve all people with respect, fairness and compassion."
"I've been disappointed by Kenosha's police chief," Barnes told CNN. "I can't take a vote of confidence or a vote of lack of confidence—but if I could, I probably would take that vote, because it is distressing."
When asked on Saturday about his upcoming visit to Kenosha, Trump told reporters that Kenosha had "tremendous success" after National Guard troops went into the area to assist local law enforcement. "The sheriff has been great. The police commissioner, the police chief has been great. We've been working with all of them. But the governor let us do what we had to do, and we cleaned it out, and we'll see what happens," he said.
Newsweek reached out to the White House for comment.