'We Accidentally Bought A 120-Year-Old Derelict House'
In the winter of 2016, when I was 22, I decided to travel from Canada to Europe for a ski season. I had seen Cal on the ski hill wearing a goofy giraffe sweater on his day off and when I saw him again in a pub that evening, a few days before New Year's Eve, I asked him about his sweater and we got chatting.
Cal had camping equipment and was talking about off-piste skiing. The culture in Canada is that if you work for a ski season it's because you love skiing and adventure, whereas in my experience, in the French Alps there was more interest in going to parties. So, I was attracted to Cal's adventurous spirit. From there, we started skiing together nearly every day.
I was only supposed to be in France for a five month ski season, but I didn't go back to Canada. Instead, Cal and I decided we would take a road trip in his car. We packed a tent and went wild camping all throughout Europe. It was a lot of fun. From there we spent time in Bristol in the U.K, back in Canada to visit my family and also on another ski season in the Alps.
By 2018, I had been accepted into medical school in Glasgow and Cal and I had begun to get excited about settling down in a city for a bit. But we soon realized that tuition fees for international students had been raised and it wasn't feasible for me anymore. We decided instead to pursue buying a run-down two bedroom apartment in Glasgow that was up for sale at auction.
We didn't have a huge deposit saved and so were incredibly privileged to have my parents help us. The plan was that the purchase of the Glasgow apartment would be a business opportunity. It was supposed to be a flip. The property was fire damaged but structurally sound, so we were going to redecorate it and sell it within a year. We would then pay my parents back and any money we earned on top of that was supposed to help us set up our own home in Glasgow. We even had a business contract.
On the day of the property auction in Glasgow on October 4th, 2018, Cal went alone and was following along using the auction booklet. Auctioneers are quite fast talking and if you add a Glaswegian accent, Cal admits it was tricky for him to understand everything that was being said.
Jameswood Villa in Dunoon originally had four apartments in it, and to begin with only two of those apartments were up for auction that day. At the last minute a third apartment was included, but there hadn't been time to amend the auction booklet. This apartment also had the same starting bid as the Glasgow property we wanted and was added directly before that lot in the auction. So, Cal genuinely thought he was bidding on the Glasgow apartment. We knew there were a few people at the auction interested in the Glasgow unit, and I think he realized he might have made a mistake when he raised his hand for the starting bid of $14,000 (£10,000) and nobody else raised their hands around him.
He immediately ran out of the auction house without signing papers, but his bid was legally binding and he had no option but to buy the property. He called me immediately to tell me and I actually calmed him down. The auction had described the house as needing "upgrades throughout" and used an old photo from Google maps alongside the description. It really didn't look that bad. And, I felt like owning a piece of property for $14,000 (£10,000) wasn't the end of the world.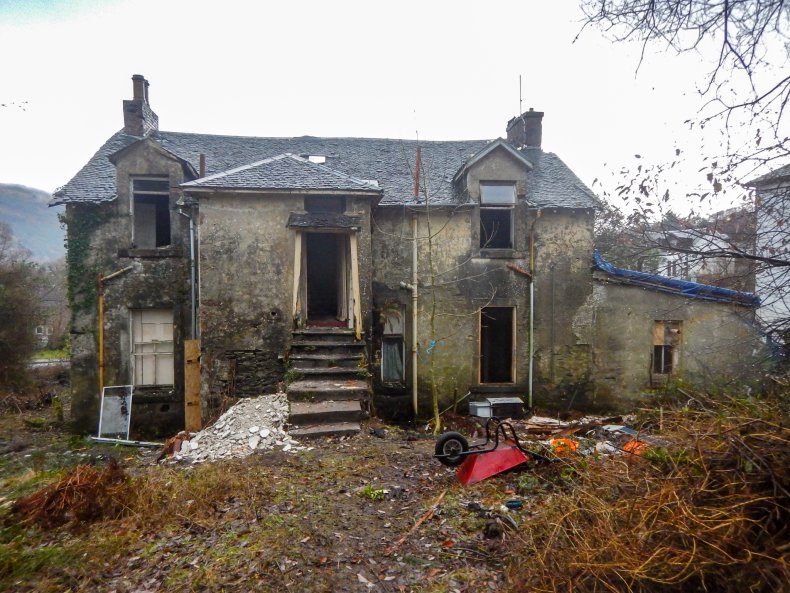 But the property is not anywhere near Glasgow. Dunoon is a beautiful seaside town on the west coast of Scotland, an hour and a half train ride and one ferry away from Glasgow itself. But, we have the west coast hills on our doorstep, fields to the back of our house with beautiful white horses roaming them and we're two minutes away from the nearest loch. It's stunning.
However, when we first got here, we realized that what we had actually bought was a quarter of an 120-year-old derelict building that had been empty for 30 years. It had been leaking since the time people moved out and every single timber in the house was rotten. The front wall was also visibly in a state of collapse. A structural engineer came and took a look and recommended we demolish the whole building.
Very quickly we understood that you can't fix one quarter of a derelict building and that the only way the project would work was if we bought the whole property. So, we started trying to find out who the other owners were. One of the other units was sold at the auction and the guy came by a couple of weeks after we arrived. He offered to sell it to us right away. Another of the units hadn't sold, so we agreed to buy it as long as the auction house waived the auction fees.
But there was still the matter of the mystery owner of the final apartment. Nobody in town knew who owned it and it took us four months to track them down. Dunoon had an United States Navy base up until the early 1990s, and when the Americans moved out the population dropped significantly, which is why some houses in the area did become derelict. One quarter of our building was owned by somebody who had moved back to America, but we eventually found them and six months in we managed to acquire the whole building, spending $57,000 (£40,000) in total.
You can't get a mortgage on a derelict property so that was the total cost, though we are in debt to my parents obviously. Neither Cal nor I contributed hugely consequential sums in the initial stage of buying the whole house, because we needed money to live on, so we held back on using Cal's savings for that. Since then, Cal has also received inheritance from his grandparents which has gone into the project. My parents also gave us a $28,000 (£20,000) loan at the start of the project. We knew that would not be enough for the whole renovation, but we made it a personal goal not to borrow more money from them, so since then we have trickle funded the project ourselves.
Cal will get a carpentry contract and I work in a local pub and we also get money coming in from social media collaborations and our GoFundMe. Over the two and a half years we have scraped together enough to work on the major parts of the renovation.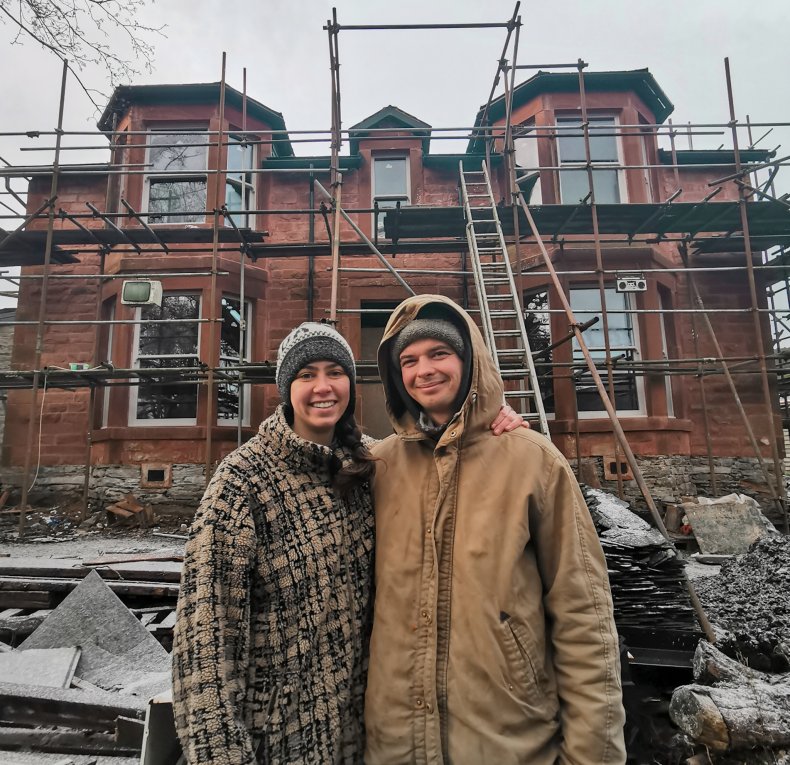 We moved here in November 2018, and spent that first winter living in the back of our van and using a couple of rooms in the house. We had a little gas stove set up to cook meals and a little wood burner in the driest room to keep warm in the evenings.
But we had no running water or electricity, so it was a very difficult way to start the adventure. A woman who lived up the road let us use electricity in her shed to charge our devices and her outdoor tap for water. She also had us over for showers and to warm up in the evenings, and never, ever let us leave without eating a meal. I don't think we would have been able to stay in Dunoon and carry on working on the house if it wasn't for her. She was really special.
From there we were able to get a caravan and on my birthday in February 2019, we managed to get electricity and running water to the house, and for the caravan, all in one day. It was the best birthday ever. We've been living in the caravan happily ever since.
In the summer of 2019 we began inviting people on the workaway scheme; where travellers can go and work on a project in return for sheltered accommodation and food. In our case we have set up glamping tents with lights and electricity and we have an outdoor kitchen and a wood-fired bathtub outside, looking over the fields.
We've now had two and a half years of building and have managed to fix the partially collapsed wall, re-roof and reframe the building and made it wind and water tight by installing windows and doors. It's a bit surreal at the moment, because for so long it has felt like a never ending journey. But our electrician is now happy with the electrics Cal installed. I am now insulating the building and Cal has started the plumbing work. We've also just had our flooring delivered.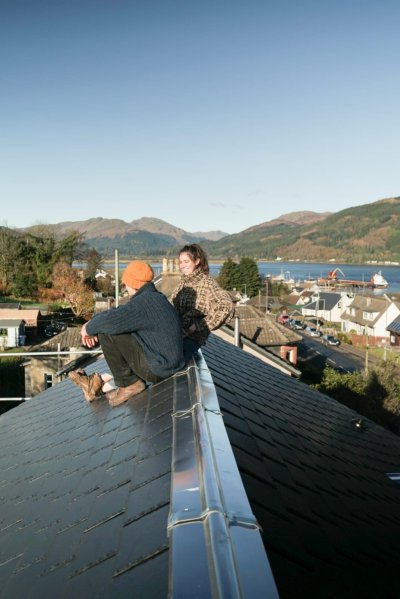 There have been some really nerve wracking moments, especially when we have dealt with structural issues. At one stage, we were having to pull out stones bigger than me in order to replace them; hoping that nothing would fall down. But the biggest challenge has undoubtedly been the financial side. We do everything ourselves, use as many reclaimed materials as possible and have had some discounts through social media connections, but I think anyone doing a self build without huge amounts of money would say the same.
I could not have done this project without Cal. He is the one with the carpentry experience and knowledge of building and he has real drive. I'm pretty driven, but when Cal sets his mind to something he can throw immense amounts of energy into it. He gets up at 7.30am every morning and starts work at around 8am. Working until 5pm is a lazy day for him. He isn't a stonemason, a roofer, an electrician or a plumber, but he's never questioned that he can do those jobs. He just tackles everything with such confidence.
The house is still split into units, because we couldn't afford to have one huge home for just the two of us. So, we have two downstairs units that are going to be holiday rentals, and the upstairs is a three bedroom apartment that we will call home. We're planning on completing the holiday rentals first and opening them by Easter of 2022. Hopefully that will bring in an income so we can finish the upstairs in the way we want over the summer of 2022.
Within the time we have been working on this renovation, we have realized we're building a lifelong home together, so our relationship has really grown and we have learned a huge amount about each other.
It has been amazing to see the passion and drive I saw in Cal when we were working on the ski slopes, translate into building a house together. I've realized what an amazing person he is. But it's not always perfect. Building a house with your partner, and living and working in close quarters with each other, is tough on any relationship. We've had to learn to deal with that and work on giving each other enough space.
But I have no regrets at all. I genuinely believe this is the best accident that has ever happened to us.
Claire Segeren and Cal Hunter live and work in Dunoon in Scotland. You can follow their renovation adventures on Instagram @whathavewedunoon and find details of their GoFundMe here.
All views expressed in this article are the author's own.
As told to Jenny Haward.