'We Adopted Four Kids, Then Discovered We Were Pregnant With Quadruplets'
My husband Jake and I got married in May of 2016. But beforehand, we had talked a lot about the foster care process because I have always known I wanted to be a foster parent, and I have always wanted to adopt. Even as a kid I used to ask my mom to adopt a baby brother for me. And as I got older I saw that there were so many kids who needed homes, even if it was just temporary places to land. It broke my heart thinking of kids having to go to group homes. So, I researched and decided I wanted to be a foster parent when I was ready, and Jake was totally open to the idea.
After about a year of marriage, in May 2017, Jake and I started the process to become foster carers. It took several months of training, police and home checks and then we were approved. Not even a month later, on July 28, our first kids came to us.
We had actually said we would only take two foster children up to four years old. But we were called about the three siblings and I said yes immediately, without talking to Jake, which was a little crazy. But luckily he was on board. Those are our three eldest kids; Aiden, Parker and Connor. At the time Aiden was four, Parker was two and Connor was 11 months old.
Then a month later the foster care services had called us up and explained the kids' baby sister was in the neonatal intensive care unit (NICU) and asked if we could pick her up. Although we had just gone from zero to three kids, we felt we just had to take her. So we picked her up from the NICU at just eight-days-old. I feel like that was one of the best "yes'" decisions of my life. Because my daughter Elliot and I now have a really strong bond.
Obviously the first goal of foster care is always reunification, because families do belong together. But in this case there was no way it was ever going to be an option for the kids to go back to their birth parents. So we knew a year and half in from fostering the siblings that we were moving towards the path of adoption. Our case workers had talked to us about adopting the kids and we were in love with them, so we said yes. We adopted all four children in December of 2019.
I actually fell pregnant with my son Henry during this time and he was born in October 2018. Jake and I had done two rounds of in vitro fertilisation (IVF) and I had had two miscarriages, so we decided to try one intrauterine insemination (IUI) before we tried another round of IVF—and that was how I got pregnant with Henry.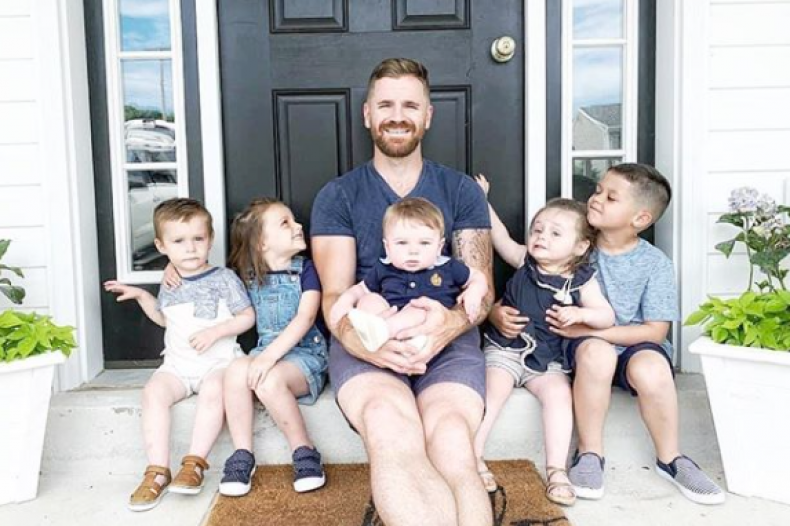 A lot of people think we only adopted because we were having trouble having a biological child. But we had Henry and then we adopted the kids. However, I didn't think I could get pregnant without doing IVF or IUI. So, when I took a pregnancy test in January this year, I was really shocked to see a positive result.
The test line was really dark, so I was hopeful that it was a viable pregnancy. With our history of losses I had become a little skeptical, so at five weeks I went to my doctor to see if they could see anything on the ultrasound. We were able to see one big pregnancy sac and two little dark circles. The circles were so small that my doctor thought they were just blood pockets.
But when I went back the following week, the ultrasound showed three babies. I began laughing a little hysterically and called Jake to tell him. We talked about it for a week and gradually got used to the idea of three babies.
At my next ultrasound, a week later, the doctor and I could see the three babies and their little heartbeats. I remember that day so vividly. The doctor said she would just do one thorough scan of my uterus and make sure that everything was good. I remember saying, as a joke, that it would be so funny if there was another baby in there.
Then the doctor looked at me and said, "Maxine, there is another baby". I could see it as she scanned over with the ultrasound machine. It was a baby, plain as day, and I remember just laughing and crying uncontrollably at the same time. We already had five kids at home so it was overwhelming, but Jake and I decided we were ready for it.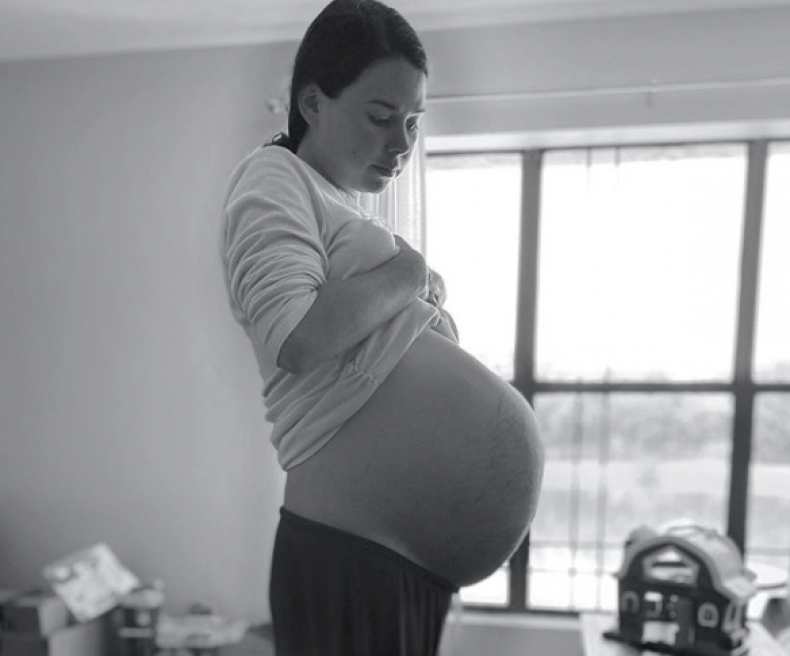 I was sick initially, but I had been sick with Henry so I had expected it. I was prescribed medicine for the sickness, and then it was a pretty easy pregnancy until I hit 21 and a half weeks. My cervix had started to shorten and had the babies been born then, it's likely they wouldn't have survived. I decided I wanted a cervical cerclage, where they put a stitch in your cervix to help prevent premature birth, and so I ended up going to Arizona to see a doctor there who has delivered hundreds of sets of quadruplets. Although it was a bit crazy logistically, we flew to Arizona for my cerclage and I actually stayed there and delivered Silas, Theo, Beck and Cecilia there at 32 weeks.
The babies stayed in the NICU in Arizona for three weeks and then they were medically transported back home to Pennsylvania and stayed in the NICU here for about a week before we brought them home. The babies got the absolute best care in both hospitals, and luckily they came home within a few days of each other over about a week and a half, which allowed us to adjust. Because it really got real when we had all four babies at home and were completely responsible for them!
When we first realized I was pregnant with quads, we knew it would be difficult with four newborns but we thought we would be able to handle it. I'm a stay-at-home mom and Jake works in the oil and gas industry. His schedule is crazy, but it allows him some flexibility, so I'm never at home alone for nine hours a day. And we were expecting that the older kids would not be at home during the day; Elliot was supposed to start preschool, Connor is already in preschool, Parker was supposed to start kindergarten this year and Aiden was in third grade. Then, the COVID-19 pandemic hit, and schools moved to digital learning, so all the kids have been at home.
That's when I started to wonder whether I could do this. We decided to see how it went for the first couple of weeks after Jake returned to work, and agreed that if we needed to hire someone we would. It's actually been easier than I thought it would be, which I know sounds crazy. We have had help from family and friends here and there, and the quads are really good babies. I also have to give some credit to the kids who are so great.
But Jake and I have always said we feel that we are the parents and we want our kids to just be kids. We don't want a situation where the older kids are taking care of the younger kids a lot. So they help when they want to help, and they often want to hold the babies.
Even though we know that we love them all exactly the same, and having biological children doesn't change anything about our family, that insecurity can be something that a lot of adoptees struggle with. So something we have always been aware of is making sure that our adopted kids feel very special and that they know they are equally loved. We've always explained to the kids that blood doesn't make a family, it's who you love. Love makes a family.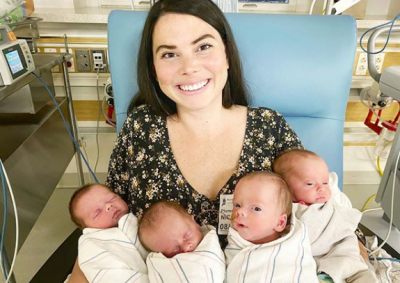 Jake and I went from zero kids to nine in less than three years, so we always say we thrive in the chaos. The positives of having a large family far outweigh the negative for us. But of course there are negatives; Jake and I loved to travel, but logistically travelling with nine kids who are eight-years-old and under is just not going to happen. We're not going to be able to go out to dinner as a family any time soon.
We also have kids who have been in hard situations and who do have trauma, and that is another aspect you have to work through and take time every day to address and deal with. But our family works, and we can't imagine having just one or two kids now.
When you consider having a family, I think you have this vision of the kind of parent you're going to be. I had wanted to make my own baby food, for example. But what I have realized is that it's the time that you spend with your family and the love that you have between you that is the most important thing. There is so much fluff nowadays that comes with having kids that I think we can forget what is important.
Ultimately, the kids don't care about the material things, our kids just want to be loved and spend time with us. The foster care process helped us realize that children value simple things; to be treated well, taken care of and to be safe. My kids have really made me see what is important in life.
Maxine Young and her husband Jacob Young live in Berks County, Pennsylvania with their nine children; Aiden, Parker, Connor, Elliott, Henry, Silas, Beck, Theo and Cecilia. You can follow them on Instagram and @maxinelee_y and @helloimjacobyoung and subscribe to their YouTube channel The Family Young VLOGS here.
All views expressed in this piece are the writer's own.
As told to Jenny Haward.