'We Are All Jews Here': The Remarkable Story of an American Officer Who Saved 200 Lives | Opinion
It's a story you probably don't know, but should. There's perhaps no greater untold story to come out of World War II than the one chronicled in a new book called No Surrender: A Father, a Son and an Extraordinary Act of Heroism That Continues to Live on Today.
It's a heck of a father-son story, but it's also a tale of the power of one man to do something selfless that forever changes a life. Or, in this story, 200 lives.
"Courage," Aristotle wrote, "is the first of human qualities because it is the quality which guarantees the others." And courage is precisely what was on display in a German prison camp over seven decades ago, when one brave American soldier did the unthinkable: Staring down the barrel of his Nazi captor's pistol, he refused to identify which of his fellow prisoners of war were Jewish.
His act of defiance would save nearly 200 Jews and earn him, posthumously, the Righteous Among Nations Award, an honor granted by Israel's official Holocaust remembrance and education center, Yad Vashem, to non-Jews who risked their lives saving Jews during the Holocaust. Only five Americans have earned the distinction. Only one was a soldier.
His name was Master Sergeant Roderick "Roddie" Edmonds, and perhaps the most remarkable part of his story wasn't his personal courage and the lives he saved in that German prison camp. It was his humility.
Edmonds never told anyone about what he did when he returned home, not even his son Chris, a pastor in Tennessee and the co-author of No Surrender. "I asked him several times, and as I got older, 'Dad, tell me about your experience in the army as a POW,' and he would say, 'Son, there are some things that are just too difficult to share, so I'd rather not,'" Chris Edmonds said.
His father died in August of 1985 and took his secrets to his grave. It would take 20-plus years for his son to discover his father's story. And many more to turn that discovery into a book.
In 2009, Chris watched a short video his daughter produced for a college assignment about her grandfather's service in WWII and decided he needed to know more about his father's wartime experience. Poking around on Google, he stumbled upon his dad's name in a New York Times story about a home President Richard Nixon purchased in the 1970s from a man named Richard M. Tanner.
Tanner mentioned that he'd been saved from certain death at a POW camp during the war by a man named Roddie Edmonds. Chris was startled. Could that be his dad, he wondered? So he did what any son would do—he tracked down Tanner and pieced together the rest of his father's incredible story.
"My dad was a part of the Battle of the Bulge, and he was in the 106th division, 422nd regiment," the son explained. "They were sent to replace the men on the front lines and got there sometime in December of 1944. On December 17 of 1944, that's when the German forces began to move against the American and Allied forces. Basically, they were overwhelmed and overpowered because they were caught by surprise. My dad was captured on December 19. Most of his regiment was either captured or killed."
Master Sergeant Edmonds and the 1,200-plus soldiers he commanded eventually ended up in a camp called Stalag IX-A near Ziegenhain in western Germany.
"In this particular district, camps intentionally segregated the Jewish GIs, sending them to labor camps, and most of the men that were sent to those camps did not survive," Chris said. "And of course, that was against the Geneva Convention. When they got to that camp, my dad, because of his rank, became the senior commander of the camp."
That's when the story really gets interesting.
One day, they got an announcement over the loudspeaker that asked that only the Jewish POWs fall out for the morning roll call. Lester Tanner told me that my dad immediately said, "We are not going to do that." And he sent orders throughout the barracks to have all the men fall out the next morning.

So the next morning, all the soldiers and POWs fell out. There were approximately 1,275 men, and they were all standing there before the barracks and Lester says that the commandant came over to my dad and was furious and said, "All of you can't be Jews." Then Paul Stern, who was also there standing close by, said that my dad responded, "We are all Jews here." The commandant was very angry that this American had the audacity to disobey an order. He said, "I am asking you to command your Jewish men to step forward." My dad's response was simply this, "According to the Geneva Convention all that is required is name, rank and serial number." That again infuriated the commandant, who was a Major.

He pulled his gun out of his holster and pressed it to my dad's forehead and said, "You will have your Jewish men step forward immediately or I will shoot you on the spot." Lester Tanner said that my dad said, "Major, if you shoot me, you will have to shoot us all." And then my dad added some more, "We know who you are and when we win this war you will have to stand for war crimes." Tanner said that the major blanched and turned blood red and for what seemed like a very long time, but wasn't, stuck his gun in his holster and turned and walked away. They all went back into the barracks and cheered my father.
"What stands out for me are Roddie's words and the surprise that we were saved," Lester Tanner told The New York Times in 2016.
Paul Stern, an American GI who was Jewish, told Yad Vashem that even 70 years later he could remember every detail of that day, and the five words that would save his life—"We are all Jews here."
Though Chris's dad was the leader who said those words, the contribution of the other American GIs in the prison camp can't be underestimated. "Every one of those 1,200 men who stepped up all had the choice, and they made the right choice as well," he said.
Two questions still lingered as the son kept doing his research. Why didn't his father tell anybody his story? And why did he risk his own life to save others?
"He wasn't one to brag, or go around and share stuff like that," Chris answered the first question. "Probably even today, if he were here, he'd be saying, 'What's the big deal? I did what I was supposed to do, I did what anybody else would do, and I am glad it worked out.' He just wouldn't think it was a big deal."
Turning to the second question, Chris said, "I think he just had a good sense of right and wrong.... He lived by the Golden Rule and tried to be a Good Samaritan."
His dad's faith was nurtured at a Methodist church in South Knoxville, where he gave his life to Jesus Christ as a young man. "My dad was the real deal," Chris said. "He lived by his faith in God, and it's even mentioned in his diary. He talked about how bad war is and how he wants to get back and serve God."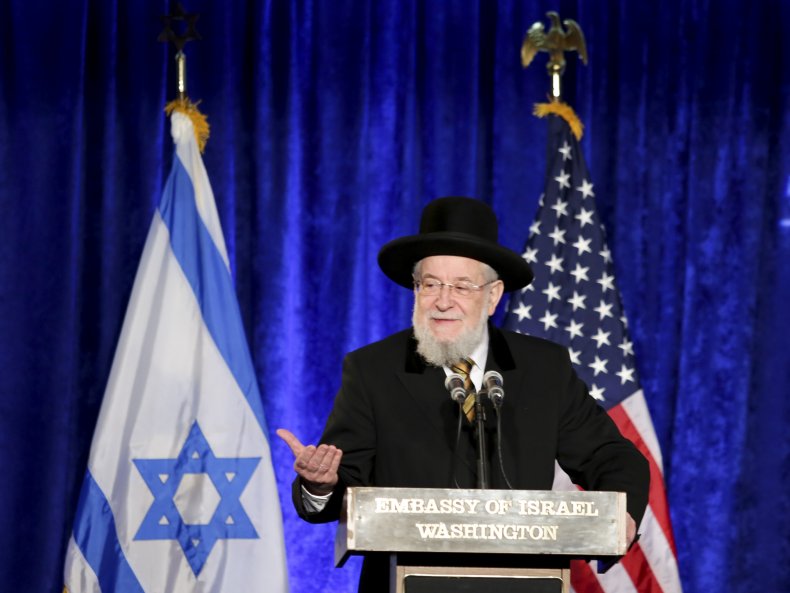 Roddie Edmonds was born humbly in 1919 in Knoxville (his mom died when he was 3, and his father was a wallpaper hanger) and died humbly in 1985 of congestive heart failure. But his heart for people—and his heart for his God—will live on forever, thanks to his son's work.
At an awards ceremony at the White House in 2016, Ron Dermer, Israel's ambassador to the United States, gave a speech honoring the master sergeant that was so beautiful and so compelling, it's worth sharing. It focused on two big questions posed in the Bible. The first asked by God. And the second asked by man.
After Adam and Eve disobeyed God in the Garden of Eden, we read that they hide in shame as they hear God's voice. "Where are you?" God asks. The sages of the Jewish people teach us that "Where are you?" is not a question God is asking for His sake. It's a question God is asking for our sake. It is a question meant to spur introspection. To instill in us an appreciation that we are moral agents in the world. That we are responsible for the moral choices we make. Ladies and gentleman, the 6 million Jews killed in the Holocaust were not the victims of an earthquake, a hurricane or some other random natural disaster that would understandably turn our eyes to heaven for answers. The 6 million Jews killed in the Holocaust were murdered by other human beings. By human beings who had a choice.

So perhaps the question "Where are you?"—a question that so many asked God during the Holocaust, and which so many of us have been asking God ever since, is not a question for us to ask God, but a question for God to ask us. Where was Man during the Holocaust? Where was the moral compass of the millions who simply looked the other way as the Nazis and their army of willing executioners perpetrated such monstrous evil. Rather than honestly confront this standing question, people instead tried to excuse their inaction. Too often, they justified their failure to accept our moral obligations to one another by hiding behind another question.
Dermer then went on to talk about the first question ever asked by man to God in the Bible. "It was the question Cain asked God after murdering Abel: Am I my Brother's Keeper?" Roddie Edmonds, he concluded, was a hero not just because he had a resounding—and beautiful—answer to Cain's question. He had beautiful, bold answer to God's, too.
It wasn't an accident. He'd been preparing for his biggest exam—his life's biggest test—his entire life. One he knew he passed. And his God knew, too.
Lee Habeeb is vice president of content for Salem Radio Network and host of Our American Stories. He lives in Oxford, Mississippi, with his wife, Valerie, and his daughter, Reagan.
The views expressed in this article are the author's own.