We Are Doctors. Trump's Rallies Show He Doesn't Care About You—Or Any of Us | Opinion
For us, as doctors, the images are indelible: Trump supporters packed together in warehouses and airplane hangars, with only a scattered few wearing masks. Above them, over 6 feet away and solitary, stands President Donald Trump, cheering his supporters on—but never interacting with them directly.
He is protected. His supporters are not.
In the hospitals, clinics and communities that we serve, we operate differently. Not only must we be protected, but so, too, must our "audience"—our patients and their families, as well as our co-workers and fellow citizens. The methods we use to protect ourselves are evidence-based: wearing masks, maintaining 6 feet of distance, limiting the size of gatherings and washing our hands. We protect everyone around us by asking them to do the same.
We do this, as physicians, because we care about you. As the Latin adage goes, "First, do no harm."
Trump's indoor and outdoor rallies, whether in a crowded warehouse in Nevada, a packed hotel room in Arizona or airplane hangars across the country, make it abundantly clear: He doesn't care about you. He doesn't care about the 200,000 Americans dead from COVID-19.
He only cares about himself, his elite friends and his re-election.
We offer this diagnosis from the heart of the Midwest and the South. Here, we've learned that there are ways we can convene more safely. We watched NFL games, for example, kick off in purple and red states alike, where—with universal masking, social distancing, meticulous hygiene and limited attendance—fans were able to come together, and officials could quickly perform contact tracing and isolate any fans with possible coronavirus exposures.
While we remain concerned about the risk of having fans at games, we understand the desire for normalcy and recognize organizations that are taking appropriate and necessary life-saving precautions. As we make the hard decision to gather in groups, these are the measures we owe to one another—to all Americans.
But Trump doesn't feel responsible for the basic safety and security of even his most enthusiastic supporters.
What we have seen at the president's rallies is astonishing and dangerous, particularly in locations with surging COVID-19 cases, such as Wisconsin.
Putting thousands of people in close quarters, packed tightly together without requiring masks, for hours at a time, is a textbook example of high-risk community exposure, according to the Centers for Disease Control and Prevention. Doing so indoors, as Trump did in Nevada, further amplifies that risk.
After Trump's indoor rally this summer in Tulsa, Oklahoma, coronavirus cases soared, with hundreds of new cases reported per day. Now, we're preparing to face a surge in our clinics, hospitals and emergency rooms in Wisconsin, Nevada, Florida—or the other battleground states on Trump's travel itinerary.
In short, Trump has made it clear that he doesn't care about you—or any of us.
If he cared about you, Trump wouldn't consistently downplay the proven benefits of wearing masks to combat the coronavirus, to the point of contradicting his own scientists and clinical leaders.
If he cared about you, Trump wouldn't have stopped the U.S. Postal Service from mailing reusable masks to every household in America or tried to sabotage the distribution of mail-in ballot applications to promote safe voting practices.
If he cared about you, Trump wouldn't have forced the CDC to suddenly recommend that asymptomatic Americans don't need testing after potential exposures, against both scientific evidence to the contrary and the objections of CDC scientists. He also wouldn't have attacked his own CDC director for providing accurate information to Congress on the benefits of masking that challenged his political narrative.
If he cared about you, Trump wouldn't have told the American people the coronavirus was no big deal and that it affects "virtually nobody," while admitting to Washington elites that the virus is "horrible," "unbelievable" and deadlier than the flu.
We take no pleasure in this diagnosis. Nor are we alone in our assessment.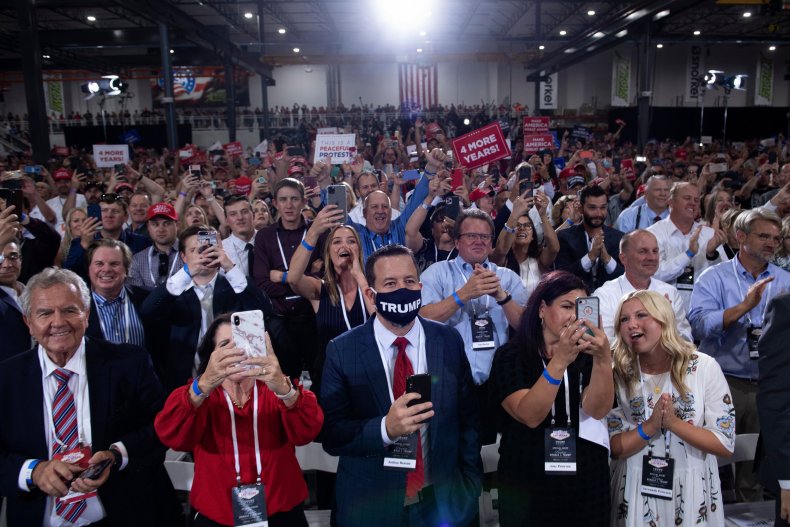 For the first time in its 175-year history, Scientific American endorsed a presidential candidate (former Vice President Joe Biden), citing Trump's rejection of "evidence and science. The most devastating example is his dishonest and inept response to the COVID-19 pandemic." Moreover, four former CDC directors (from Democratic and Republican administrations alike) called Trump's COVID-19 response "like fighting blindfolded."
Trump's cavalier disregard for the lives of our fellow Americans—for the patients we've treated, day in and day out, since January, and for the 200,000 dead from COVID-19—is infuriating. In serving his own political self-interest, Trump undermines our best chances at stopping this pandemic.
We deserve American leadership that prioritizes you—that prioritizes all of us. We deserve a president who prioritizes telling the truth and works tirelessly to ensure our safety. We deserve a president who prioritizes restoring our economy while ensuring our collective health. We deserve a president who prioritizes the sound application of science, medical evidence and public health to protect all Americans, irrespective of political persuasion.
We deserve far better.
On November 3, we urge everyone to vote for what we deserve.
Ali Khan, M.D., MPP, is a general internist in Chicago and a former primary care physician in Las Vegas.
Joanna Turner Bisgrove, M.D., FAAFP, is a family physician in Oregon, Wisconsin.
V. Ram Krishnamoorthi, MD, MPH, is a general internist in Chicago.
Elizabeth Salisbury-Afshar, M.D., MPH, is a family medicine, addiction medicine and public health physician in Waunakee, Wisconsin.
Alice Chen, M.D., is an internal medicine physician based in Washington, D.C.
Vineet Arora, M.D., MAPP, is a hospitalist in Chicago.
The views expressed in this article are the authors' own and do not necessarily reflect the official opinions of the institutions at which they work.