'I Go to Work in Fear': The Pandemic Health Workers Left Behind
More than a year since the first cases of COVID-19 emerged from Wuhan, China, the world remains in the grips of a pandemic that has blindsided governments, caused unimaginable damage to communities, business and everyday life, and infected more than 153,000,000 people worldwide.
Even with more than 1 billion vaccine doses administered globally, and with Europe, the U.K. and the U.S. creeping with cautious optimism towards a new "normal" as vaccine rollout continues apace, many areas of the world are struggling to cope.
On April 30, India saw its rate of COVID infections reach nightmarish proportions; more than 400,000 new cases were reported in a single day. In the Americas, particularly Brazil, and South East Asia, cases remain high and efforts to thwart the virus are frequently curtailed by a lack of hospital beds, slow vaccine roll-out and poorly coordinated government responses.
In those areas of the world, the situation is grim, exhausting and heartbreaking. For doctors and nurses, hospital support staff, paramedics and carers and many others, the pandemic has lingered in their days and nights long after the public applause quieted. And yet, they remain at the forefront of efforts to save lives and curb the spread of COVID. They continue to show up, irrespective of the dangers they face.
The toll the pandemic has taken is real. Hundreds of thousands of health-care workers have been infected with the virus, and recent research from Amnesty International showed at least 17,000 health workers died from COVID-19 globally in the first year of the pandemic. Data collated by the Guardian and KHN counted 3,607 U.S. health-care worker deaths from COVID up to April 2021.
The graphic below, provided by Statista, shows the number of health-care workers, by state, who have died of COVID-19 in the U.S.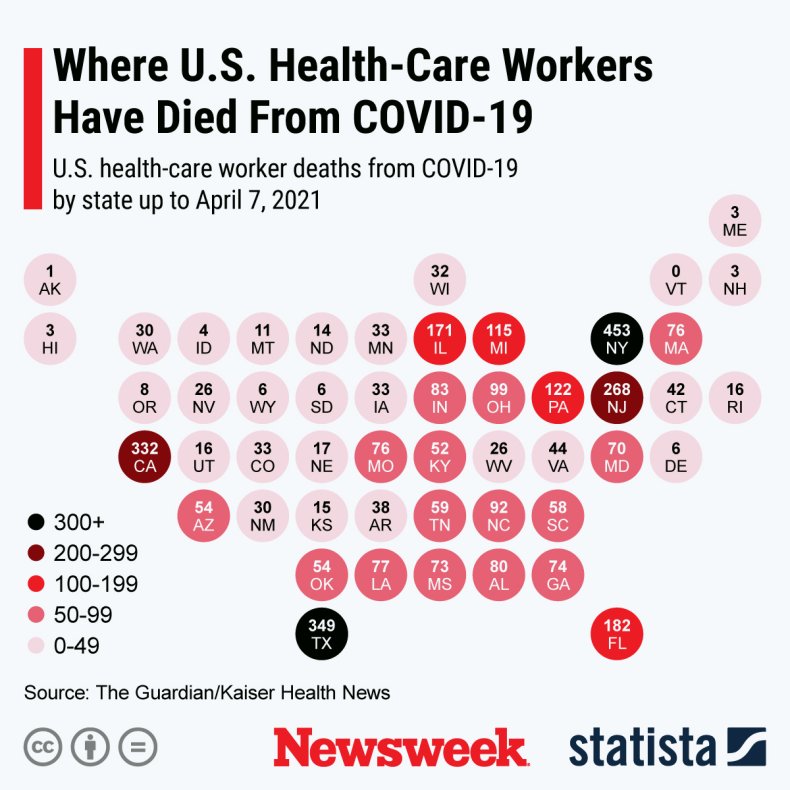 Their stories remain vital and their voices must still be heard. From lack of PPE, to long hours, inadequate remuneration, safety fears and poor mental health, many health workers across the world continue to struggle with the impact COVID-19 has on their daily lives, even as the early success of the vaccine is celebrated in countries that have coordinated an effective roll out. For them, the pandemic is nowhere near over.
Here, a doctor, a paramedic and a hospital housekeeper share with Newsweek what life is like for them on the frontline in Brazil, Malaysia and South Africa.
Raphael, 32, clinical physician and cardiologist, Brazil
It's been hard to control the spread of COVID-19 in Brazil. Since the end of 2020, people have been mixing a lot more. We've seen a huge increase in infections, because the government failed to put effective restrictions in place.
Our health system was never prepared to cope with a pandemic. We don't have enough staff, there aren't enough ICU (Intensive Care Unit) beds and we don't have the necessary infrastructure to provide adequate care for so many patients—particularly those with respiratory complications caused by the coronavirus.
I've been working as a physician on the frontline of the COVID-19 pandemic for a year. My workload has increased, I am treating patients with the virus every day and I am responsible for supporting other doctors on duty.
It is a challenging experience. So many people are dying and there's no getting used to this reality. I work 12-hour shifts. There's little time to have a drink of water or even go to the bathroom. When my shift ends, I feel like there's still so much left to do.
We've always had sufficient PPE (Personal Protective Equipment) and our workforce has grown; we are doing our best to look after our patients. But since April, it's proved hard to find additional staff to manage our workload and it's having an impact on our ability to care for patients.
Currently, one of our biggest challenges is the lack of ICU beds. We do not have enough beds or haemodialysis machines for everyone. It means I am having to choose which patients have the best prognosis. It's heart-breaking to assess who will have access to a bed and who will have to spend their day in a chair. We can't even offer a simple mattress. My colleagues and I weren't taught about this type of "medicine" at university.
The hardest part, though, is to witness so many families being torn apart. Mothers who survive but lose their children; families who lose more than one loved one in a short time.
At this point, our greatest hope is to vaccinate the entire population as soon as possible. However, I feel our government has failed us by not investing in the creation of a national vaccine plan or buying enough doses in advance, like many other countries did. More people are slowly starting to get the vaccine, but we depend on international supply, which does not allow us to move any faster with our vaccination process.
I try and remain as hopeful as I can. I am lucky to have a wonderful wife and son. It's sad as sometimes I don't see my son for an entire day. I live in constant fear of bringing the virus home. But, they keep me sane and give me the strength to move forward.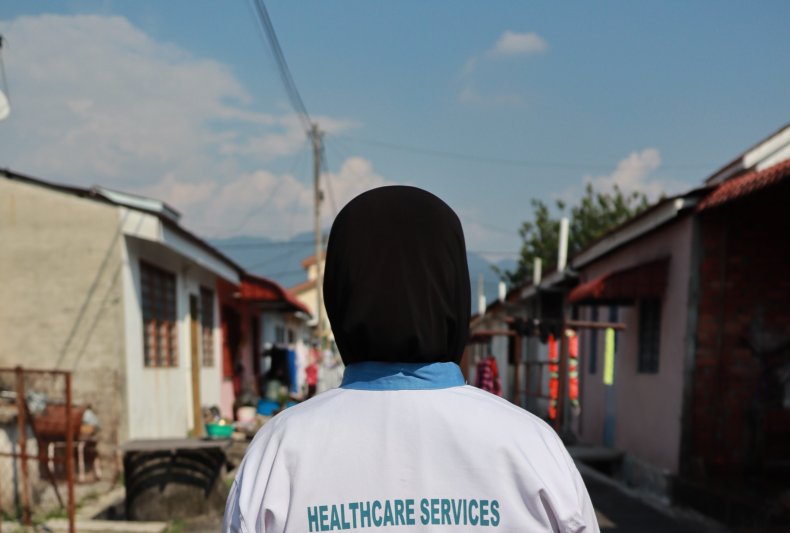 Roziah, 52, cleaner, Malaysia
For the past 13 years, I have been working as a cleaner at a public hospital in Malaysia. I live very close to the hospital, which is one reason why I have been working there for so long—it is easy for me to get to and from work. But things are getting harder for cleaners, especially since the COVID-19 pandemic.
Before, our responsibilities consisted mainly of sweeping, mopping, waste disposal and washing certain areas. Now, we have to clean and sanitise an entire room if a patient tests positive, including the beds and all the equipment.
Everything the patient comes in contact with has to be sanitised, including the lifts, the hallways and the wheelchairs they use. We clean all of this while wearing complete Personal Protective Equipment (PPE). Often, we are so drenched in sweat that we have to shower and change up to seven or eight times just to get through a day.
I used to be responsible for one section of the hospital. Now I work in three. Despite the increased workload, the hospital hasn't taken on any additional workers nor has there been an increase in our wage. The employer has placed ads, but not many people have applied. Maybe it's because the wages are so low, the work so demanding and people are fearful of contracting the disease. Without help, many of the existing cleaners are overworked and exhausted. We are not young, most of us are in our 40s and 50s.
We have asked the company that employs us for a salary increase but they claim there are insufficient funds. We're suffering for these requests too. Those who are part of the union have been facing pressure from management, including abrupt changes of shifts, increased workload, and threats of dismissal.
I know of colleagues who have sought psychiatric treatment and others who have attempted suicide as a result of this. I have given 13 years of my life to this hospital and yet I am still regarded as a "contract worker," which means I am ineligible for the benefits and job security that government workers receive.
It is my hope that cleaners can be seen as frontline workers in the same way that doctors, nurses, and other hospital workers are. After all, we have to clean the same places they are in and we are exposed to similar risks and stresses.
Cases of COVID-19 are increasing again in Malaysia. This will increase the burden on cleaners like myself, but few are looking out for us.
I am grateful for my five children. Only two are still depending on me, but my other children help out and offer support. I have also received both doses of the COVID-19 vaccine and this has given me more confidence and a sense of safety and protection. At least I have that.
The solidarity of other workers and the union I am a member of has also helped me stay motivated and fight for our rights. Our hope is that the company I work for will one day be ready to have a dialogue with the workers to resolve the many issues we face. I don't think we are asking for too much.
*Kaya, 51, paramedic, South Africa
When the COVID-19 pandemic started in South Africa, most paramedics were provided with the necessary PPE to ensure our safety. But a few months down the line, that all changed.
The department I work in decided to save money, and as a result, we no longer had access to full PPE. Now my colleagues and I go to work in fear. We are not fully protected when we are working with patients who have tested positive for COVID-19. It is scary.
Each day, we're given two masks and a half body apron to protect ourselves, which doesn't really do much. If a patient is coughing heavily, we're sometimes forced to give our second mask to them. When we get back to base, we then have to report on what happened to our other mask, so it's clear why we're asking for another one. Every day we're exposed to the virus because we don't have the equipment we need.
I am seriously considering retiring because my life is at risk. Many of my colleagues have resigned—or have said they plan to. We're stressed, overworked and fearful of a third wave. I am grateful I haven't been sick so far, but I worry about contracting the virus at work and exposing my family to it. One of my colleagues died from COVID-19 and, as far as I am aware, my department didn't do anything to ensure their family were tested or quarantined. The family didn't even get any compensation.
It's hard to keep going but we see a lot of patients in clinic who tell us how much they appreciate our services. It gives me strength to continue; we all have our part to play in ensuring as many people as possible survive this pandemic.
There has been a lot of confusion around the vaccine roll-out in South Africa and I am yet to receive mine. I registered for one, but then my department said they were stopping the roll-out. Honestly, I am a little scared about having the vaccine.
For the moment, though, I am trying my best to move forward. My family has given me strength during these challenging times, and I know that the work I do is important. They always encourage me to do my best. Ultimately, that's all we can do.
These first person health worker accounts were sourced and verified by Amnesty International. Amnesty International is supporting health workers around the world by calling on governments to guarantee their access to vaccines and safe working conditions. You can find out more at www.amnesty.org.
All views expressed in this article are the authors' own.
Additional text written by Jenny Haward.
*Name has been changed.