'We Are Listening to Trump—Your Boss': Rioters Warn Capitol Police in Video
A disturbing video of the attack on the Capitol building published on Sunday revealed more of the violence and motivation for events that took place on January 6.
The video was filmed by Luke Mogelson, a veteran war correspondent who covered conflicts in Afghanistan and Syria, and published by The New Yorker.
WARNING: Footage below contains disturbing scenes and audio.
Mogelson, who attended President Donald Trump's speech on the National Mall earlier that day, followed rioters as they forced themselves into the Capitol building and filmed them using his phone camera.
"You're outnumbered," one of the rioters in the video says to a Capitol police officer during the January 6 attack. "There's a f****** million of us out there and we are listening to Trump—your boss."
Other rioters arrested since then have claimed they participated in the riot because of Trump, saying they hope for a presidential pardon as a result.
Additional footage showed the rioters inside the Senate chamber. One man wearing a white long sleeve shirt and grey sweatpants was shown flipping through the pages of a binder found on a table.
"There's got to be something in here we can f****** use against these scum bags," says the man. He then was shown contemplating taking the entire binder in which a second man off-camera encouraged.
"I think [Ted] Cruz would want us to do this, so I think we're good," says the other man.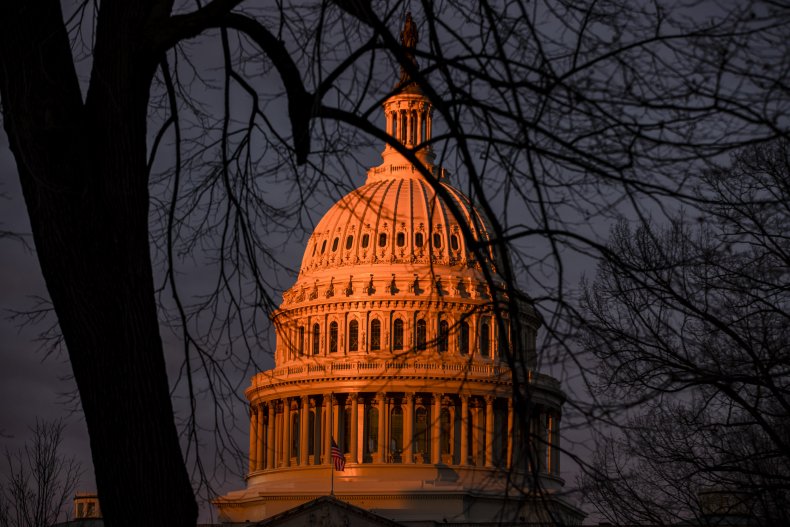 Trump and GOP Senators Ted Cruz and Josh Hawley have faced backlash following the Capitol siege, as many Democratic lawmakers claimed that they—alongside other Republicans—acted as provocateurs in fanning the flames that led to the riot.
Cruz, however, claimed Democrats were "playing politics" amid these calls.
"No one should be surprised to see Democrats playing politics and to see them try to attach strong conservative leaders. That's something Democrats have done for a long time. I do think it's really cynical for them to be trying to take advantage of what was a tragic event that occurred yesterday in Washington–the terrorist attack on the Capitol," Cruz said in a January 7 interview with Texas television station KTRK.
"It was despicable, those criminals who attacked the citadel of democracy. That was a horrific thing for our nation," Cruz added. "Every one of those terrorists who committed that attack needs to be prosecuted, fully prosecuted. They need to go to jail for a very long time."
A spokesperson for the Texas senator said in an emailed statement to Newsweek on Sunday: "As Senator Cruz has said repeatedly, the terrorist attack on the Capitol was reprehensible, and the criminals who carried out the attack should be fully prosecuted. He has been clear, consistent, and unequivocal: violence is always wrong—whether from Left or Right—and violent criminals should go to jail for a very long time."
Last Wednesday, in the aftermath of the siege, Trump became the first president in U.S. history to be impeached twice.
Newsweek reached out to Trump's representatives, but didn't hear back in time for publication.
Updated 2:51 PM ET, with a statement from Ted Cruz's spokesperson.