'We're Raising Our Kids at Sea During Covid-19'
My children are being raised on the sea. This isn't a knee jerk reaction to the COVID-19 pandemic, but comes from a strong conviction that life, even with kids, should be an adventure.
My wife and I strongly believe in traditional family values, but we don't believe that a conventional lifestyle is necessarily the best environment to raise resilient kids. So, in 2017 the two of us, and our three children, upped sticks from our small village in rural England and moved onto a 53 foot sailboat, currently based in the Mediterranean Sea.
Our dream of a less conventional life began when we met on a Greek island in 2004. We were both working minimum wage jobs, teaching sailing and shared a love of the sea and adventure. When an unplanned pregnancy threw our carefree lifestyle into turmoil, we returned to England and tried to settle into a more traditional way of life.
During the following twelve years we set up a sailing school, renovated properties and began a small furniture business. We even found time to get married and extend our brood to three children. But nothing could quite diminish the call of the sea.
The birth of our third child should have consolidated our settled life, but it actually had the opposite effect. Our youngest was born "en caul"—meaning in their amniotic birth sac. In medieval times it was believed by some that these children would be both exceptionally lucky and protected from drowning.
Dried cauls were highly prized by sailors who'd buy them and keep them as talismans for protection at sea. Although we're not particularly superstitious, it felt like a sign. So, we liquidated our business, sold our possessions, took the kids out of school and exchanged our terrestrial domesticity for life at sea.
With the COVID-19 pandemic, it may seem like social distancing in the extreme, but we actually belong to a world-wide community of individuals who have made stepping outside their comfort zones a way of life and provide a staunch support network. This has been particularly comforting during the past six months.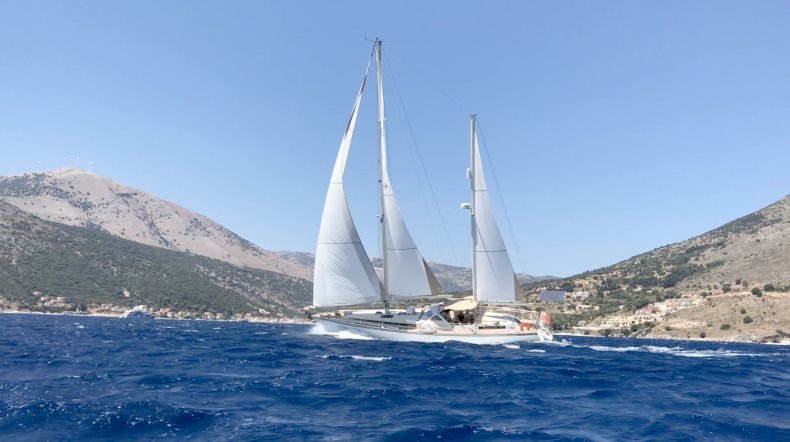 We forgo luxuries that many take for granted, but as our youngest is fond of reminding us: some people have swimming pools in their home, but we have our home in a swimming pool!
Of course, there are things the kids miss out on. There are no team sports at sea, no trips to the mall with friends or regular family meet ups. Baths are an indulgence limited to when we make infrequent visits to family or friends on land. New clothes and shoes are a luxury—though we don't need many . A haircut involves a trip to the back of the boat with hair clippers and kitchen scissors and dishes are rinsed in sea water. The only times we venture ashore is to recycle our waste, provision for food or go hiking.
We produce our own energy, make our own water and homeschool the kids, who sleep in small cabins. We are kept busy with family life, homeschooling, maintaining our sailboat and exploring the natural world. We generate a modest monthly income by renting our family home in England and video blogging. In many ways, our life has stayed the same during the pandemic, which is, sadly, not the case for the majority of people around the world.
Off-grid living is often seen as the preserve of outliers or "doomsday preppers". But if the recent pandemic has proven anything, it is that "traditional life" can be disrupted at any time.
It has also shown us that few things are permanent and life is full of struggle, risk and uncertainty—a bit like sailing. Problems are inevitable and at times you have to cope with repeated disappointments, unsociable hours and emotional turmoil, similar to the experience of raising a family. So, in many ways, we feel there is no better training for difficult times than family life at sea!
That's not to say we haven't been impacted by COVID-19. With unfortunate timing, we were making repairs to our sailboat in a Spanish boatyard when the lockdown was swiftly imposed. This was enforced by the Guardia Civil—the local civil guard— and meant we were confined to our boat for seven weeks, propped up on stilts 20 feet above the ground, without sanitation and unable to leave the boat except for food.
Luckily, a sympathetic yard worker dismantled the lock to the boatyard facilities so we could at least access the showers and toilets by surreptitiously creeping down a ladder and under other boats. We covertly, but safely, worked on our boat throughout the lockdown while the kids, posted at strategic points in the yard with walkie talkies warned us of Guardia Civil patrols. Little by little, in our isolated bubble, we finished the work. In the process, our kids learned some valuable lessons in teamwork, personal responsibility and civil disobedience that they would never have learned in quite the same way in a classroom.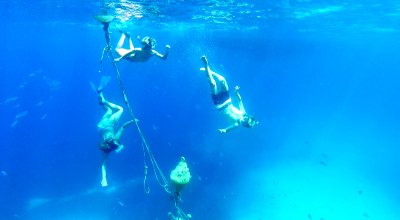 So, even though this year has given us many reasons to question our lifestyle, we constantly weigh the hardships against the benefits. Yes, it does put a few obstacles in our way as countries impose lockdowns, quarantines and bans on foreign visitors at short notice.
But this year, we hope to cross the Atlantic to sail the Caribbean and central America. Next year we hope to continue our journey through the Panama Canal to the south Pacific and beyond. A little suffering and the loss of a few luxuries are a small price to pay for the experience of travelling the world with our kids when many families are struggling just to leave their own homes.
Coronavirus has pushed many families outside of their comfort zone and forced us all to re-examine their life choices. Remote working and homeschooling have been the new normal for many. While these choices don't work for everyone, they shouldn't necessarily be seen in a negative light. Transformative experiences can often embolden us to re-evaluated our priorities and sometimes look to new horizons.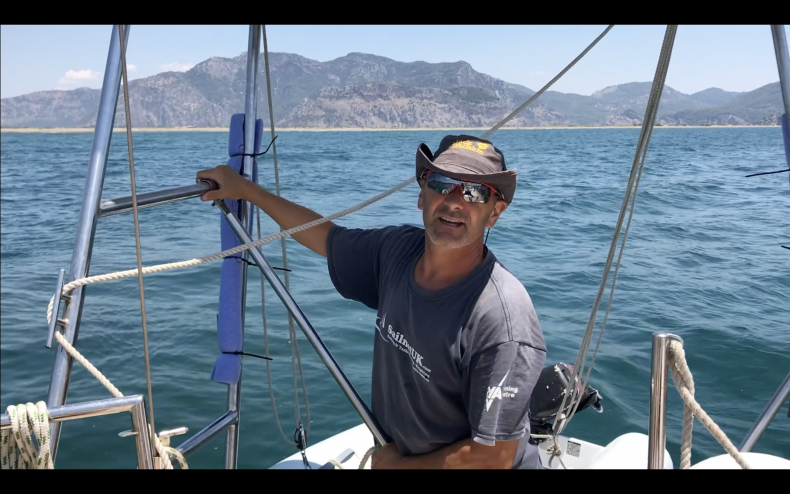 We have certainly received more enquiries about our lifestyle from other families in recent months. In the short term—it has been a painful year. But in the longer term, who knows, we may well see more families seeking a new normal altogether and looking to the ocean to bring them that new horizon.
Alan "Woody" Wood and Irenka Wood are passionate about family travel and sailing. They have been living at sea with their three children since 2017 and release weekly video blogs on their YouTube Channel: Mothership Adrift. For further information visit mothershipadrift.com or facebook.com/mothershipadrift.
You can follow the family on Instagram @mothershipadrift and Twitter @moshipadrift
All views expressed in this piece are the writer's own.