'We Are Ready to Pay Any Price'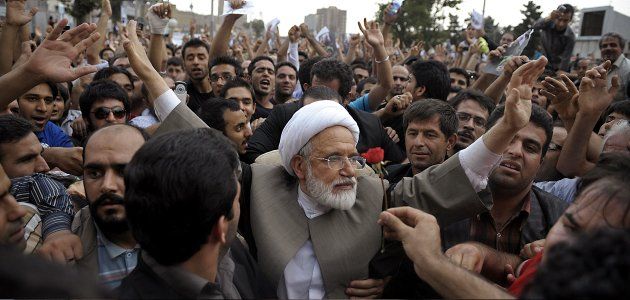 Mehdi Karrubi, 73, is known in Iran as the old man of reformism. Since last June's disputed election, he and fellow reformist candidate Mir Hossein Mousavi have joined in protests against what they call an electoral coup by President Mahmoud Ahmadinejad. Many people close to Karrubi have been jailed, and pro-government hardliners have called for his arrest as well. He has been warned against talking to the foreign media, and any journalist who approaches him in Iran risks imprisonment, but in a rare interview last week he replied to questions sent to him via e-mail by NEWSWEEK's Maziar Bahari and independent journalist Masih Alinejad. Excerpts:
You are called a conspirator and a danger to national security. Why do you think they haven't arrested you yet?
They've attacked my house twice and broke all the windows. They've shut down my office, my newspaper, and my party. They beat up one of my children. Two of my children are banned from leaving the country. They've arrested many people who were close to me. Any member of the Parliament who comes to visit me is chased and attacked. I'm not sure whether they're going to arrest me or not, but my family and myself, we are all ready to pay any price for our struggle for the people of Iran.
Are you one of the leaders of the Green Movement?
If there were individuals who led the Green Movement, the government would immediately arrest them and put them in prison. When Mr. Mousavi and I assigned a four-member committee to look after the families of those who were harmed during the post-election protests, all those four members were arrested.
Has there been a coup d'état in Iran?
Yes, absolutely. A military group that took over in 2005 [when Ahmadinejad was first elected] has started to eliminate all the competent officials from the government. There has been a military takeover of politics and economy in the country.
Do you oppose the Islamic Republic as a form of government, or do you think it can be reformed?
I fought to establish an Islamic Republic for decades before the [1979] revolution. I've held many important posts in this government. I oppose the absolutism of this group who've taken over and have brought the country to a point of disaster.
There will inevitably be a number of demonstrations on June 12, the first anniversary of the disputed election. Are you afraid that there will be violence?
After last year's fraudulent election, people came to the streets and marched peacefully against the results. This year we have asked the Ministry of Interior to give us permission to demonstrate so we can prevent any kind of violence. If they don't give us permission, we have to think of other solutions.
Who do you think is responsible for the violent suppression of demonstrations in the past year?
The people responsible for the violence are the people who were in charge of the elections. When millions of people opposed the result, Mr. Ahmadinejad called his critics "a bunch of dust and dirt." Government-assigned clerics called the people "imbeciles" for opposing the fraud. It was this government that used violence against people. I spent many years in jail in the shah's time. In some cases the abuses in prisons are even worse than in the time of the shah.
Do you think the international community, especially the United States, should support the struggle of the Iranian people?
Foreign governments shouldn't support us, because the government would then accuse us of being foreign agents. But I ask people all around the world and Iranians in the diaspora to support our struggle.
What do you think the future holds for Iran?
I think the only way out of the current crisis is returning to the Iranian Constitution. That means releasing political prisoners, press freedom, respecting students and academics, and reform in the management of the country. We don't want another revolution. We want reform through peaceful action.