We Are Republican and Democratic Election Officials. Voting Rights Are a Bipartisan Issue | Opinion
Voting does not have to be so hard for so many Americans. We would know: We both served as election officials, one a Republican from Dekalb County, Georgia, the other a Democrat from Maricopa County, Arizona. And although we are from different political parties, states, and corners of the country, we both strongly agree that voting is a fundamental right for all Americans, one that must be preserved and protected.
Unfortunately, we are witnessing an alarming trend in the opposite direction. In 2021, 400 bills that restrict access to voting have been introduced in 49 states. In 19 of them, including our home states, anti-democratic bills have become law. While lawmakers falsely mask these voter suppression and election sabotaging measures in the name of curtailing alleged voter fraud, extensive research continues to find little to no evidence of widespread fraud anywhere in the country. Instead, the result—and real objective—of these laws is that many members of our communities, especially people of color, will find it harder to vote the next time they go to the polls.
That's why the Senate must pass the John Lewis Voting Rights Advancement Act and the Freedom to Vote Act immediately.
As county election officials, we have first-hand experience with running safe elections and increasing voting access for our respective constituencies. Maricopa County built a one-stop-shop website for voting information, launched an award-winning roundtable discussion project in traditionally underrepresented communities, and created a voting PSA campaign. In Dekalb County, an elections stakeholder working group was tasked with improving the voter experience, resulting in the increase of secure absentee drop boxes and polling locations, expanded early-voting access, and a streamlined vote-by-mail process.
When COVID-19 hit, we were faced with a whole new level of challenges that forced us to innovate to make voting more accessible, not only during the pandemic but going forward as well. Maricopa County created flexibility for voters to cast a ballot at any voting location, not only their assigned precinct. In Georgia, all 6.9 million active voters received an absentee ballot request form. The results of these and other simple but effective modifications speak for themselves: In 2020, 750,000 more Arizonans cast their ballot compared to in 2016, a 5 percent increase. Georgia added more than 1.8 million newly registered voters from 2016 to 2020 and saw record-breaking turnout despite the pandemic.
As Americans, we should all be proud of record voter participation.
Yet instead of building upon these successes, legislatures in many states are deliberately putting up barriers to voting. Some states are limiting early voting. Others, including our home states, are prohibiting election officials from proactively enabling more registered voters to use vote-by-mail. Texas has taken the extreme step of making such proactive efforts a felony. Vote-by-mail drop boxes, which are a popular, speedy, and secure tool, are another target for these anti-voting laws. Georgia and Florida limit where, when, and how many drop boxes can be available. Even worse, Texas inexplicably outlaws ballot drop boxes altogether.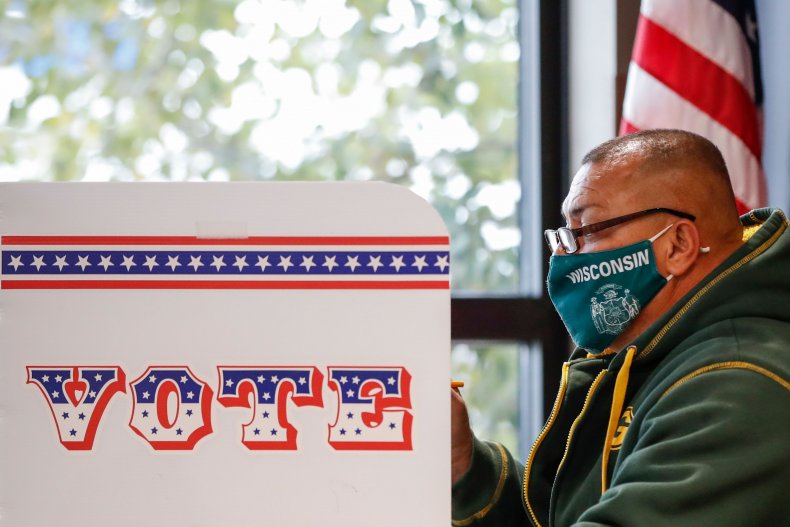 Some portions of these laws threaten the comfort and safety of voters, particularly as the pandemic continues. Texas bans drive-thru voting. Georgia has even made it unlawful to provide food and water to voters waiting in line at the polls, a type of support often done to aid voters facing excessively long waits, which is a common situation in many communities of color.
Perhaps most pernicious, though, are the new laws that allow politicians to sabotage elections and subvert the will of the people. Texas' law allows partisan poll watchers to have "free movement" in a polling place, potentially violating voters' privacy, and adds the threat of criminal action if a poll watcher's view is impeded. In Georgia, the State Election Board can now replace locally selected county election officials, which has injected partisan political interference into local election administration. These measures may not be in your state now, but they could be in the future.
We believe that all eligible voters should be able to easily and securely cast their ballot, whether voting early, by mail, or on Election Day. This should be a priority of elected officials across the country, regardless of party affiliation. Many of our peers continue to work tirelessly toward this goal, even amidst a huge rise in threats against them.
Yet the tidal wave of anti-voter laws in countless states puts our democracy at risk. We are deeply saddened to see common-sense voting rights legislation once again blocked in the Senate this week, and encourage our elected officials to put aside partisan differences in the name of democracy, like we both have.
It is past time for Congress to step up and set nationwide standards that protect your right to vote and stop election sabotage. Together, the Freedom to Vote Act and the John Lewis Voting Rights Advancement Act would do just that.
Baoky Vu is the former Vice-Chair of the Dekalb County Board of Registration and Elections in Georgia. Adrian Fontes is the former Maricopa County Recorder in Arizona.
The views in this article are the writers' own.