'We Bought A House For $1'
My family and I have been visiting and exploring Sardinia, in particular the Barbagia region, since 1984, the year I married my wife, Marcella. Over the years, we have fallen in love with the area. It is rich in both natural beauty and ancient traditions, the food is great and the people are friendly.
Now, we live in Calasetta, a beautiful town by the sea in the south of Sardinia, in front of San Pietro Island. In 2016, at the age of 64, I decided to stop working at the construction company I owned, and around that time, I learned about the "Case a 1 euro (1-euro houses)" project in a village named Ollolai.
My family has been spending a few days in the Barbagia region every year, both for the fresh air and because we are able to travel from the coast, where we live, to the mountains in just two-and-a-half-hours by car. Ollolai sits in the middle of the Barbagia region of Sardinia, it's small, with only around 1,200 residents, but it's very clean. Everyone knows each other and they are all very hospitable to guests. We immediately felt at home. Growing up, our son loved the snow in the nearby mountains and even now, his wife and our two grandchildren often spend a few weekends in Ollolai with their friends when they can.
So, as soon as my wife and I heard about the "Case a 1 euro (1-euro houses)" project in the village, we thought it would be nice to have a base there. It made more sense than always staying at a hotel in the neighbouring villages as we had been. We applied to buy a 1 Euro (approx. US$1) house in February 2016 and in April of the same year we were invited to go to Ollolai and look at some of the properties that were for sale. I believe we were actually the first people to show interest in the project!
We had a choice of four houses and, in the end, we actually chose the one that was the most run-down. It just happened to be the one that impressed us the most. We paid for it in cash, over the next few months, we worked on finding a local surveyor and commissioned him to work on the design, as the purpose of the project is for buyers to renovate the abandoned property to help regenerate the area.
In January 2017, we received the permit required to start renovation work. We demolished the old walls, which couldn't be salvaged because they were unsafe and, after waiting for the snow to stop in early 2017, we began the construction work. We hired a carpenter, a plumber, an electrician, all from Ollolai and work was completed in November of the same year.
Originally we wanted to have a small home, but we ended up building a very large house that we later decided to transform into a bed and breakfast (B&B). This meant we spent much more than we initially thought we would, but, we were able to build a very large house, using modern, good quality materials for around 110,000 Euros.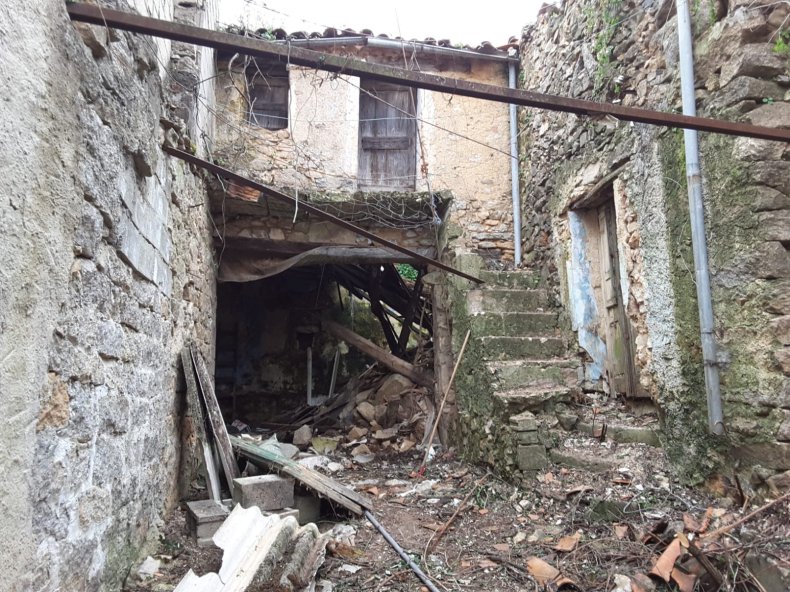 Although we didn't move permanently to Ollolai, we visit often and in particular when we have guests staying at the B&B. Since it opened in 2018, we have also met many of Ollolai's residents, some of whom have become friends. Ollolai's municipal administration also awarded us honorary citizenship to honor the choice we made in buying the house for one euro, and to thank us for employing Ollolai residents to work on the re-building of the property.
We enjoyed the experience of building and opening a B&B so much that we also opened one here in Calasetta. It's a very pleasant way to meet other people from different backgrounds; breakfast can last up to an hour between all the conversations we have with our guests. People who stay at our B&B are always happy during their stay and have given us many good reviews. We even keep in touch with some!
We don't earn a lot of money, but it allows us to pay the expenses of having a second house. Of course, the COVID-19 pandemic has hurt our B&B businesses over the past year, but we believe that with patience, better times will come.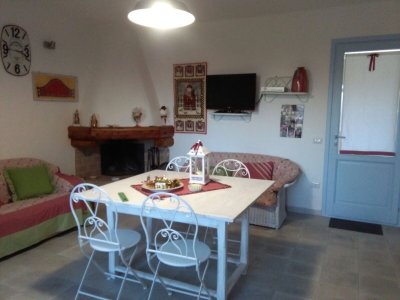 Ollolai still has so much to offer: there are festivals celebrating various saints and each features horses that parade through the streets, decorated and adorned for the occasion. As is typical of the region, Ollolai also has many "pariglie." These are horse races during which the riders perform—often very dangerous—acrobatics. And, each July, the Palio Degli Asinelli (a donkey derby) takes place, attracting many tourists from Sardinia and the rest of Italy. Interestingly, Arnold Schwarzenegger has the promise of honorary citizenship of Ollolai because he was a lifelong friend of Franco Columbo, a bodybuilder and two-time Mr. Olympia. Columbo was born, and died, in Ollolai.
I would recommend this "Case a 1 euro (1-euro houses)" project to anyone who loves this area. Here, you can relax, live close to nature, breathe in fresh air and enjoy the company of hospitable people while eating good food. If you want to unplug from a stressful life, why wouldn't you come to Ollolai?
Vito Casula lives with his wife, Marcella Cirronis in Calasetta, Sardinia. The own the MaVi Ollolai B&B in Ollolai, Sardina and the MaVi Mare B&B in Calasetta, Sardinia.
All views expressed in this article are the author's own.
Edited by Jenny Haward.
Translation by Dom Passantino.