'We Built a Tiny House Village'
The first I heard of tiny home villages was back in 2019. My background is in social work and at that time, I was working with homeless youth in the public school system; high school students that were unaccompanied, in school, facing homelessness.
I was there for seven years, and every year graduation rates amongst our homeless individuals were rising. I would be with them through their high school experience, and then thinking: What happens next? In Denver, we only have one homeless shelter exclusively for teens. Finding housing for youth past 18 is really difficult without a guardian, or any type of down payment.
Then I heard about Colorado Village Collaborative through a mutual friend. At the time, it was a small grassroots organization that had just 11 tiny homes in a village named the Beloved Community Village. They were looking for a village organizer, someone to come in and expand programming within the village.
I was aware of the shelters and hotels that many homeless individuals were staying in, some by themselves, and how dangerous that could be. I saw some people sleeping in parks because they just had no other place to go. And so the concept of a tiny home village for homeless individuals just amazed me. Each tiny home in the first village is a small bedroom with access to water, showers and laundry. Just having access to a flushing toilet is huge in regards to dignity. We then raised funds for a community space in the first tiny home village, which allowed us to have a kitchen for cooking together and community dinners.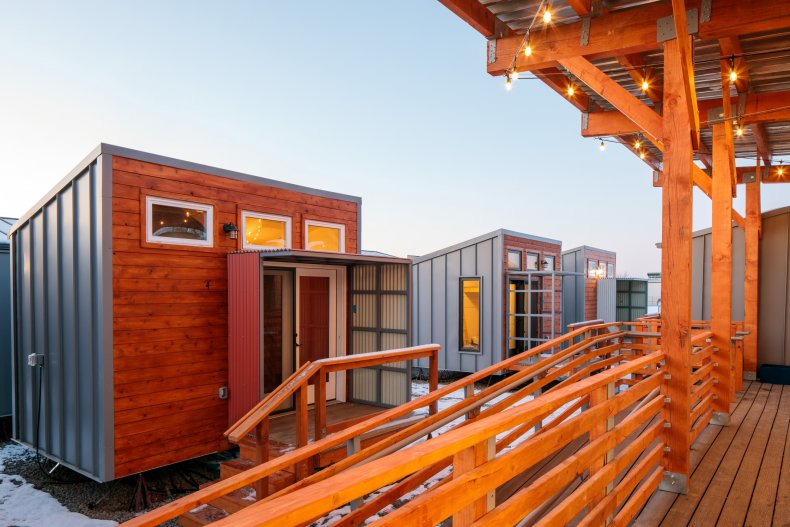 Building a tiny home village for women
A tiny home village for women had always been a twinkle in the eye of the team. That's because of the high risk that women face being unhoused. There's higher risk of violence and a higher risk of sex trafficking.
Our organization receives donations, does fundraising and has contracts with the City of Denver, so we were awarded some grants through them for the women's village.
As we have grown and learned more about what is needed in a tiny home, we've had about three different editions of the tiny home, and in our latest edition, we added more natural light. I think on average, each tiny home in our villages has cost between $11,000 and $15,000.
The Women's Village opened in December 2020. There are currently 14 units that are available for individuals there. Each individual tiny home is roughly 100 square feet, and comes with electricity, A/C and heat. We also provide the basic necessities, such as a bed, a bed frame and shelves. Then we have a community space for the village, so individuals have access to a shared kitchen area and bathrooms.
We initially called it the Women's Village. And then as we saw applicants coming through we began to see it was not just trans women, it was transgender individuals that needed the space. We noticed that there are a lot of transgender men that perhaps haven't fully transitioned and are high risk, because they aren't comfortable in a men's shelter, but then they also aren't comfortable in a women's shelter. So we wanted to say that all transgender people were welcome, because there is an equally high risk of not having access to the services that they need.
So, we are changing our name to the Welcome Village.
The people who live in the tiny home village
We typically get referrals for individuals that have higher barriers to housing, which often includes women and transgender individuals from African American and Native American communities. Currently, our youngest individual is 19, and our oldest is in their 70s. And then, we have women and trans people who are all ages in between that.
Here in Denver, there are shelters that do not allow pets. And so some individuals we service will have stayed in their tent because they didn't want to be separated from their pets. We also service individuals that have non-traditional work hours. At most of the shelters, you have to check in by 5pm to get a bed, and then you have to check out by 6am. That doesn't work for individuals that work evenings or work overnights.
In that respect, our tiny home villages are more autonomous than traditional shelters, and we're also a low barrier shelter; we practice harm reduction. At many shelters if you don't pass urinalysis tests for alcohol or marijuana, you're not allowed back into the shelter. We want to dignify humans and if they're of legal age to consume alcohol or legal marijuana, and as long as their behavior doesn't affect their stay within the community, then we work on it with the individual.
We don't charge rent, but we do have every resident sign a community use agreement. This includes agreeing to rules of anti-discrimination and anti-violence. We also have a chore system that individuals participate in, to ensure that their space, and the community space, is clean and sanitary. We also don't allow any type of alcohol use or drug use in community spaces at all. We are trying to create a peaceful environment.
One of the requirements of living in the tiny home village is working on goals. And so our staff work with individuals on creating goals for themselves. So some have employment already, and they just need a place to rest so that they can start saving money and looking into more permanent situations. But we also have individuals that come in bare bones, with no documentation, not having any type of mental or physical health care and may have substance use issues. We just meet individuals where they are and figure out what that goal is for them. Some people leave within six months and others 12 months, and we have some people at the Beloved Community Village that have been there for three years.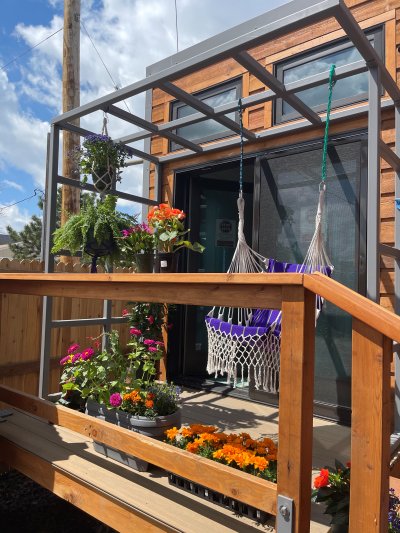 How women and trans people benefit from tiny homes
One trans individual came in and slept for almost two days straight. It was because on the streets you don't have that safety; you're always on guard. This person said to me that they hadn't been able to have a restful sleep because of the fear of being out on the street and always being alert for what was going on in their surroundings. The beauty of the tiny home is they have a door that they can lock. They can just be. Then, they're able to start focusing on what it is they want to work on.
We had one individual who actually moved into permanent housing in early August. In December of 2020, she was unhoused and had a heart attack on the streets. She had to have open heart surgery. The doctors at the hospital were worried about her discharge, because she had nowhere to go. Luckily, we were opening up at that time and we were able to get her team of doctors to come to the village and help her with her recovery.
She told us that if it hadn't been for the tiny home village, she didn't know if she would have made it, out on the streets, during her recovery from open heart surgery. The transformation that we see from individuals who have come in is pretty amazing.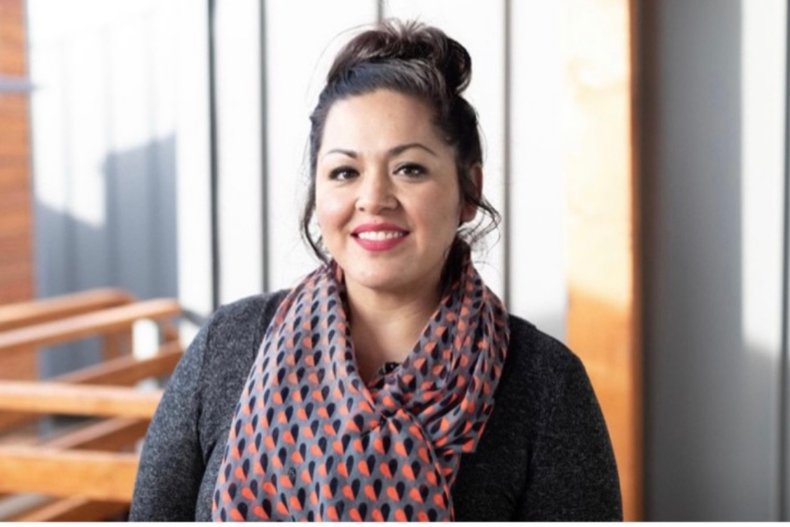 The future of the tiny home villages
Initially, when we first opened the tiny home villages, our first lease was only six months. Since then, we have been able to work with policymakers to actually change zoning laws. Right now, we're able to lease land for up to four years.
We're actually going to be moving the Welcome Village to a new site in October. But in the long term, our goal is having more permanent land. Then our bigger vision is to serve hundreds more in permanent supportive housing. Right now we're only able to serve 35 individuals in tiny homes as a stepping stone. So we want to work on more tiny homes and then permanent supportive housing.
Working at the Welcome Village is an amazing experience. I am a firm believer that every individual just needs to find their purpose in order to move forward, and I feel like the village helps people find that within themselves.
Our staff is amazing. I feel like we're a different type of organization because we really do put in the effort into understanding that people come in with layers of trauma. There are layers of traumas that have put these individuals in the position that they're in. We help them to peel those layers and be able to move forward.
The achievements are in even the "small" successes. That might be as simple as someone being able to shower as often as they want, and not just as a survival thing. To me, it's just amazing to see.
Dorothy Leyba lives in Denver, Colorado and is tiny home village program director at Colorado Village Collaborative. CVC currently operates two tiny home villages.
All views expressed in this article are the author's own.
As told to Jenny Haward.