'We Can Be Heroes': Why Taylor Lautner Did Not Return As Sharkboy
We Can Be Heroes is proving a hit for Netflix, 15 years after the release of the movie it span-off from, The Adventures of Sharkboy and Lavagirl in 3-D. That movie starred Taylor Lautner and Taylor Dooley as the eponymous superheroes, but only Dooley returns for the new streaming movie. However, director Robert Rodriguez has revealed exactly why the Twilight actor does not come back for the superhero sequel.
In We Can Be Heroes, Lautner's character of Sharkboy is played by JJ Dashnaw, a stuntman who has worked with Rodriguez in multiple films like Sin City, Spy Kids and Planet Terror. Notably, however, we do not see his face in the movie as he is wearing a mask, and the character does not have any lines.
This was first teased in summer 2020, when the director said during a Comic-Con@Home panel that, "The only speaking role is for Lavagirl."
Per Rodriguez, he did let Lautner know about the role, but did not cast him in the movie out of respect for the actor. He told Decider: "I did call Taylor [Lautner] to let him know, 'There's no dialogue. It's not about the parents. It's not really a sequel—you'd have your face covered the whole time...'There wasn't a big enough role for him to do.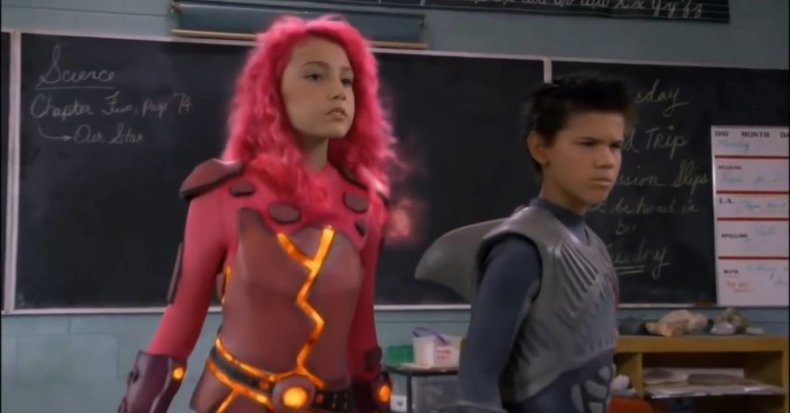 "It was fine if he couldn't be in it, because it would draw more attention to it. He became such a big star after Twilight that he would have an expectation. Could you imagine if he was in it, and then they see it and they're like, 'Wait! His face is covered the whole time! Hey, he didn't have any dialogue!' It'd certainly look like a demerit against him, and I wouldn't want that. It wasn't about him, it was just to use the characters more than the actors."
However, the director did hint that the actor could return in a sequel to the movie. He said: "Maybe if this is really successful and there's a bigger play later, it'd be more worth his time."
Partly, this was because the director does not see the film as a SharkBoy and LavaGirl sequel, but more like a kids ensemble superhero movie that happens to have the adult versions of those two heroes as characters. This is something that Rodriguez has done before in reverse, with Danny Trejo appearing as Machete in the four Spy Kids films before spinning off to his own franchise.
Rodriguez alluded to this when he told Decide: "It started as an original film for Netflix—they asked me for an original film series in the vein of Spy Kids or Sharkboy and Lavagirl...And then selfishly, I could have one of the kids have a combination of their powers. Because I was creating all these new powers for kids for the movie, and I thought, 'Gosh, I wish I could use shark strength. We cracked the code 15 years ago.'... This kind of solved the problems, bringing them in as parents and being able to have a child that has both of their combined powers."
Since Rodriguez gave this interview, the movie has already been greenlit for a sequel, meaning that Lautner could be set to appear—in what would be his first on-screen role since 2018 British comedy Cuckoo.
However, it may be that Lautner has moved on from the world of SharkBoy and LavaGirl. In June 2020, Entertainment Weekly published an oral history of the movie, which Lautner declined to be interviewed for.
Although in previous years he has featured images from the set, which was his first major on-screen role at the age of 13, as throwback images on his Instagram.
We Can Be Heroes is streaming now on Netflix.