We Can Prevent New COVID Variants if We Support Africa With Their Response | Opinion
Earlier this year, when countries were experiencing COVID-19 surges that overwhelmed health systems, Africa appeared to have avoided that fate. Given the early predictions that Africa would suffer gravely from COVID due to their comparatively weaker health systems, official figures say Africa now accounts for just 3.3 percent of global cases and 4.3 percent of deaths. In contrast, Europe accounts for 28 percent of global cases.
However, a recent World Health Organization (WHO) study showed that there are seven times as many cases. As of Dec. 9, that means there have been more than 60 million additional COVID-19 infections. These numbers represent a significant data gap or "invisible curve" of the true impact of the disease in Africa. The Economist estimated that deaths are undercounted by as much as eight times official figures state—however anecdotal evidence such as a spike in hospitalizations or reports of morgues becoming overwhelmed has yet to support this figure.
An invisible curve has serious consequences for the rest of the world including a higher likelihood of new variants emerging, undermining the extensive vaccination programs in the Global North and ultimately prolonging the pandemic worldwide.
There are a number of reasons for underreported cases and deaths in Africa including a reliance on people with symptoms reporting to health facilities rather than a targeted testing strategy, the large number of asymptomatic cases which could exceed more than 80 percent of cases in some countries and minimal testing and reporting of people who die from COVID-19.
Even if there is testing, most countries in Africa do not have fully functional systems to record these statistics and do not provide up-to-date data required to measure mortality. A WHO assessment of health-information systems estimated that, overall, just 10 percent of all deaths are officially registered in Africa, compared to 98 percent in Europe.
We are in the midst of an Omicron wave and it is more crucial now than ever that Africa has the tools needed to track the spread and evolution of COVID and respond to it accordingly. Without these tools, governments in Africa will be flying blind, more variants like Omicron will emerge and we will continue to suffer the very real and severe consequences that we are now watching play out in real-time.
The Tony Blair Institute for Global Change has outlined this reality in its new paper Tracing Africa's Invisible Curve.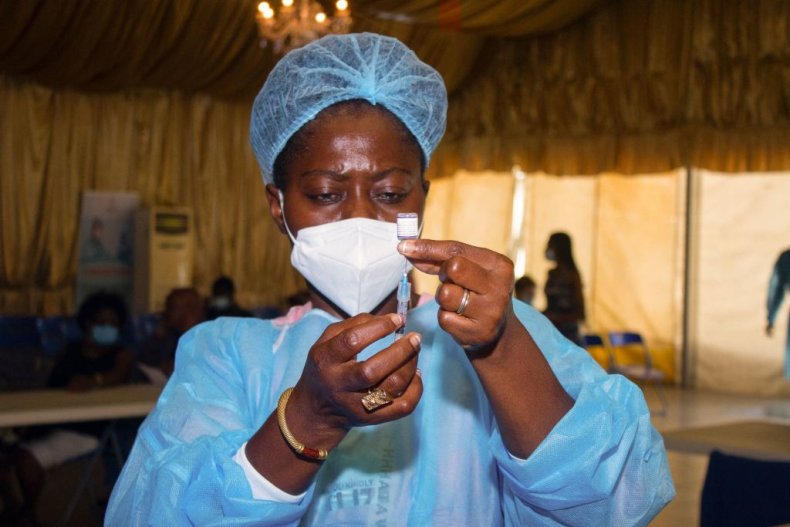 The first and most critical recommendation is a widespread ramping up of systematic testing across Africa—governments must begin implementing more strategic, regular testing in the community to identify emerging outbreaks and variants, asymptomatic cases and the prevalence of prior infections. As of October 2021, a mere 0.4 percent of the 3.5 billion tests performed internationally were in low-income countries, meaning many cases were untested and un-sequenced.
Secondly, widening coverage of genomic sequencing is imperative to provide deeper insight into the evolution of the virus so scientists can understand how it is changing, quickly identify new variants such as Omicron and alert the world, enabling a global response to slow its spread and reduce its impact. South Africa's rapid sequencing and reporting is a global gold standard that reaps international benefits—this must be scaled up and replicated at a rapid rate. Genomic sequencing also provides greater insight into the effectiveness of vaccines and anti-viral treatments on the virus and its variants.
Lastly, Africa needs reliable and sustained investment in a robust digital health management system so that case information can be reported and accessed by public health officials to inform decision-making at the highest levels and stay one step ahead of the virus to slow the emergence of new variants.
It is vital that Africa has the tools and systems in place to understand the true burden of COVID-19. Only when governments have accurate, real-time information regarding the true scale and nature of the pandemic can they develop an effective response. Without this data, governments will not be able to adapt their pandemic response plans, fine tune policies, or update their strategies.
We have seen in the face of Omicron how important this information is to safeguard a population and maintain essential services: Western governments have ramped up booster programs, implemented new restrictions and instantly changed tact to respond to its threat.
Until there is better understanding of COVID in Africa, there will be gaping holes in the African and global pandemic response, hampering recovery and damaging worldwide efforts to bring the pandemic under control.
Adam Bradshaw is senior COVID advisor at Tony Blair Institute for Global Change (TBI).
The views expressed in this article are the writer's own.