We Can't Solve the Ukraine Crisis Without Women | Opinion
At the train station in Zahony on the Hungary-Ukraine border, there is a noticeboard with dozens of handwritten notes offering refugees a place to stay, work, or transportation further west into Europe.
Some are from people seeking to make a profit out of a bad situation. Others are moved to help address the most startling refugee crisis Europe has faced in more than half a century. And some, inevitably, are there for more nefarious purposes: human traffickers seeking to take advantage of women and children in their most vulnerable moment.
Every crisis is gendered, in the sense that our sexed bodies and gender identities shape the way that people living in conflict and disaster zones experience them. Conflict has a way of sharpening the gender dynamics that already exist in a given place, tearing open new opportunities for violence and exploitation.
This means that if the international community is to adequately address the humanitarian crises that emerge in the wake of conflict, disaster, and other emergency settings, gender must be part of the crisis response from the very start. The trouble is that in the scramble to meet other pressing needs like food and shelter, too often it is swept to the side.
We recently spent four weeks traveling through Moldova, Poland, Romania, Slovakia, and Hungary with a team of 10 researchers, meeting with refugees, women's rights organizations, U.N. personnel, and volunteers who have stepped in to fill the gaps, to understand what's really happening to the millions of people who have been displaced from Ukraine since Russia's invasion in February—more than 90 percent of whom are women and children.
What we found was a state of emergency and disorganization far beyond what most people outside the region understand. Women's problems don't end when they leave Ukraine. They merely change shape.
We heard stories of sophisticated trafficking attempts, like a Romanian man who posed on social media as a representative of an American OB/GYN association in a bid to draw in pregnant women. We saw firsthand the impacts of the 2-mile gap between the Moldova-Ukraine border and the nearest refugee transit camp. While the U.N. High Commissioner for Refugees (UNHCR) and other actors were present at the border with buses to transport refugees, so were less scrupulous actors.
Refugees told us about forced and coerced labor they had experienced in both institutional and informal settings. One woman staying at a private shelter in Moldova was forced to "volunteer" to wash dishes from morning through night in exchange for shelter, while her teenage daughter cared for the younger children. In Hungary, a single mother and child were taken in by a man who demanded they cook for him in exchange for their stay.
This exploitation is aided by a crisis response that has been characterized as much by its disorganization as by its incredible generosity. As communities scramble to meet the needs of the most rapid influx of forcibly displaced people the world has ever seen, there is no way to track where those people are going or ensure that they are safe from harm.
And despite USAID's stated commitment to localization, most of the money is being channeled through the U.N., instead of to local organizations with the knowledge and expertise to truly address the crisis.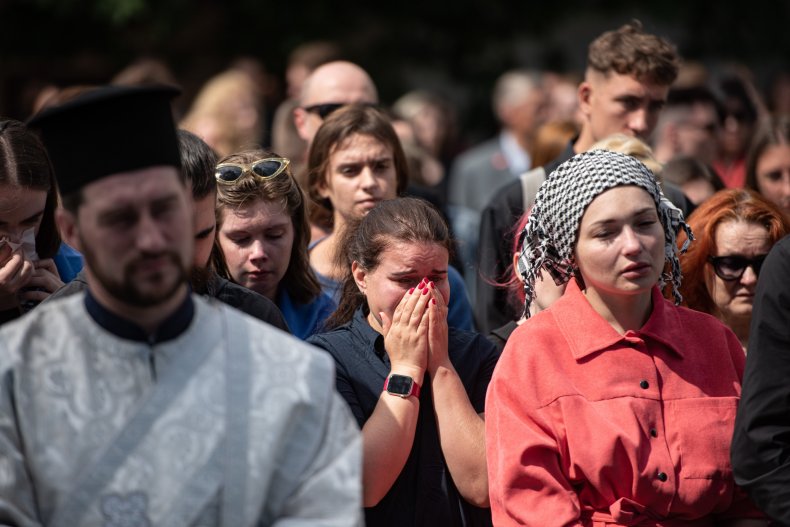 One case in point: In Uzhhorod, a city nestled at the Ukraine-Slovakia border, you can only cross the border on foot. Human traffickers have taken advantage of this situation, with men in Ukraine coordinating with men in Slovakia in the guise of offering them transportation.
But women's rights organizations have come up with an equally enterprising solution to this problem. Slovakian women wheeling shopping carts greet women, girls and families crossing the border, walking and talking with them to prevent them being preyed upon by traffickers. Knowing that text messages are a common tool traffickers use to coordinate across borders, they ask women if they've received any texts from men offering to give them a ride somewhere, and if they have, they ask to see their phones.
This is the kind of simple but creative intervention that can only be created by people with deep expertise on both how gender-based violence really operates, and the specific dynamics of a given place.
Imagine what could be achieved—and what violence could be prevented—if this expertise was integrated into emergency response design from the very start?
The truth is, the humanitarian sector has the resources it needs to stop many of the worst impacts of the war in Ukraine. But those resources need to be directed to the right places: to the local organizations working on the frontlines of the refugee response, as well as into the pockets of refugee women themselves, many of whom are starting to return to Ukraine due to lack of resources.
In this crisis, untold harm has already been done. But it is not too late for the international community to turn things around.
As the invasion looks set to continue through the summer and the fall, deprivation and insecurity will only worsen, and exploitation and violence will continue to be played out on the bodies of women and girls. Yet it is women and girls who know best what the risks are, and what the potential solutions to lessen those risks and other burdens of the war might look like.
We must listen to their insights, honor their leadership and expertise, and provide them with resources to put their solutions into action at the scale required. If we don't, we risk magnifying the harm that has already been done, and losing a whole generation of women and girls.
Mendy Marsh is the executive director of VOICE, a feminist organization working to end violence against women and girls in conflict, crisis and disaster settings.
Kelly Shawn Joseph is VOICE's emergency response director.
The views expressed in this article are the writers' own.