We Could Be Closer Than Ever To Seeing Donald Trump's Tax Returns
Donald Trump, a billionaire real estate developer before he took office as President of the United States in 2017, has repeatedly refused calls to release his tax returns. But a recent statement from Democratic Rep. Elijah Cummings (MD) could mean we're closer than ever before to seeing Trump's elusive reports.
Cummings, the House Oversight and Reform Committee chairman, formally requested a variety of documents on Trump and the Trump organization in a letter sent to tax and accounting firm Mazars USA LLP's Chairman and Chief Executive Officer, Victor Wahba, last month on behalf of the Committee on Oversight and Reform. In it, Cummings references testimony given by Trump's former attorney and personal "fixer" Michael Cohen provided to the Committee earlier this year and set the due date for turnover at April 3, 2019.
On Wednesday, the day of the deadline, Cummings told reporters that Mazars USA LLP has said they will comply with the panel's request for several years of Trump's financial records if they receive a "friendly" subpoena.
"They have told us that they will provide the information pretty much when they have a subpoena," the Democrat said. "And we'll get them a subpoena."
Trump's refusal to turn over his tax returns is at odds with the practice that all former presidents, with the exception of Gerald Ford, have adhered to since Richard Nixon. Ford released a summary of his returns.
Mazers USA declined to confirm Cummings' statement when contacted by Newsweek, citing client privilege. "Mazars believes strongly in the ethical and professional rules and regulations that govern our industry, our work and our client interactions," a spokesperson said. "As a matter of firm policy and professional rules we do not comment on the work we conduct for our clients. Mazars USA will respect the legal process and fully comply with its legal obligations."
Meanwhile, Rep. Richard E. Neal (D-MA), chairman of the House Ways and Means Committee, formally requested on Wednesday that the IRS release six years of Trump's personal and commercial tax returns in a two-page letter to IRS commissioner Charles P. Rettig.
During his February appearance before the Oversight Committee, Cohen testified that Trump had attempted to purchase the NFL team Buffalo Bills and inflated his assets in a bid to do so. Cohen also stated that Trump deflated his net worth to help reduce taxes.
Trump has resisted calls to release his tax returns since 2016, when he said he couldn't make the documents public because of an IRS audit. However, the Washington Post noted, the IRS doesn't block a person from releasing their tax returns if they're being audited.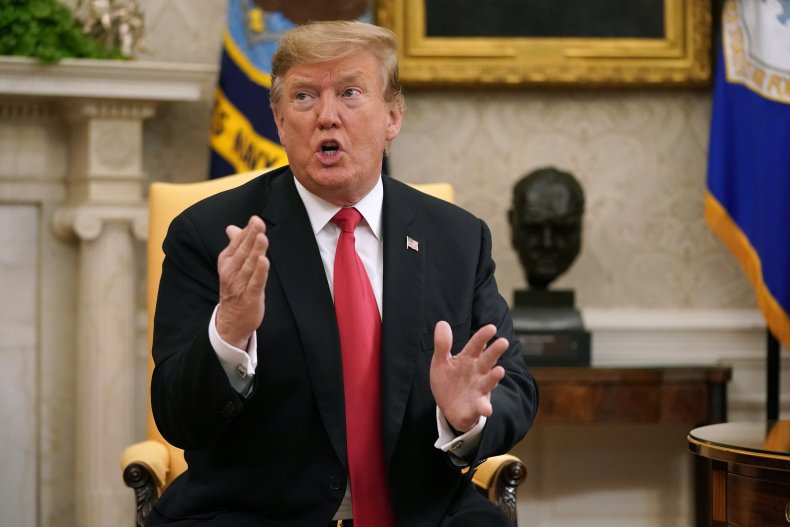 We Could Be Closer Than Ever To Seeing Donald Trump's Tax Returns | U.S.