I often think of a quote that a mentor of mine used to repeat: "Every new idea is crazy until it works." We kind of live by that motto at the Idaho Potato Commission (IPC). We've had the Big Idaho Potato Hotel and the Big Idaho Potato Truck; we have the Famous Idaho Potato Bowl and the Famous Idaho Potato Marathon. Every idea is explored.
Idaho potatoes have been famous for so long that we love quirky ideas and taking risks in the right way. Everything we do is approved by a team of growers, shippers and processors who make up our nine commissioners, but if something works, it works.
We typically sit down in April each year and ideas for the next year are presented. These brainstorming sessions are a lot of fun; sometimes an idea just pops up when we're sitting there.
In 2020, there had been concerns of a French fry famine and lots of discussion about what we would do without fries. I'm not really sure who exactly came up with the idea of a French fry scented perfume in April of 2021, but once we heard it, it was something we really wanted to explore. We started talking about how fries are irresistible to eat and discussed Idaho Potato Lovers Month in February, so the topic of Valentine's Day 2022 came up. A fragrance was perfect for that.
But where do you even start with a French fry fragrance? We don't make perfume and this is the first time we had ever even considered anything like this. People on our social media really love French fries, not just to eat, but to talk about too. They like all kinds of potato recipes, but our most successful posts on social media are always around French fries. Still, we weren't sure if people would be interested in French fry perfume, so we did a survey and it confirmed our hunch; it turned out that 90 percent of people who took our survey in the U.S. loved the smell of French fries. It wasn't just us at the IPC with a crazy idea!
The hardest part of the process was coming up with formulas. We created the perfume in house and didn't employ a perfumer; we just looked at lots of different perfumes. But many had a lot of varied aromas and we just wanted the scent of French fries. How do you stuff that into a bottle? We even tried using cooking oil just to be creative, but it came down to not wanting the perfume to look oily, so the cooking oil had to go.
We ended up with three final samples that were really close, and the differences were in the essential oils. To create the perfume, we used essential oils and Idaho distilled russet potatoes, which are also the best potatoes for actual French fries. Although we don't want to give away our exact special recipe, the fragrance really is made up of those elements. Once we had the three samples, we all voted in December 2021, but it was simple, the winner was the one that smelt most like French fries!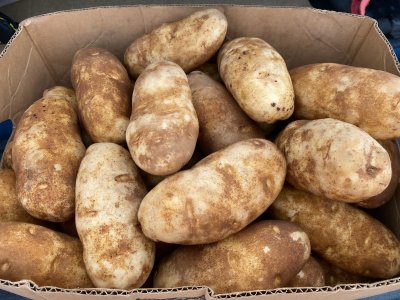 The color was also really important, it had to be gold because we wanted the perfume to look like French fries. We also wanted it to be in a clear bottle, so people would be able to see what they were spraying on themselves. If you say you have French fry fragrance and it's blue, it doesn't look right.
Once we were able to make it, it came down to the bottling. We have an Idaho potato frozen crinkle cut fry, and the bottle we ended up going with has a resemblance to one of our crinkle cut fries.
We tried out some funny names, but ultimately decided to keep it sophisticated, with Idaho in the name. So, our perfume is called Frites by Idaho, with a gold label and lid. The price is actually a funny story; we're not trying to make money from the perfume, but we looked at the average cost of a large French fry the size of the bottle, and it was $1.89, so we decided to sell the perfume for that price. It's 1.7oz of fragrance so you can get a good few squirts of perfume out of it. People may love or hate it, but for $1.89, it should be worth the fun! For now, you can only buy it in our website's online store, but it will be available for the month of February until we sell out.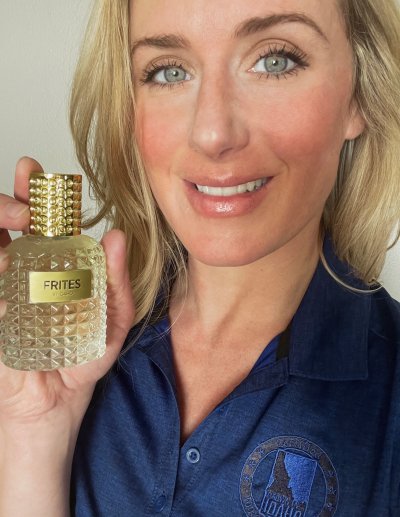 The fragrance is exclusive to Idaho potatoes and it's limited edition; we're not perfume makers. But you never know what's going to happen. If people say, "We have to have this!" we'll go from there.
It's been a process, we've gone back and forth on the name, bottle, size and cost, but we got it figured out and we've had a lot of interest so far. I'm hopeful it will do well. We get so many people reaching out to us saying our content makes them feel good, so we're hoping that it's something where, whatever people are doing when they see it, they get a fun "What?!" moment.
We always encourage all our Idaho potato growers to come up with ideas, and we've seen people make soaps from potatoes and videos about beauty tricks using potatoes, so you never know what we might do next. We're always open to hearing new ideas and testing them out. If the French fry perfume sells out really quickly, that will tell us a lot. Maybe then we'd come out with a baked potato perfume!
Jeweldean Hull is administrative/social media director at the Idaho Potato Commission. Frites by Idaho is available at idahopotato.com from February 7, 2022. Follow the IPC on Instagram @idahopotatoes.
All views expressed in this article are the author's own.
As told to Jenny Haward.