We Didn't Need the Insurrection Act After Hurricane Katrina and Don't Need It Now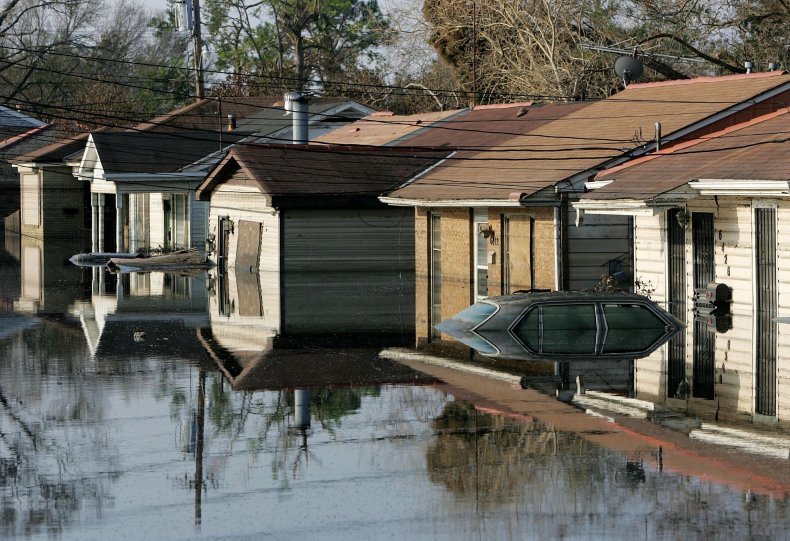 On September 2, 2005, Air Force One and the grand apparatus of the presidency of the United States of America flew into Louis Armstrong International Airport outside New Orleans, and while the plane sat on the tarmac, Louisiana Gov. Kathleen Babineaux Blanco was treated to the political equivalent of waterboarding.
Hurricane Katrina had made landfall in the state four days early, only a Category 3 but ultimately considered to be the worst storm in American history. That was especially so for its impact in the city of New Orleans, where a combination of decision errors in not ordering a mandatory evacuation; and engineering failures, where the flood protection system collapsed, ultimately took the lives of over 1,500 people and left tens of thousands homeless.
"After four days of chaos," President George W. Bush would later write in his autobiography "Decision Points," "it was clear the authorities in Louisiana could not lead."
In a crowded conference room onboard the flying White House, and in the presence of Secretary of Homeland Security Michael Chertoff; FEMA director Michael Brown; national security advisor Stephen J. Hadley; chief of the National Guard Bureau Lt. Gen. H. Steven Blum; a gaggle of unidentified senior officials; and the entire Louisiana congressional delegation, all especially flown in from Washington for the momentous clash, President Bush made the case for Governor Blanco to give up power, to agree to federalize her National Guard troops.
Otherwise, the president said, he would have to invoke the Insurrection Act.
Blanco said no, asking for 24 more hours. She said she would stick to her conviction that whether Washington took over or not, the situation was being brought under control, that the state was in charge and should stay so.
"We don't have twenty-four hours," Bush snapped at her.
He was as frustrated as he'd ever been in his presidency, he later wrote.
Though White House lawyers and Vice President Dick Cheney's office were cheering him on to invoke exceptional constitutional authorities and take over anyway, Bush later wrote that he was not inclined to override the governor.
And he was especially deterred because he didn't have the support Secretary of Defense Donald Rumsfeld nor did he have a cooperative military man on the ground. In other words, the military itself was giving pushback. (Donald Rumsfeld was not invited to New Orleans, nor was the federal officer on the ground in New Orleans invited to the Air Force One stand-off.)
Fifteen years later, the question of federal intervention when civil authorities are overwhelmed is again in the news, as President Trump threatens to invoke the Insurrection Act if state governors fail to—or, in his words, "refuse" to—take control of the countrywide protests.
Though Katrina was a hurricane and Blanco was just one governor, there are lessons to be drawn.
Washington's first impulse is always to think it can do better, even though...
It never has as clear of a view on what is happening on the ground as the locals do.
The nation is uninformed about emergency powers and martial law. Our ignorance is made that much greater by government secrecy, the secrecy we see today in the government's underground operations to safeguard Washington D.C.
The military is a powerful force and a mission-driven one, not disposed to take on a political role no matter how much emotions might move us to call out the military whenever there is a problem.
News media plays an outsized role, not only in influencing public opinion but also in influencing what decision-makers in Washington think.
And finally, every disaster has its own lifecycle—and patience is always a virtue.
Though Louisiana Governor Blanco is presented in most Katrina histories as everyone's goat—in over her head, too slow to respond, panicked, baffled, a hostile Democrat to a Republican administration—she was a little-understood hero who stood up to Washington in a way that makes today's fight over President Trump's power grab look minor. And Katrina is an object lesson for the fact that sometimes a disaster—or even an explosion of civilian activism—is so dramatic, it takes the authorities far longer than they would ever have anticipated, even with all the force they can bring to bear, to return things to normal.
Katrina was just such a disaster, for even though Blanco took the unprecedented action of requesting a disaster declaration from Washington three days before the storm made landfall (the first time that one had ever been requested before a hurricane actually hit), Katrina just wasn't going to cooperate.
Blanco took that action before the National Hurricane Center adjusted the hurricane's track to show it definitively bearing down on New Orleans. And she activated more Louisiana National Guard than the state had ever activated before a storm, ten times more than neighboring Mississippi, which according to the models, was to have been the main target of the eye.
Bush and Blanco spoke for the first time on Sunday morning, August 28, the day before Louisiana landfall, the president kindly offering additional assistance, but Blanco telling him that she believed they had things under control.
But then Katrina roared in with unexpected fury, the city's levees failing to hold back the waters of Lake Pontchartrain and the Mississippi River, the city flooding.
Chaos reigned, the Superdome filled with human misery, and another 25,000 beleaguered citizens congregated at the nearby Ernest N. Morial Convention Center. An endless news media loop didn't help. The reports and the images from The Big Easy suggested anarchy, precisely the conditions that might compel a forcible federal takeover.
The person who panicked as the city slipped away was Mayor C. Ray Nagin, who declared a law enforcement emergency that many took to be a declaration of martial law.
"It...empowered us to take all necessary steps to ensure that no looting or arson occurred and it gave me the power to suspend any ordinance that was in effect," Nagin later wrote, giving power as well "to the police chief to take command and control of all law enforcement and military officers in the city."
Of course, a mayor's order did nothing of the sort. No mayor can lawfully order martial law in America, nor can he command troops, state or federal. He can order closings, set curfews, and suspend liquor sales, but civil law otherwise persists. Only a governor may declare martial law at the state level, and even there, some states do not grant the governor such prerogatives.
But while Nagin was panicking, so were many in Washington. White House press spokesman Scott McClellan told reporters that "at least in parts of Mississippi and Louisiana, there has been [sic] declarations of martial law in certain areas."
And then Blanco added fuel to the fire, welcoming 300 troops brought in from Arkansas National Guard, saying that they were "fresh back from Iraq, well trained, experienced, battle-tested."
The line may sound like Secretary of Defense Mark Esper calling America's streets a "battlespace."
But other remarks by Blanco make Esper's remarks seem practically tame. "These troops know how to shoot and kill and they are more than willing to do so if necessary and I expect they will," she said in her press conference.
Upon hearing the news, President Bush asked Army Lt. Gen. Russel Honoré, who was on the scene, if indeed he needed to impose martial law.
"No, sir," Honoré replied in a video teleconference call with the president. "We can handle the situation as we have it."
Honoré is another hero of Katrina, the federal officer who was appointed head of Joint Task Force Katrina and arrived on the scene organized and decisive, telling his men to put down their guns and adopt a civil mindset.
Honoré later told congressional investigators that he never felt like he needed any more authority than he already had. In fact, he thought a large-scale federal military deployment would only complicate an already complex situation, just in terms of receiving, housing and sustaining the incoming soldiers, given the particular geography of New Orleans.
General Bennie Landreneau, head of the Louisiana National Guard, later said he agreed with Honoré, that he already had over 8,500 Guardsmen and women on the scene, and that shifting commands and creating a reporting chain back to Washington would have only "stalled current operations" while "not providing any additional boots on the ground."
Back in Washington after returning from his failed mission to New Orleans, Bush was asked at a White House press conference whether there was anything that he "personally, could have done, or would have done differently...?"
"Well," he answered, "one area where I hope the country takes a look at is the responsibility between federal, state, and local government when it comes to catastrophic events, highly catastrophic events ... [Is whether] there a need to move federal assets more quickly, in spite of laws on the books that may discourage that."
Scott McClellan later added that President Bush felt "we need to establish some sort of a trigger that would automatically say the federal government, and specifically, the military, is the one that will be in charge of stabilizing the situation."
Homeland security advisor Frances Townsend, appointed to lead the Bush administration's internal examination of Katrina, later agreed, saying her task force was considering whether there was "a narrow band of cases" in which the president should seize control.
And then NORTHCOM commander Adm. Timothy Keating agreed as well, recommending that the Defense Department be given "complete control" for response to certain disasters.
"We have to think the unthinkable may be possible, even probable," he later testified.
Meanwhile on the scene, Lt. Gen. Honoré, flying here and there in his now signature helicopter, observing for himself and talking to everyone, said that most of the news media reporting was exaggerated, and that some of the high-level sources for the media, particularly the New Orleans Police Department leadership, were given to "wild statements and over exaggerations" that then went viral, infecting how the news media itself reported the disaster, creating a dangerous loop..
In his own book about Katrina—"Survival: How a Culture of Preparedness Can Save You and Your Family from Disasters"—Honoré wrote that he pleaded with Mayor Nagin to get the clearly unhinged chief of police to stop talking.
"People in Washington were watching television," he said to the mayor.
Guardsmen and rescuers and volunteers preparing to deploy were also watching the news—and Honoré felt that they would come in with the wrong mindset, thinking "maybe these people are running around taking over the city and that the city is out of control."
On Friday morning, September 2, Honoré later wrote, he finally heaved a sigh of relief for the first time since his arrival in the destroyed city.
Though "the noise level about crime and rapes far exceeded what actually was happening," New Orleans police had shifted from rescue duties to law enforcement, and Honoré concluded that "nothing indicated that riots or a citywide insurrection were imminent."
At an early-morning video teleconference he told President Bush as much: evacuations had commenced and New Orleans was turning a corner.
Washington, always one step behind reality, couldn't hear what its own commander on the ground was saying.
President Bush was scheduled to go to the city that afternoon to twist Blanco's arm, pondering whether he should order implementation of the Insurrection Act regardless of her refusal. He would cite the governor's "refusal" to take necessary actions to assert civil control.
(This essay is adapted from "American Coup: How a Terrified Government Is Destroying the Constitution," by William M. Arkin)