'We Didn't Start the Fire' Parody for 2020 Sets Its Sights on Trump
This "We Didn't Start the Fire" parody sums up the past four years in just three minutes. In a video shared to Now This on Facebook, singer-songwriter Jen Houston sings about President Donald Trump's time in office, to the tune of Billy Joel's classic 1989 single.
Houston's version touches on a number of news stories and scandals from the past few years, from the Russia probe to Trump's relationship with Kim Jung-Un, and even connections to Jeffrey Epstein. Since she mentions the president's own COVID-19 diagnosis, it's safe to say that Houston made the video sometime in October.
"Stormy Daniels, Roger Stone, WikiLeaks, Michael Cohen, Nikki Haley, Robert Mueller, much we'll never know," the song begins. "Jared Kushner, nerves frayed, Charlottesville, Kurds betrayed, narcissism, nepotism, never quid pro quo."
The video is intercut with news clips and images of the people named, along with Trump dancing. "Pathological liar, he's not learning, now the Earth is burning," Houston says during the chorus, referencing the Trump administration's handling of climate change. "Pathological liar, with the oceans crying, and the planet dying."
She also mentions Kellyanne Conway, immigration bans, Sarah Huckabee Sanders, Fox News and "Moscow" Mitch McConnell. Basically, no one who has been associated with Trump is safe.
Part of the song is also dedicated to Trump testing positive for the coronavirus. "Now he's got the corona, was it too much to ask, for him to wear a mask," Houston sings. "Now he flaunts the virus, chloroquine injected, still he got infected."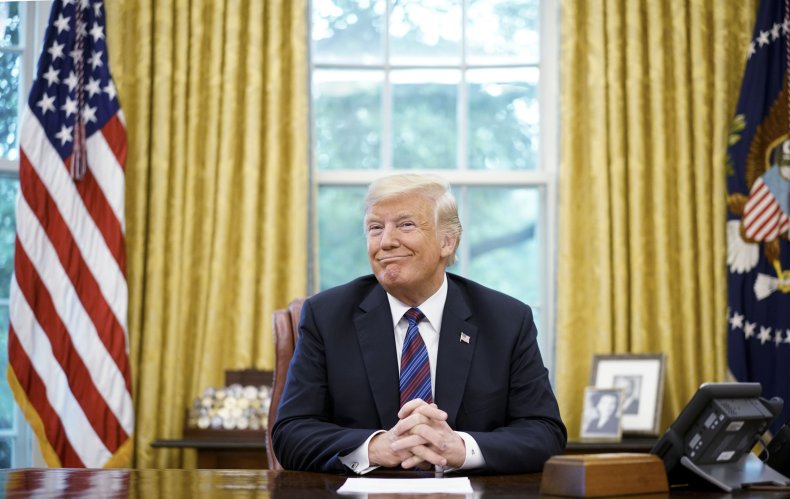 The most out-there rhyme has to be "virus botch" and "grabbing women by the crotch," the latter being a reference to the 2005 Access Hollywood tape that was shared by The Washington Post weeks before the 2016 election.
The parody mourns the passing of Justice Ruth Bader Ginsberg along with John Lewis, and celebrates the resurrection of Alec Baldwin's Saturday Night Live impersonation.
Near the end of the catchy tune, Houston quips that the list of everything that's happened during Trump's first time is indeed very long and she "might need another song."
In September, some Redditors voiced a desire for an updated, 2020-centric version of Joel's classic song, and now Houston has delivered. The whole thing's a little overwhelming and kind of dizzying, but it's also just wild to think of how much news has happened in just a single presidential term.
Newsweek asked Houston what inspired her to write this parody. "Like so many Americans in the modern gig-economy, I have multiple jobs. I'm a custom cake maker and a performer," Houston explained via email. "Both careers have come to a near complete halt in the covid recession. I live in New York, where so many lives and businesses have been destroyed by the pandemic and this administration's failed response to it. Using humor and song seemed like the best way to speak out and offer a little light in such a dark time."
Houston added that she wrote the song with Randy Bierman, who approached her after seeing some of the other parody songs she's done for NowThis.
Updated 10/21/2020 2:55 p.m. EST: This article has been updated to include comment from Jen Houston.