'We Don't Agonize–We Organize': Nancy Pelosi Announces Re-election Bid
Speaker of the House Nancy Pelosi (D-Calif.) announced Tuesday that she will be running for re-election in the 2022 midterms.
Pelosi, 81, who represents the San Fransisco-based 12th Congressional District, released a video on her political Twitter account stating that "we don't agonize–we organize."
"I am running for re-election to Congress to deliver For The People and defend Democracy," Pelosi tweeted, adding that, during the 2022 election, "nothing less is at stake than our Democracy."
"When people ask me, what are the three most important issues facing the Congress, I always say the same thing: Our children, our children, our children," Pelosi continued. "Their health, their education, the housing and economic security of their families, a clean safe environment in which they can thrive, and a world at peace in which they are all welcome."
"Our vision for a world at peace requires a strong Democracy at home as an example to the world," Pelosi added.
Continuing on, Pelosi noted some of her legislative accomplishments from her over 30 years of service in the House. She also listed some of the agenda items that she hoped to achieve if re-elected this November.
"My first words on the floor of the House were to fight against HIV/AIDS, to fight the disease, and discrimination," Pelosi stated. "Working together, we passed the Affordable Care Act, strengthened social security, medicare, and medicade, lowered prescription drug prices and are now fighting COVID - with equity."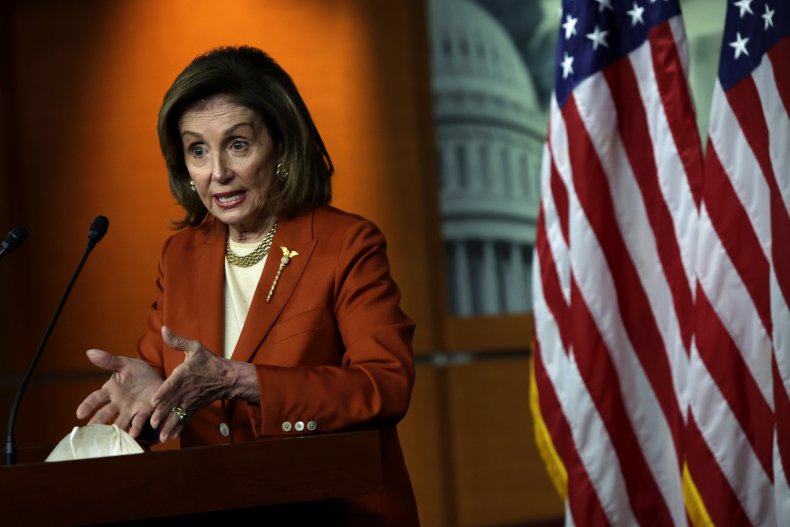 Pelosi also spoke on her goals of addressing a number of other issues, including climate change, access to education, justice in policing, and gun reforms.
"While we've made progress, much more needs to be done to improve people's lives," Pelosi said. "Our democracy is at risk because of assaults on the truth, the assault on the U.S. Capitol, and the state-by-state assault on voting rights."
"This election is crucial," she concluded.
Pelosi is currently the only woman in U.S. history to have served as speaker of the House. She was first elected to the House of Representatives in 1987 and has been re-elected 17 times in total since then.
She also served as speaker once previously, from 2007 to 2011. This made Pelosi the first speaker since Sam Rayburn in 1955, and only the seventh in U.S. history, to serve multiple nonconsecutive terms in the role.
She assumed her current role as speaker in 2019, after then-Speaker Paul Ryan declined to run for re-election. She was elected to her fourth and current term as the head of the House in 2021, defeating her GOP contemporary from California, Kevin McCarthy.
Her prospects for re-election as speaker are likely promising if the Democrats retain control of the House, given the significant support that Pelosi continues to see from her liberal colleagues.
Pelosi also enjoys large support in the 12th Congressional District, and CNN reported that she will likely keep her seat in Congress even if she is ousted as speaker by a Republican majority.
She had previously stated that she would probably not run for re-election in 2022 following a reported deal with House Democrats to retire at the end of her current term. However, she also never specifically stated that she would not run, rather, she told reporters that "there was a move to put limits on the leadership and the chairs of committees. They said they were going to do it, they didn't do it."
This left the door open for an electoral run this November, one that Pelosi has now walked through.
Newsweek has reached out to Speaker Pelosi's office for comment.
Update (01/25/2022, 6:30 p.m. ET): This story has been updated with additional information.