Top Canadian officials are warning U.S. Republicans to stay out of Canada's domestic politics amid the anti-government protests in Ottawa.
Speaking with the press on Monday, Canada's Public Safety Minister Marco Mendicino said, "We need to be vigilant about potential foreign interference... Whatever statements may have been made by some foreign official are neither here nor there. We're Canadian. We have our own set of laws. We will follow them."
Mendicino's remarks are the latest from federal officials who are advising American politicians—like Florida Governor Ron DeSantis and Texas Attorney General Ken Paxton—from wading into the Freedom Convoy protest against Canadian federal and provincial COVID mandates, which is going into its 12th day at the nation's capital.
Over the weekend, both DeSantis and Paxton tweeted that their states would investigate GoFundMe after the crowdfunding platform announced it would freeze more than $8 million in donations to protest organizers, citing police reports of violence.
"It is a fraud for@gofundme to commandeer $9M in donations sent to support truckers and give it to causes of their own choosing," DeSantis said on Twitter. "I will work with@AGAshleyMoody to investigate these deceptive practices — these donors should be given a refund."
"Patriotic Texans donated to Canadian truckers' worthy cause using GoFundMe," Paxton tweeted. "This BLM-backing company went woke, froze the funds, & failed to deliver Texans' money. Today I assembled a team to investigate their potential fraud & deception. Texas donors will get Justice!"
"It is certainly not the concern of the Texas attorney general as to how we in Canada go about our daily lives in accordance with the rule of law," Mendicino shot back at Paxton.
The public safety minister isn't the only one to criticize Paxton for wading into the Canadian protest.
Bill Blair, Canada's emergency preparedness minister, also told the press on Monday, "We're all entitled to an opinion, and in my opinion, [Paxton] is wrong."
Ottawa police have launched more than 60 criminal investigations, issued more than 550 tickets, made at least 20 arrests since Friday and cut off protesters' fuel supply.
The protesters' takeover of Ottawa's downtown core has been characterized as a "siege" by the city's police chief and pushed the mayor to declare a state of emergency on Sunday.
Hundreds of Royal Canadian Mountain Officers and Ontario Provincial Police have also been mobilized to support local authorities in Ottawa.
Dominic LeBlanc, Canada's minister of intergovernmental affairs, has blamed GOP interference for the disorderly conduct on Parliament Hill and criticized American Republicans for encouraging donations to entities that disobey Canadian law.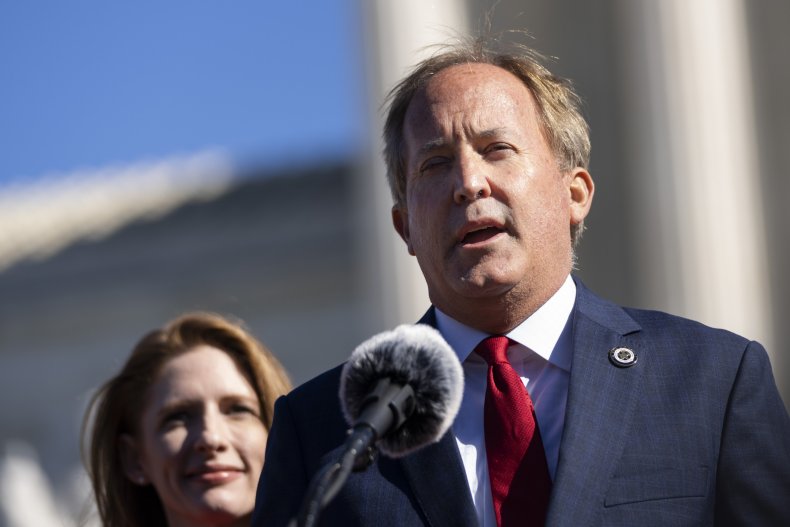 Ottawa police are now investigating whether significant elements of funding and organizing related to the protest has strong U.S. ties.
"I think when [Canadians] understand the source of some of this funding, it helps them understand the motivation of this protest—who is actually behind it—and I think it also reveals some of the false nature of claims being made and the positions being put forward," Blair said on Monday.
"Important questions remain about how such a huge sum of money could be raised by anonymous donors and what their motivations were," Alistair McGregor, the New Democratic Party's public safety critic, said in a statement. "People are rightly worried about American interference and what sort of standard is applied when donations are accepted."
Prime Minister Justin Trudeau—who former U.S. President Donald Trump called a "far-left lunatic" who has "destroyed Canada with insane COVID mandates" last week—has said that while Canadians have the right to protest, "They don't have the right to blockade our economy, or our democracy, or our fellow citizens' daily lives. It has to stop."
Speaking in Parliament on Monday, Trudeau said, "Canadians trust science. A few people shouting and waving swastikas does not define who Canadians are."
Former U.S. Ambassador to Canada Bruce Heyman told CTV News that while Trump's comments were unsurprising, elected officials should not be getting involved.
"There is no role for a sitting U.S. senator, a congressperson, a governor, a state's attorney general to involve themselves in what is happening in Ottawa today. They shouldn't be a part of this. Specially they're encouraging raising money, this is ridiculous," he said.