We Know Exactly What Ewoks Look Like Without Fur and It's Worse Than You're Imagining
Shared over on Instagram, creature concept designer Jake Lunt Davies posted a behind-the-scenes photo from the fan-serviced, but critically maligned Star Wars: The Rise of Skywalker.
The Ewoks are supposed to look like cute and cuddly teddy bears. But without hair, those humanoid creatures look downright terrifying.
Four days ago, Davies showcased actor Warwick Davis getting into his Ewok costume. In the early make-up stage, the 50-year-old actor has foam latex all over his face and other white prosthetics around his body. Davis has been involved with the Star Wars franchise since his first appearance as Wicket the Ewok in Return of the Jedi. In the Battle of Endor, Wicket Widget Warrick showed up to help Princess Leia (Carrie Fisher) after she fell off her speeder bike.
As you can see in the snapshot, hair hasn't been added to the furry biped. Not only is the hairless body a sore sight, there's something really strange about the omnivorous creature flashing its pearly white teeth.
Davies wrote, "Ewok sans fur. Scary stuff. Fabricating Warwick's costume in the Creature shop. From BTS extras on TROS Blu-ray."
When asked about the photo, Davies told Newsweek, "I should perhaps clarify that whilst I did work as a concept designer in the Creature Department on the Star Wars films and certainly was present around the costume fabrication process in our workshops, I didn't have any creative input into Warwick's new Ewok suit. Nor did I take the picture I posted on Instagram. It's just a screen grab. As I stated in the post, its from the behind-the-scenes extras on the Blu-Ray. I just thought it was amusing enough to share!"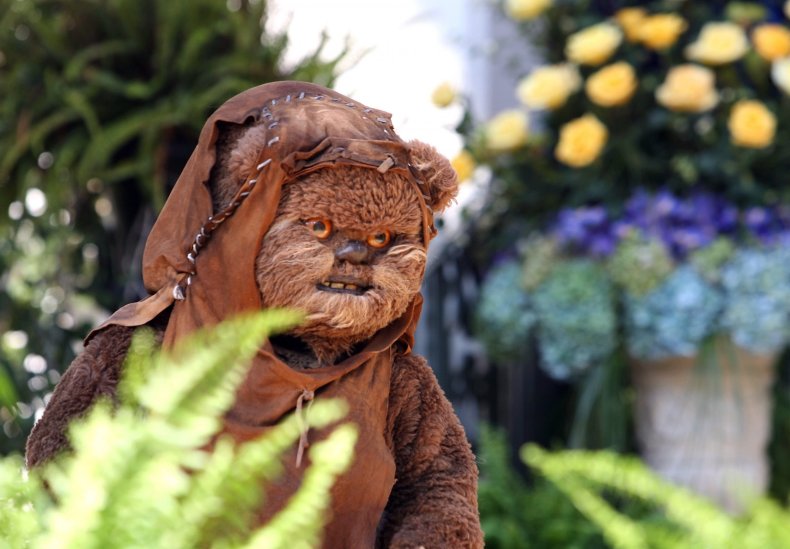 Readers can see the final result in the climatic finale of Rise of Skywalker. Co-writer/director J.J. Abrams followed the rules of the trilogy set up by Star Wars creator George Lucas. The third chapter, whether its Revenge of the Sith or Return of the Jedi, always has to end in a massive celebration. Towards the end of the Skywalker saga, Wicket and the other Ewoks show up after the rebellion takes on Emperor Palpatine and The Final Order.
"If you weren't aware however, what was really sweet about the Ewok scene in The Rise Of Skywalker was that they decided it would great to have Warwick's son, Harrison, play Wicket's son in the film. I guess Harrison would have probably been around the same age as his dad was when he was in The Return of the Jedi, so it must have been a great moment for them both personally," added Davies.
Davies has not responded back to Newsweek's request for comment.