'We Like Jokes!': Counterprotesters Stand Against Netflix Employee Walkout
Counterprotesters clashed with Netflix employees on Wednesday as staffers staged a walkout to protest the company's response to the recent Dave Chappelle comedy special controversy.
Outside Netflix's 13-story office in Hollywood, counterprotesters were heard chanting "We like jokes" and holding signs that read "Dave is funny" and "Jokes are funny," as Netflix employees and some of their supporters shouted back "Trans lives matter."
The walkout is the latest development in the weeks-long fight inside Netflix.
After Chappelle's standup special, The Closer, debuted on the streaming platform and received criticisms over jokes targeted at transgender people, employees at Netflix raised issues that the company's chief officers dismissed the backlash and remained steadfast behind Chappelle.
On Wednesday, staffers were joined by Netflix outsiders who showed up at a rally in support of the walkout.
While demonstrations have become common among tech giants like Facebook and Google, this is believed to be the first of that nature for Netflix.
Hours before employees participated in the walkout, Netflix released a statement, saying: "We respect the decision of any employee who chooses to walk out, and recognize we have much more work to do both within Netflix and in our content."
Netflix's co-CEO, Ted Sarandos, has also apologized for the way he handled the reaction to Chappelle's special, saying he "screwed up" internal communication with his staff.
Sarandos had emailed staff last week that he did not believe the special put trans people in danger and defended the decision to keep the program on the platform.
"With 'The Closer,' we understand that the concern is not about offensive-to-some content but titles which could increase real-world harm (such as further marginalizing already marginalized groups, hate, violence etc.)," Sarandos wrote. "While some employees disagree, we have a strong belief that content on screen doesn't directly translate to real-world harm."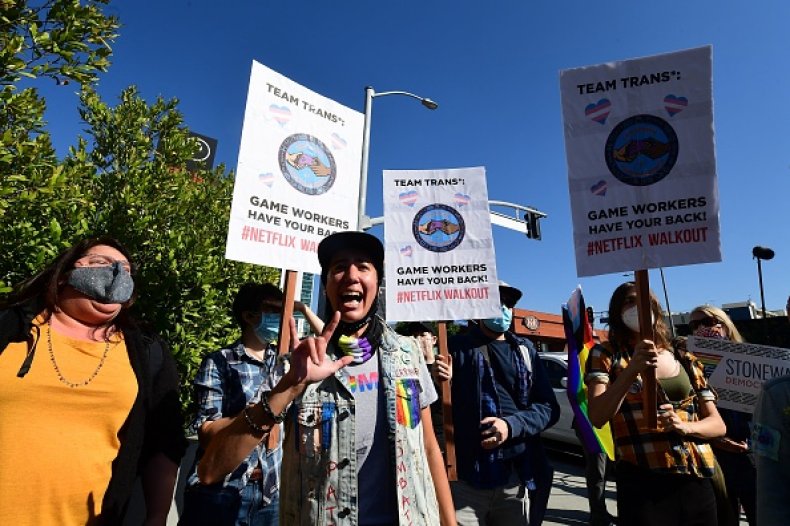 On Wednesday, protesters offered a list of demands. While not requesting for The Closer or any of Chappelle's other specials to be removed, they asked that trans-affirming content be promoted alongside content they viewed as anti-trans.
Demonstrators also called on Netflix to hire more trans and non-binary people both on and off-screen.
Terra Field, a trans employee at Netflix, said the issue her colleagues had with their employer "was never about Dave."
"Dave is not, and has never been, the cause of this problem—he is a symptom of it," Field wrote in a Medium post published Monday. "That Dave believes the things he says and can say them with relative impunity is a result of the culture we live in: a culture that marginalizes and devalues trans people. He contributes to that culture in a very real way, but at least he isn't out there bragging about how many LGBTQ+ allyship awards he has won while he is doing it.
"It doesn't feel good to have been working at the company that put that out there," she added. "Especially when we've spent years building out the company's policies and benefits so that it would be a great place for trans people to work. A place can't be a great place to work if someone has to betray their community to do so."