'We Live in A Tiny House Van, But There's a Dark Side'
I met my partner Cazzy at university in the U.K. I had dropped out of a programme to study abroad at the last minute and all my friends had already found accommodation for the next year of study. I was booked to begin living in this awful, dreary apartment block and a friend said she knew someone looking for a roommate.
I met with Cazzy and her other two roommates at a bar and we all instantly hit it off. The next day, the decision was made that next year I would join them, rather than moving into the dreary apartment. That's exactly what happened, and over the next year, our relationship blossomed from there. We've both always had an interest in traveling, I'd been fortunate to travel on many family vacations as a kid, as well as a number of cruises. Cazzy had only traveled a couple hours outside of Northern Ireland, to Spain.
Neither of us knew what we wanted to do after university and so we made the decision to take a year out and go traveling around South America. We'd both saved up around £5,000 ($6,000) each to live off through part time jobs.
After four months in South America, we made it back to the U.K. at the start of 2017 and rented an apartment in my hometown, Kent. I got a job in London, but it only lasted two months. I hated commuting for two hours a day and found I didn't really like city life.
At the time Cazzy was doing some remote freelance copywriting and so I decided to give it a try for a while. Once our apartment contract had ended, we decided to head to Southeast Asia while funding our travels through freelance writing gigs. It didn't pay much, but it was enough. As we traveled we started to develop our blog, which by September 2018 was our main source of income. We spent four years backpacking before we decided to travel in a van.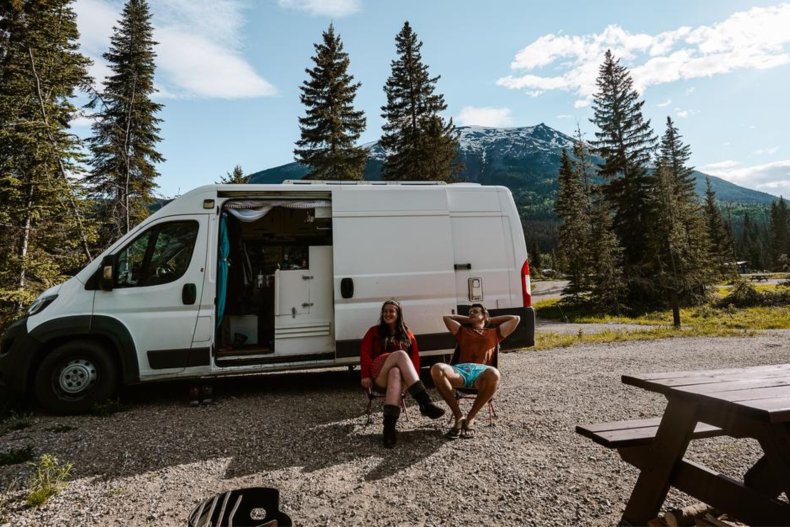 Why we decided to buy a campervan
In 2019, Cazzy and I had to travel back to England for a family emergency. Once it had been resolved, we decided to take a road trip around Ireland, so we reached out to a local rental firm who wanted to work with us.
Later on that year we traveled to Lithuania in collaboration with a travel gift experience company. We really hit it off with the owner of the company who just so happened to own a custom 4x4 campervan. He very kindly agreed that later on that year, we could borrow it for four months and spend the winter exploring Lapland, Finland, Norway, and Sweden before driving back to Lithuania.
We loved it. Unlike backpacking, we were in total control of where we were going and when. There were no buses or timetables, it felt liberating.
We bought our current van in June 2020 for £6,500 ($7,900), and spent the next four months, and an additional £13,000 ($15,700) converting it to live in. It is a tiny home on wheels at two meters wide and two and a half meters tall. Obviously living full time with someone else in a small space can be challenging, but we love it and don't feel we need anything bigger.
The reality of buying a camper van
I think the issue we have is that the perception of van life is often not the reality. Sometimes Instagram paints a picture perfect idea of living in an RV or campervan. On social media you see these amazing, beautiful vans with attractive people living in them, visiting wild locations—but it's not like that all the time.
There are moments like that, but the reality is very different, especially if you're living in a van full-time. Most of the time, it's not that perfect.
There's a big learning curve for building and living in a van. Before you commit to van life or even do a build, borrow a friend's van or rent a vehicle. Do it for a week and test it, especially if you're solo. You have to get used to everything taking more time and living in a smaller space. It might not be for everyone. Test the theory first before you commit to buying or building one.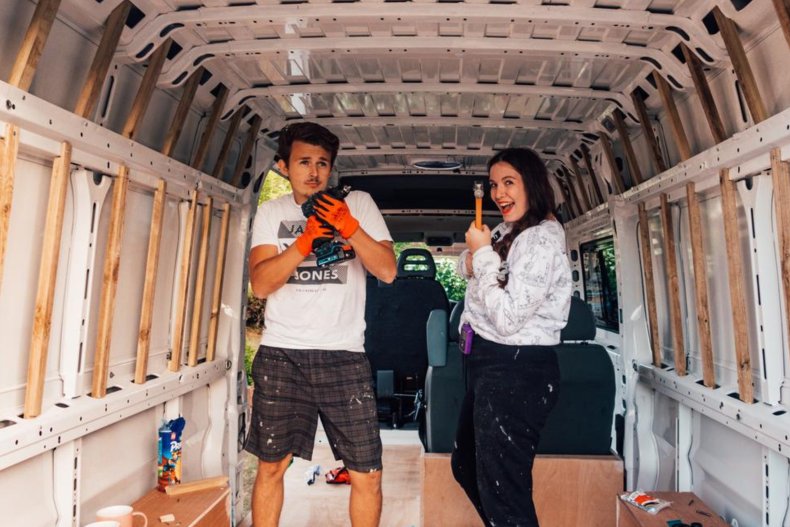 Experiencing campervan break ins
Security of the vehicle itself can be an issue. In some of the areas we visit, theft is common and campervans can be a real target, especially if they have solar panels on the roof, which ours does. Criminals will know you live there full time and probably have valuable stuff in it.
Earlier this year we shipped our van from the U.K. to Canada and when it arrived we found it had been broken into. We had a load of items stolen including tools, equipment and clothes, plus the thieves broke a load of our furniture.
We had another scary moment in July while we were parked up in the Yukon in Canada. We were in the middle of nowhere and around midnight a stranger began frantically trying to prise open the vehicle door. We had left Cazzy's camera on the front seat so we think someone thought they could quickly get in, grab it and go. You really have to be prepared at all times.
We have an extra alarm system which means if someone tries to tamper with the engine it will lock itself down, so there's no way it can be stolen—but there's only so much you can do. It seems criminals are getting smarter and there's always a way to get in. You do what you can, but there's always a risk.
Difficulties finding water and fuel
There's always a need to find amenities. If you live in a house you have electricity and water on tap, but in a van you constantly need to top something up. We find that typically every other day we have to refresh something, whether it be fuel, drinking water or water for our shower and sinks.
When we first came over to Canada it was still winter, everything was closed and the pipes in the local camping areas had all frozen over. We found it really hard to get water for a while and now we constantly think about how we're going to get our basic resources from.
We took for granted that we'd have clean clothes, but we need to be in a city every week to wash them at a laundromat. While living in a van, you need a checklist to stay on top of everything.
Living in a campervan can be expensive
It can be really expensive to have a well equipped vehicle. The gorgeous vans users see on Instagram cost a lot of money. Our van's electric set up includes solar panels, a large battery and a battery to battery charger, all of which cost around £5,000 ($6,000).
It's not just a one off cost, everything needs to be maintained. Recently our battery totally drained out because our battery to battery charger had malfunctioned. And, a pipe might burst or something will freeze up. Right now we're waiting for a regulator to be shipped from the U.K. because ours is faulty, so our oven and hobs don't work properly.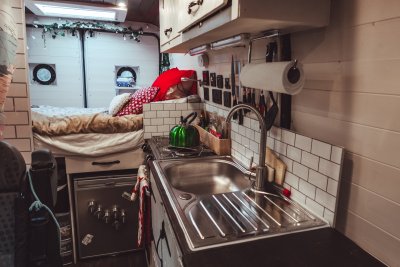 Typically, every few weeks or months something will present itself to need fixing and you have to make sure you have the funds available. Plus, finding the parts in different countries is tough. It took us around two months to find a new oil filter that fit our van.
The risk of becoming stranded in your van
Becoming stranded in your campervan is a real risk. Around a month ago Cazzy and I were traveling on the Dempster Highway, a ten hour track towards the Arctic Ocean with no cell signal. Our engine oil light came on and our handbook advised taking the vehicle to a garage.
But without any service, we were stuck at the side of the road for an entire day until we met a guy who had a satellite phone. He called us a tow from the nearest town, which was two and a half hours away. It cost us 1,400 Canadian dollars ($1,080) to get towed back to town.
Similarly, last week our engine cut out and we were stuck on the side of the road for another day while we waited to get towed to a garage. When we were there an auto mechanic needed another day to work out the fault codes on a British vehicle. It turned out we needed a new cooling fan, which took five days to be shipped from England. We had to park up on the side of the road in 104 degree heat without any aircon.
Feeling alone and unwelcome
Socializing can be difficult while living in a van. There is a van life community and lots of Facebook groups, but if you want to stay in these picturesque locations, you're going to find that you're alone a lot.
Cazzy and I have each other, but we know a lot of people who travel solo. I think there can be mental health issues associated with traveling alone, because you have to handle any problems you face on your own. There is nobody to support you.
Another challenge is feeling unwelcome in certain places. In the U.K. there seems to be a real stigma attached to living in a van. Some countries have laws meaning it's legal to wild camp and roam around in a vehicle and it's perceived as totally normal, but other places can be more restricted.
We have found that in England, there's a vibe within the community that more and more people are finding it harder to find places to park up. Or they go somewhere and feel a lot of resentment from locals, they feel unwelcome, which we think is a real shame.
Unfortunately, I think there will be "bad eggs" in every group, there's some people who aren't dumping their waste correctly or causing other problems. Those people brand the reputation of all camper vans, which is really unfortunate.
Despite challenges, we love living in our van
We'll continue to travel for at least another year. Once this trip is over we're going to think about settling down in one spot. But we don't want a big place, we are thinking about building our own smaller eco-home. I don't think we need a giant house to be happy. I believe Cazzy and I will be happy to live off-grid.
Despite the challenges that come with living in a motorhome, van life is so free. You have the ability to design your own itinerary and no day is the same. There's not a single day which feels similar to the day before.
Some people love a routine but we don't. We don't like being in the same place so find our lifestyle really liberating.
Bradley Williams, 28, from Kent, England, and Cazzy Magennis, from Belfast, Northern Ireland, 29, are the founders of Dream Big, Travel Far and are currently driving a self-converted van around the world.
All views expressed in this article are the author's own.
As told to Monica Greep.