'We Lost Our Parents in the 2004 Tsunami'
In 2004 my family's world was turned upside down. My siblings and I tragically lost our parents in the Boxing Day Indian Ocean Earthquake and Tsunami that killed more than 230,000 people.
Four years earlier, in 2000, our parents had made a decision to pack up and sell our home, pulling us from our traditional schools in Croydon, England to begin an adventure around the world.
We were thrilled because Rob and I never enjoyed school, we're both dyslexic and found it difficult to concentrate. Our parents recognized this and always did what they could to help us, but ultimately they believed we could be learning more elsewhere and on the road. We were each allowed to pack one bag to take on the trip, everything else we owned was sold or given to charity.
We soon adapted to the travelling lifestyle. We lived like hippies, hopping from country to country and absorbing each new place. Our parents were keen to teach us about those less fortunate, so we regularly did volunteer work. We saw people in terrible poverty, with no money, food or safe living conditions. It was difficult, but it made us see how lucky we really were.
We never complained about things we didn't have, because we'd seen people with absolutely nothing. This appreciation and desire to help others would stick with us throughout our lives. We lived like this for years, happy, relaxed and together.
But on Boxing Day 2004 our lives changed forever. As usual, Rob woke first in the room we shared in the resort where we were staying in Weligama, Sri Lanka. It was a quiet morning as guests were still in their rooms, recovering from the festivities of the night before.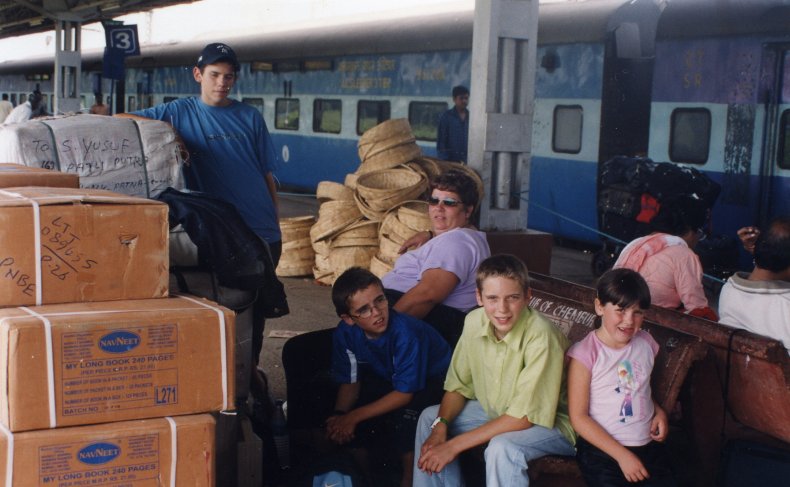 As he climbed out of bed, Rob noticed a thin layer of water on the floor. Looking out the window, he felt the tension of those outside. He saw another guest running from the beach clutching his daughter tightly, with sheer panic on his face. At this point my brother knew something was wrong and woke me up immediately.
I remember him shouting at me as I woke up in confusion. There was a rumbling sound and the ground began to shake. Water came crashing through the window, taking all the furniture with it. We desperately clung onto the walls and one another as water swirled around us. Instinct kicked in and we managed to pull ourselves up onto the roof until all movement had stopped.
After the wave hit, our first thought was of our parents and how we had to find them. Our siblings were staying in a separate room with our mom and dad that night. Rob and I stuck together as we searched for our parents, we presumed our younger siblings were with them. Amongst the devastation of the wave we eventually found our brother Mattie in a tree, crying and with a terrible cut on his face. Some hours later, we were approached by a group who had found our sister Rosie and been looking after her. The relief of being reunited with them both was incredibly emotional and overwhelming.
We spent the next 48 hours in desperation, asking people for help and looking for anything that might lead us to them. Eventually we were approached by a group of familiar faces; including a couple and staff from our resort. With difficulty, they informed us that our dad had died. We were offered help in getting home, but we didn't want to leave if our mom was still alive. Eventually my siblings and I returned to the U.K. and a few months later it was confirmed that both our parents had died.
In the years that followed, we were determined to pay tribute to them and continue their legacy to help others. We knew we didn't want standard jobs, we wanted to do more. Our loss inspired us to help others and do more in life than just exist. Our parents instilled in us a desire to adventure and a passion for giving back. As such, in 2012 we started Gandys with nothing more than an idea, which was "Don't Just Exist".
From our flat in London, we designed sustainable clothing and accessories inspired by our travels—like hard wearing backpacks and outerwear, all created with an adventurer in mind.
An important aspect of the business was that a portion of our profits would go towards building kids campuses around the world. We've set up The Gandy Foundation and been able to build and open four campuses so far, situated in Sri Lanka, Malawi, Nepal and Brazil. Although the Brazil campus is open, we haven't been able to travel there for the official opening yet, because of COVID-19.
Each campus is designed to help underprivileged children in a range of areas, including providing accommodation, education, nutrition and medication. I feel incredibly lucky to be able to give back to these children who desperately need our help.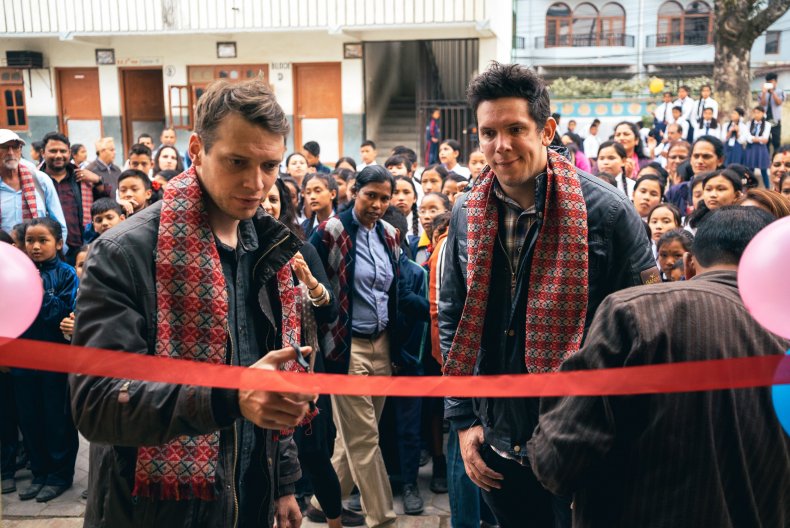 Rob and I visit campuses as much as possible and ensure we're involved with every aspect of the business. Last year we headed out to Nepal, our third campus, for the official opening. In 2015, Nepal suffered one of the worst earthquakes in history, and my brother and I know all too well the devastating impact of a natural disaster.
We spent time with the children and toured the country, discovering more about the brilliant people and incredible landscapes. It's magical to see how we've helped the children, and to see them thriving inspires us even more.
Our focus moving forward is to continue to support our campuses and their communities throughout COVID-19. For countries like Brazil and Nepal, the impact is devastating.
Under government guidelines in Nepal, relief packages have been sent out to Nepalese citizens, however those without official identity papers have been excluded.
Brazil has the second highest number of COVID-19 cases worldwide because of the poverty there. When disaster struck us in 2004, there were people to help. So now, we want to help others.
So far we've managed to support Nepalese and Brazilian communities through distribution of food relief packages. These consisted of vital supplies including food, water, soap and masks.
We're so proud of how far Gandys has come. With the support of our community we will continue to support others, through COVID-19 and beyond. We pride ourselves on honouring our parents and hope that our story inspires others to give back, and do what they can to make a difference.
Paul Forkan, 30, is the youngest brother and co-founder of Gandys London, a brand that helps and supports underprivileged children around the world. He lives and works in London. Gandys can be found on Instagram @gandyslondon
All views expressed in this article are the writer's own.