I've always had a passion for sneakers because I grew up skateboarding, and sneakers are a really big part of that culture. I'll never forget the first pair I bought for myself. They were a navy and yellow pair of éS "Diodes" and I remember wearing them to school in Ontario, Canada and everyone being so impressed because they really were awesome sneakers.
But my big plan growing up was to go and work for Disney, so I actually studied animation. But once I got into that industry I realized that a lot of the work is contract based, so it can be hard to be employed consistently.
Then, in 2009, my uncle called me up and asked if I wanted to check out what he did for work, he said he thought I would enjoy it because I'm a social guy. I knew him as a fun uncle with a bunch of great stories, but it was only then that I found out he sold shoes.
My initial reaction was that I didn't want to be a shoe salesman. I'd always pictured becoming this great animator or creator of a TV show. I didn't want to be someone who went around trying to haggle with people. But my uncle took me on all these sales calls, and it turned out to be a lot of talking and hanging out and I ended up being in charge of a brand with ties back to the skateboarding community, so that was pretty cool.
After that, I worked for a fashion brand for seven years, and began to notice that all of the sneakers this company made had EVA or TPR outsoles, they were essentially made of plastic. I started doing my research and discovered that there are more than 20 billion pairs of sneakers made each year. And most of those are going to end up in landfill if there's no way for them to decompose, so we have a really big problem on our hands.
I wanted to work towards changing that, and that's what led to the idea of the Johnny brand. There are some fully biodegradable shoes, and a lot of companies are starting to make a shift towards being green. But I found that the footwear companies creating shoes with a green spin weren't leaving a great impression on me. I wanted something fully biodegradable that you can still wear with any outfit, that people will still think is a great shoe without noticing that it's biodegradable.
My original idea was actually to launch a sandal, I thought I could make hundreds of thousands really easily, make them really affordable and have a bigger impact. But I started realizing that Canada has a very limited market for sandals, we only have around two good months of summer each year. So I went on to create a slide and then different fashion sandals, and then about two and a half years ago I pivoted to a sneaker, which was really where my heart was anyway. Sneakers represent my culture and what I'm always wearing. I started tweaking the design and five iterations later, the prototype was ready.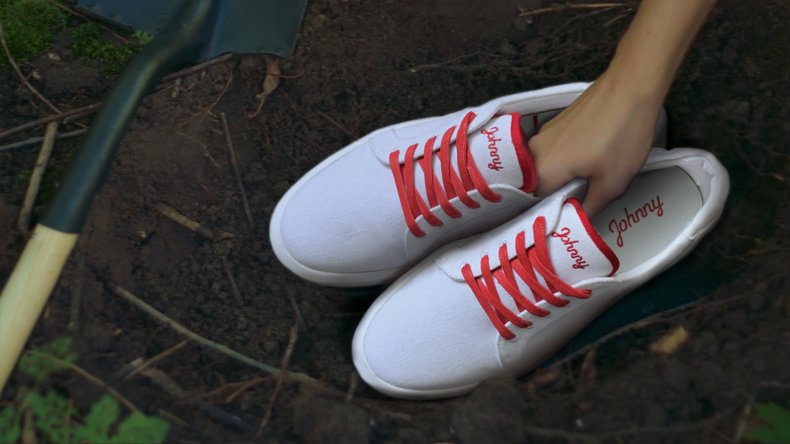 I wish I had a really cool story about the apple tree seed, but I was actually just on a long drive to Ottawa to visit a friend and I was going over the idea of biodegradability and how not all biodegradable products have been super successful. I was wondering what I could do to change that, while simultaneously thinking about how you need to plant the shoes in the ground in order for them to decompose.
It suddenly hit me that if you're going to plant the sneakers in the ground anyway, why not have a tree seed in the sole of the shoe and have it grow into a tree. That does a couple of good things. Number one, it makes people pay attention to the biodegradability aspect of the sneaker, but it also helps offset your carbon footprint. You're helping the environment by creating more oxygen. The only issue I had was that not all seeds will germinate, and that's just part of nature. So that's why we are also going to commit to the planting of a tree for each pair sold, just to make sure we are offsetting that carbon footprint properly.
People have asked if apple trees will grow in landfills if people throw the shoes away and the idea of having a bunch of apple trees over landfill does make me happy. But the truth is, landfills compact everything, so that environment would suffocate the apple tree seed. The shoes will still decompose, but the tree won't sprout. It will be buried under a large number of metric tonnes of dirt and other rubbish.
Our biggest challenge has been letting people know that the shoes won't biodegrade on their feet. For the shoes to decompose, they need a mixture of moisture and constant pressure underground, for an extended period of time, so people don't need to worry. We have had third parties test the sneakers, and they have told us that they will be 53 percent biodegraded after 18 months and completely biodegrade after three years. But it depends on the climate the shoes go to. If you plant them in the Arizona desert they probably won't biodegrade because it's too dry.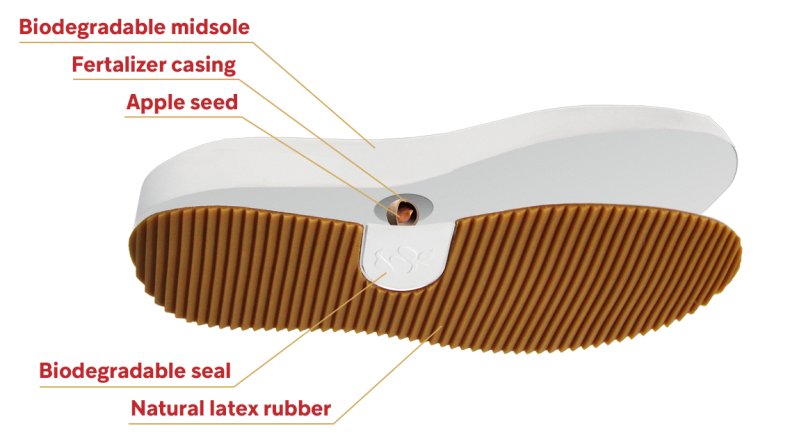 When you wear them, they will act like any other sneaker. We have modelled that they should last about three years, though some people go through shoes faster than others. It's pretty much on par with the average sneaker, but it depends on how you wear them. I have gone through sneakers in a year because I wore them every day and I have boots that I've had for five years because I only wear them 20 days a year.
Everything should have launched a year ago but then the pandemic happened. As soon as COVID hit, the two factories I had lined up weren't able to produce for me any more, so I got a little stuck. But I have a good friend who works in China and he helped me get the ball rolling again.
The Johnny sneaker is currently available in two colors, black and white, for both men and women and eventually we want to create kids sizes. If you pledge through our Kickstarter, the sneakers will be shipped to your door by August 2022. I would like to eventually get into different types of footwear and we would like to go to market but we still need to get the sizing and other little details finalized, and that will still take from here until August to get completely right.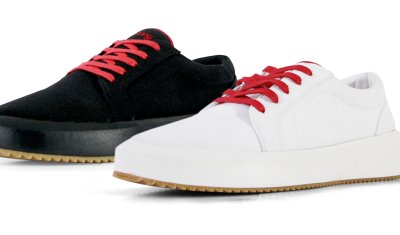 I think, like most creative people, as long as you have an outlet, that's all that matters. Whether I'm creating shoes or artwork, both are satisfying in different ways. I'm a painter as well and now I get to have that outlet and enjoy it, without it being work.
I left my job recently to work on this project full time; I'm jumping in with both feet to see what we can do with this. But I don't even think about where it could go in terms of money, the biggest thing for me is making a change in the industry. Many of us do our part when it comes to recycling, reducing and reusing, but in order to really have impactful change we need to influence industries to change.
As long as you're passionate about something, good things will follow. What I really wanted to do here was show everybody that we could do things differently, and do them better.
Luc Houle is the founder of Johnny, a biodegradable footwear company. You can find out more and order a pair of the sneakers here.
All views expressed in this article are the author's own.
As told to Jenny Haward.