'I Married My High School Sweetheart After We Learned She Had Terminal Brain Cancer'
Nikki and I both grew up in the same small town of Sturgis, South Dakota. We met in eighth grade, but we only started hanging out and really caught each other's eye in the summer before my senior year of high school in 2009. That's when everything clicked.
We started dating, Nikki graduated and went on to college about a 30 minute drive away in Spearfish, and I followed her. I got a job and an apartment, and Nikki moved in while she was doing her classes. She decided that college wasn't really for her, so we moved again to Rapid City, which is also in South Dakota, and we've been living there together ever since.
In July this year, Nikki was having regular headaches and was feeling a lot of head pressure, but she thought it was sinus problems. She saw an ear, nose and throat (ENT) specialist but they couldn't find anything wrong.
We were both at work on July 31, when Nikki texted me saying she was having a bad anxiety attack. We were texting back and forth and I was trying to help her calm down. But then she called me to say that she couldn't shake the feeling that something was really wrong and that she was going to go to the emergency room. The next text said she was definitely going to the ER and then five minutes later I got a text that just said: "Help".
I drove as fast as I could across town to her workplace to find that a co-worker had taken Nikki to the ER. She was having problems communicating and she couldn't tell the doctors where she worked, but when I showed up at the hospital she calmed down enough to start talking in sentences. At that stage we didn't think it was anything more than a panic attack, so Nikki told me to go back to work and her mom stayed with her.
About two hours later Nikki called me and told me they had found a mass in the center of her brain and that it was connected to her spinal cord, which meant it was inoperable. She got a priority referral to the Mayo Clinic in Rochester, Minnesota so we packed the car up, took the 10 hour drive and spent a week in a hotel there while she had a biopsy done and they were able to release the spinal fluid that had been trapped by the tumor growth and take the pressure off her brain.
That was a really long week. Nikki was going to the Mayo clinic every day with her mom for MRIs and consultations, so I was waiting in the hotel room to get word. The doctors had prepared her for a worst case scenario, telling her that it was very possible that it was cancer. But not having been able to go to any of those appointments with her due to COVID-19 restrictions, I was very optimistic, trying to keep both of our spirits up.
We returned to South Dakota and Nikki was really tense, but I was still hopelessly optimistic that everything would work out. So when we had the video conference with her doctor in August and he said that Nikki had a rare and aggressive type of cancer, Nikki was a lot more prepared for the diagnosis, but it really took the wind out of me. She has been diagnosed with a H3K27M mutation glioma which is classified by the World Health Organisation (WHO) as a grade 4 cancer due to it being incurable and so aggressive.
We had planned to get married in 2021 and I'd already proposed, but our plans had been postponed because of the pandemic. That day, July 31, when Nikki called me and told me she had a mass in her brain, she had to stay overnight in the hospital so they could keep an eye on her. She sat up in her hospital bed that night and asked me to marry her straight away. Of course, I just said: "Absolutely."
Nikki's best friend Hannah got married three years ago, and she's pretty close friends with the wedding photographer she used, Sandra Nichols. When Nikki wanted to get married immediately, Hannah contacted Sandra and asked her whether she could help us to put together a wedding at really short notice and on a very small budget. Sandra said that she would take care of it.
All of a sudden, we had a DJ, a location, Sandra was doing the photos, Nikki had a dress and we had flowers. It was amazing. Nikki had created a Pinterest board with the colors and styles she liked, which I contributed to as well, but she was in Rochester for her chemotherapy and radiotherapy for around six weeks. That entire time Hannah and Sandra were planning the wedding with a wedding designer called Justin Straw. Everyone supplied their services or items for free, the catering was the only element we had to pay for.
It's been amazing how people have rallied around Nikki, it really restores your faith in humanity and makes you see the good in people. Especially with everything that is going on in America right now. It's really refreshing to see all the kindness and goodness that people can exude when someone gets this kind of bad news.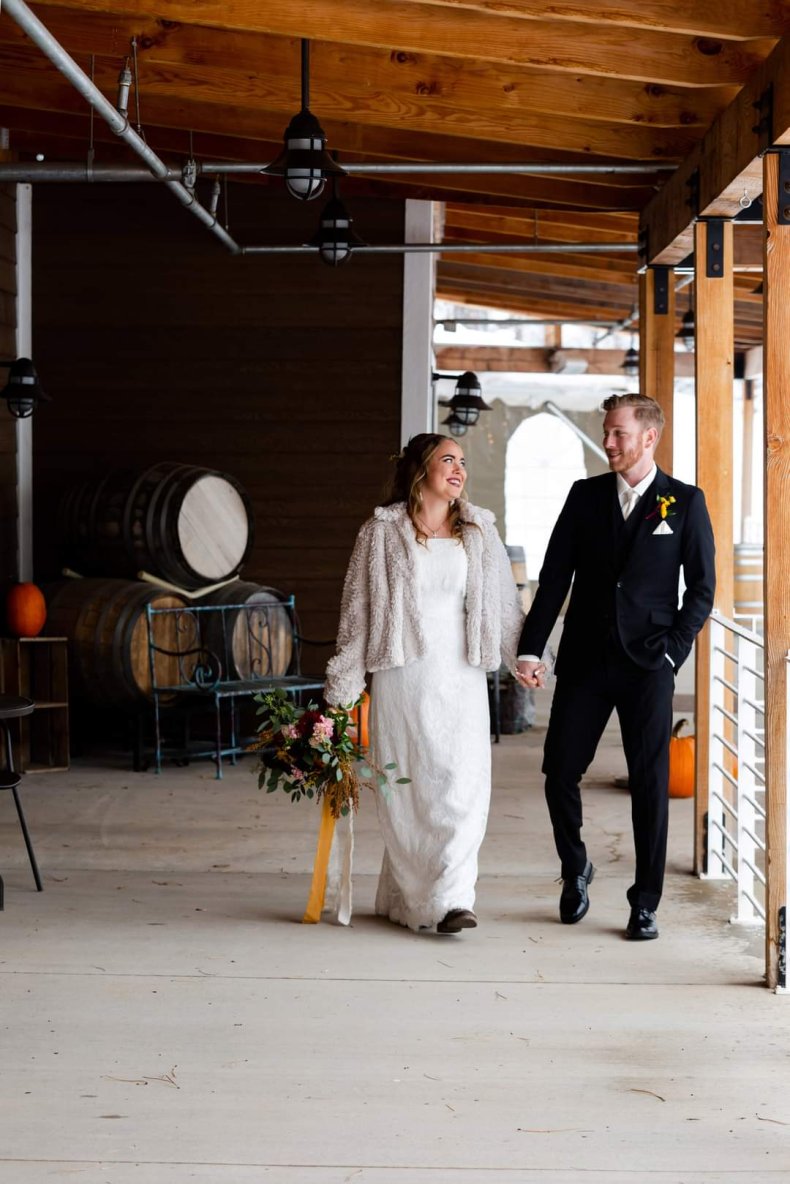 The wedding was held on October 18 at Prairie Berry winery in Hill City, South Dakota, where Nikki had always wanted us to get married. I felt so happy standing at the altar that day, I just couldn't stop smiling. Nikki lit up the room when she walked down the aisle—I couldn't focus on anything but her.
We had a reception after the ceremony but we were only allowed to have a maximum of 30 people at the venue because of COVID-19. So, Nikki had 26 family and friends and I had four, but she has a bigger family. Nikki had a lot of energy during our wedding day, we danced until nine pm and she was all smiles—it was such a great day.
Since then, she has had her down moments but I just try to be around, give her hugs and help keep her going. She travelled back to Rochester for follow up MRIs and blood work on October 30, but when that's done going to talk about when we might have our honeymoon. Nikki's dad and step-mom actually found some cabins in the area, so they're going to hire a cabin for the two of us to stay in for a couple of days.
We don't officially know what Nikki's life expectancy is, the doctors told her that they don't want to put a number on it. But through our own research on her specific type of glioma mutation we discovered that the life expectancy is typically less than a year from diagnosis.
Brain cancer treatment can cost anywhere up to $150,000 annually, and our medical insurance through work is changing, so it should end up costing quite a bit. Hannah has set up a GoFundMe page and we're just trying to get as much as we can ahead of time, so we can keep paying for the treatment for as long as we can.
Nikki actually said that through all of this the biggest thing she has learned is how many people lose their lives to brain cancer. She has wondered why that isn't talked about more. We talk about other cancers a lot, but brain cancer isn't mentioned as much and she feels it needs a lot more attention.
For now, she has a whole bucket list to tick off in the coming months. Much of it is locations she wants to see. She wants to go to Estes Park in Colorado and she'd love to visit Disney World. With it being winter and the middle of a pandemic, a lot of that stuff is off the table right now. But, Nikki has said the most important thing for her was to get married, so we've ticked that one off the list.
It's not fun to think about how little time we have left, but I'm going to keep her spirits up as much as I can, for as long as I can. I'm not going to let her give up on any treatments or stop fighting. She's wanting to fight everything tooth and nail too, so for however long we can do it, we're going to fight.
David Rhoades and Nicole "Nikki" Weiss live together in Rapid City, South Dakota. They married on October 18, 2020. To support Nikki and David with medical costs, visit The Nicole Weiss Medical Fund on GoFundMe.
All views expressed in this piece are the writer's own.
As told to Jenny Haward.