'We Met in Virtual Reality' Director on How VR Creates 'Pure' Relationships
Virtual Reality is helping bring people closer together, even when they are thousands of miles apart, Joe Hunting's new HBO film has shown.
We Met in Virtual Reality was filmed entirely in the virtual world platform VR Chat during the COVID pandemic, and Hunting follows the journeys of six people within it: ASL teachers Jenny0629 and Ray_is_Deaf, and couples DustBunny and Toaster, and IsYourBoi and DragonHeart. Both couples met while using VR Chat.
Hunting spoke to Newsweek about the process of making the film and how VR technology gives those using it a better way to connect in the modern world, compared to other forms of technology.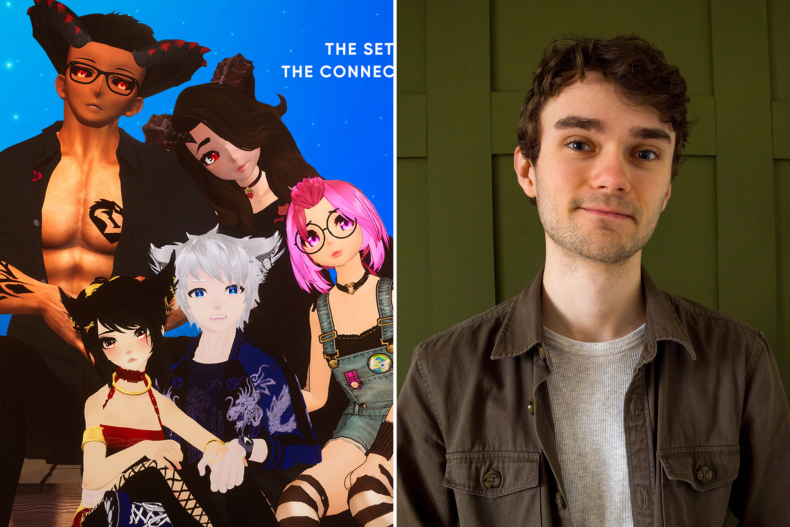 'We Met in Virtual Reality' Director on How VR Creates 'Pure' Relationships
"I think one of the biggest influences for me in making the film and spending so much time inside a headset, with full body tracking, and socializing with people in a very tangible and pure way, in 3D avatars and in 3D worlds, [is that] you are not speaking to someone through text, and you're not speaking to someone on a flat screen video, you're standing and you're looking at them," Hunting said.
"I'm looking over my camera monitor to see them and the tangible space, and it's a much more real interaction that you're having and so I think that, in itself, we're able to improve and understand and see ourselves, and our socialization, in a much more pure way that is beneficial to how we engage with that in reality.
"And so, in my opinion, that fundamentally is such an improvement on how we connect online, instead of, you know, reading someone's language through text, or a video call."
He went on: "I remember when I finished the documentary, after working full time in VR in that space, and I took a video call and suddenly I felt like, this is rude, but I felt like an elderly person who's using FaceTime for the first time and it was really disassociating, and I felt so far away from the person I was speaking to.
"That was a real wake up call to that message of, oh, wow, I've been feeling like I've been socializing so much this year in VR, to the point where when I see a real face on a flat screen I feel so far away, and I think that's really fascinating.
"There's a lot of positive and negatives with that, I'm not saying it's purely positive, but that's certainly a message that I've realized."
Hunting joined VR Chat in 2018, and during his time using the platform, the director has made several short films and a documentary series titled Virtually Speaking, all of which led him to making We Met in Virtual Reality.
"I was working on that series full time," Hunting said of Virtually Speaking. "I was in VR all the time, and the relationships and the people that I was working with for that series became so close to me because, you know, they were the only people I'd see some days, even though it was in VR, and that was a really inspiring moment to be in.
"And I felt like I should seal that time in a time capsule because it was so special, how meaningful those relationships were, and I very quickly dropped everything and decided to make a feature film. I felt there was no better time to make a feature about VR, and its values and how it can bring us people and community especially during the pandemic."
The filmmaker met Jenny and Ray through Virtually Speaking, and he was so inspired by the pair and their dedication to teaching sign language that he knew he wanted them to be a part of We Met in Virtual Reality as well.
Hunting said: "I was so inspired by them, and their attitude towards teaching in the positive community that they were really pioneering. I wanted to capture that, and I knew straightaway that there was a story to be told there and so they were the first people I filmed with in September of 2020."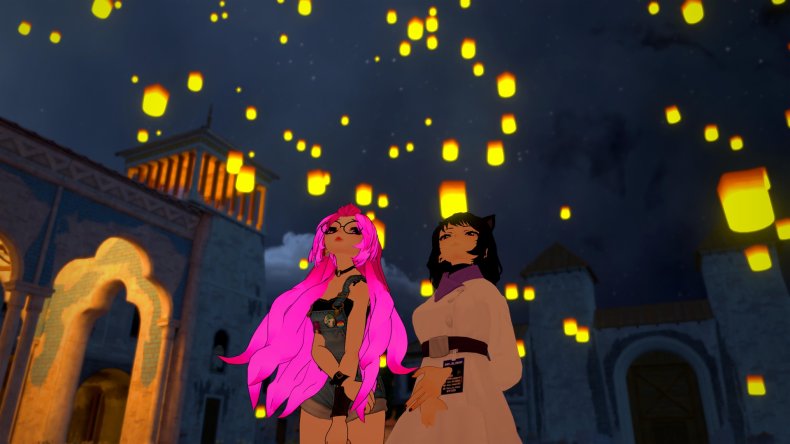 DustBunny, who teaches dance classes within VR, connected with Hunting during a VR dance battle, and she introduced him to her partner, Toaster. The couple used VR Chat to keep in touch during the pandemic because they were unable to travel between the U.S. and Canada to see each other.
"What they were going through in their relationship in the pandemic, and how they were using VR just spoke so much truth to me, and what VR was to me during that time, and how it can be positive and used for intimacy and for relationships," Hunting said of the pair, who now live together in real life.
The same went for IsYourBoi and DragonHeart, who live in two different countries, but began dating in VR and even got married in VR Chat, and they have already made plans to marry each other in reality in the future.
"Very quickly, you know, they became the heroes," Hunting went on. "And that decision was really based on how strong they were speaking about their story, and how relatable they could be, not for just VR audiences and for those who knew what the technology was, and have been in it before, but also for people outside of the technology as well. That's really the key of why I chose the subjects that I did."
He went on: "Just to speak personally, VR has brought me so much in my life that I'm extremely grateful for that I probably would not have been able to have had such easy access to in the physical world.
"I had no real reason to learn sign language, or access to a deaf community or any people in that world, until I found VR, and that's been a huge influence on my life and my linguistics as well.
"And I think it's that for many people, I'm certainly not alone in that conversation and for many people in VR chat that is one of the biggest appeals and reasons to join the platform, is to learn and meet new cultures, meet new people and be excited about that."
Bringing People Together
When asked how he felt about those who may not understand VR and how it could bring people together, Hunting added: "I think first of all, everyone is entitled to their own thoughts. So, I have to push an agenda, but what I hope is the documentary will open those minds to a new way of finding community and finding support, and how we can use this new technology for good and for teaching and for education.
"It's really there to open minds and enlighten people on what that could do for us if we treat it in the right way and raise it the best way we can for the future. But I think we'll always have those reactions.
"And in many ways, I think, people being nervous and shocked about this technology and how it's affecting us is good. It should be starting conversations, because there should always be a balance, and, so, that's really important to me.
"That side of the spectrum is actually really beneficial in many ways, because balance is important and so I hope [the film] pushes a positive agenda whilst also recognizing that we do have to leave VR and see these people in the physical world as well."
Looking to the future of VR technology, Hunting shared: "I think VR is just going to get much more popular, and through popularity we'll have more content, more worlds, more creators, more avatars to choose from, more people to find relationships with, more communities and growth."
He added: "It's hard to predict, but I think it's not going to slow down. If anything, we're going to see an increase of people using this, maybe we'll see dating apps that, you know, use VR as a tool to connect people online.
"There are many ways that this technology will grow and be used, but it certainly won't be leaving us. I think VR will be as successful as a smartphone in the future, and a place that we use on a daily basis."
We Met in Virtual Reality is out on HBO Max now.