We Must Do More for Children Seeking Safety at Our Borders | Opinion
Over the past few weeks, we've seen devastating images of children and families fleeing war and violence in Ukraine, seeking refuge in neighboring nations. It is an unimaginable prospect for these children, and one that is unfortunately all too common. Every day, in regions all across the world, violence, instability and poverty force children to flee their home countries to find safety. Wherever they run to, each child deserves to be treated with dignity and compassion. But all too often, that does not happen, even in the U.S.
A year ago, we stepped into a trailer near the dusty, southern tip of Texas and listened, heartbroken, as children—some as young as 5—shared the painful details of how they were being treated. These children were seeking refuge in our country, and we were failing them.
As lawyers who represent all immigrant youth in U.S. government custody, we traveled to Donna, Texas, in March 2021, to investigate reports that the temporary detention facility set up there by the U.S. Customs and Border Patrol (CBP) to process unaccompanied immigrant children was overcrowded, unsafe and inhumane. No attorneys or press had been allowed in the facility or had spoken with the children detained there. Despite repeated requests, the government did not allow us to enter the facility, either. But they could not stop us from speaking to the children. And so we did. For many hours, late into the evening we listened to their stories and did our best to comfort them.
We tried to conceal our shock, distress and tears as child after child, all of them scared and confused, revealed what was happening to and around them. We heard from young boys that conditions were so overcrowded they had to take turns sleeping on the floor. One child estimated there were 75 children in a single cell. A young girl described being unable to sleep because the room was so cramped, and then getting in trouble when she spoke up about it—told that she'd be sent back to her home country and would not be allowed to call her sister. Another child, who had not been outside for more than six days, told us that she looked forward to taking a shower because it was the only time she could see the sun. Others, still wearing the filthy clothes they had arrived in, hadn't been allowed to shower since they crossed the border many days prior. The children didn't know if it was day or night. Child after child reported they had not been permitted a single phone call to family. They told us they were often surrounded by the sounds of very young children crying—with only other children to comfort them.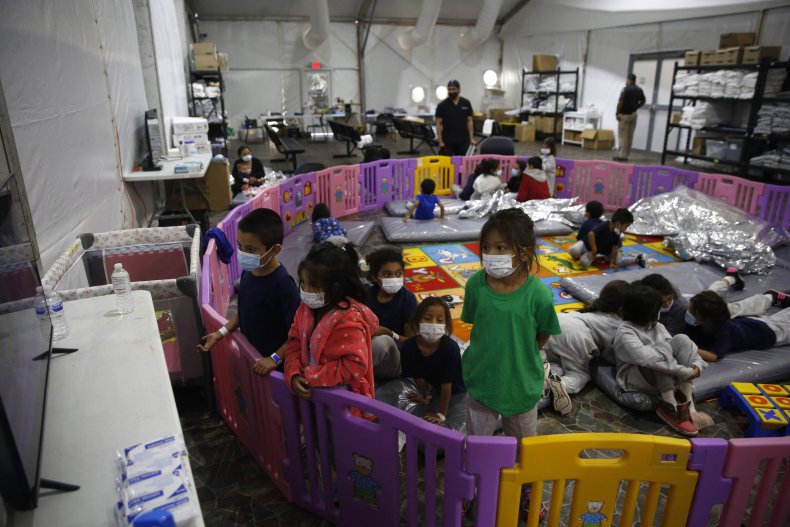 While we did not have a clear understanding of the degree of overcrowding while we were onsite, we later learned that the facility, designed to hold approximately 250 children, held more than 1,800 at one point. This staggering truth did not surprise us given the first-hand accounts we heard from children.
A year later, we remain profoundly impacted by our visit to Donna—and deeply concerned that we will continue to see inhumane treatment of children in government custody in the future, though it may take a different form. While the current administration succeeded in mitigating overcrowding in border patrol facilities soon after our visit, it has condoned the ongoing use of massive, unlicensed facilities. These facilities opened in the wake of the abuses at Donna and were intended to be used only for a short time. Not only has the government failed to signal a commitment to ending the use of these facilities, it has communicated an intention to keep using them indefinitely. Are we supposed to accept that since conditions are less horrifying, and lengths of stay have decreased, that this is good enough?
The root causes of child immigration are complex and multifaceted, and many of the drivers are outside our control. But what is squarely within the federal government's control is the treatment of children when they're in government custody.
The federal government not only has the ability to provide basic care for these children, but the moral and legal responsibility to do so. Stories of unaccompanied immigrant children being held in unacceptable conditions have cycled in and out of the news over the past few years. But when the media attention turns elsewhere, there are still children suffering in government custody. It shouldn't take a deluge of despairing headlines for the public to care.
Children must be swiftly moved out of custody and into the homes of loved ones. For children who do not have potential sponsors who can care for them, the government must ensure placement in foster homes where children can live in home-like settings, in communities.
Caring for immigrant children is not a political issue. It is a child welfare issue. A year after we witnessed the atrocities at Donna, we call on this country to finally stop the cycle of harm and consistently care for children in government custody with the same dignity, respect and humanity that we'd afford our own children.
Leecia Welch is deputy litigation director at Children's Rights.
Neha Desai is senior director, immigration at National Center for Youth Law.
The views expressed in this article are the writers' own.