We Must Provide Security to All People of Faith | Opinion
As we approach the Jewish New Year, or Rosh Hashanah, and subsequent High Holidays, Jews across America will gather in synagogues and homes in the largest numbers since the antisemitic hostage crisis at a synagogue in Colleyville, Texas, in January. Security is a critical priority at a time when antisemitism in the United States is on the rise.
Last year saw a 34 percent jump in antisemitic incidents nationwide, according to an ADL audit. Though Jews make up only slightly more than 2 percent of the U.S. population, recent FBI statistics document that nearly 60 percent of all religiously motivated hate crimes in the U.S. target the Jewish community.
In just the last six months, the Secure Community Network (SCN) has assessed more than 4,100 potential risks near the more than 12,400 Jewish centers of life in the U.S. After careful analysis based on national best practices for determining credible threats, SCN referred 365 incidents or individuals to federal law enforcement for further action—a significant portion of which were in or around the nation's capital. In a country that cherishes freedom of religion as a core value, this level of antisemitism is a shameful reality.
Jews face an extreme threat, but not an exclusive one.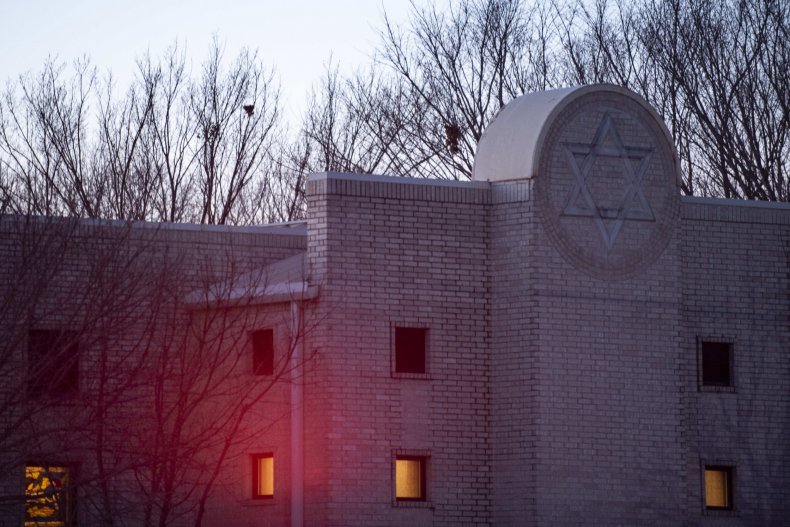 Many who perpetrate acts of antisemitism are "equal opportunity haters," as evidenced by the anti-Black and anti-Jewish manifesto found after the tragic shooting in Buffalo, N.Y. In this post-Colleyville climate, sharing security lessons for all faith-based communities is vital.
We must prioritize caring for and learning from one another, even and especially in the worst circumstances, because we know that the security measures that safeguard Jews can benefit other institutions, as well.
That is why we share so much information about security with other faith-based organizations. This mutual support ensures that everyone who wants to live a life of faith can do so safely, with security approaches that emphasize best practices and protect civil rights. Together, we can keep our facilities secure while still providing welcoming and inclusive spaces for everyone.
In 2019, The Jewish Federation of Greater Washington partnered with SCN to further develop best security practices for the Jewish community in the national capital region. SCN operates the 24-hour National Jewish Security Operations Command Center and leads full-time security programs in dozens of communities through the Jewish Federation system.
Over the course of our partnership to date in the nation's capital, The Jewish Federation of Greater Washington and SCN have conducted 70 comprehensive security assessments at Jewish facilities; helped more than 40 community organizations obtain in excess of $7.2 million in funding from the federal Nonprofit Security Grant Program; and conducted 221 trainings for 7,351 people at synagogues, Jewish day schools, community centers, early childhood centers, and summer camps.
There are three key security steps that are universally applicable to all faiths interested in enhancing their security protocols.
First, if you see something, say something. Americans deserve to practice their faiths freely and safely. As neighbors, we each have the responsibility to report suspicious activity we witness at religious facilities or against faith-based communities, even if we are not members ourselves. Call 911 in an emergency, and report suspicious activity to SCN's Duty Desk at 844.SCN.DESK.
Second, take advantage of opportunities to get trained. Nationwide, SCN conducted security trainings for over 17,000 individuals in 2021 and has trained more than 34,000 already in 2022. These trainings teach how to identify and report suspicious activity, know what to do in the event of an active threat, and provide lifesaving first aid. Many of these training courses are open to those beyond the Jewish community—to help participants build personal confidence, preparedness, and resilience in the face of crisis or emergency. Check with your organization to see what resources may be available to you, or contact SCN to request assistance with training, grant applications, or assessments.
Third, commit to action—now or during an emergency. Whether volunteering for your organization's security committee, donating money to a security campaign, or asking your institution how they're prioritizing security, the dedication shown in these actions translates directly to the level of security in a community. In a crisis, committing to action means drawing on training to evaluate what to do and follow through boldly and decisively.
Regardless of your religious identity or affiliation, this Jewish New Year, we can all commit to uphold the security of all faith-based institutions. Practical planning and security preparedness can make a lifesaving difference.
Michael Masters is the National Director and CEO of the Secure Community Network. Gil Preuss is the CEO of The Jewish Federation of Greater Washington.
The views expressed in this article are the writers' own.