We Must Shore Up Domestic Semiconductor Supply Chains. Our National Security Depends on It | Opinion
Semiconductors underpin America's digital economy and advanced military. From vehicles and smartphones to radars and fighter jets, these chips are essential for U.S. national security. Foremost among these chips are leading-node logic chips, which the White House notes are critical in "paradigm-shifting technologies" affecting national security and long-term competition with strategic rivals like China.
Currently, however, the mineral supply chain for these chips is concentrated in China. Moreover, bills like the CHIPS Act that seek to bolster semiconductor supply chains mainly target semiconductor fabrication, not mining and refining.
It is essential then that the U.S. government increase America's domestic capacity for critical mineral extraction and refining to bolster our semiconductor supply chains.
So why are these particular chips so important? The answer is simple: computing power. All advanced electronic devices need computing power, and logic chips provide computing power. For example, the central processing unit (CPU) of your ordinary computer, essentially its brain, is a logic chip. Furthermore, leading-node logic chips stand out because they are generally more efficient than older mature-node logic chips.
In other words, leading-node logic chips are optimized for advanced technology. A Boston Consulting Group study found that these chips are "used in most sophisticated electronic devices—such as data centers, networking equipment, PCs, smartphones, smart 'edge' devices with machine learning/artificial intelligence capabilities, and automotive advanced driver-assistance systems."
Such emerging technologies will reshape the U.S. economy. For instance, the wide adoption of automated vehicles, which will have a $1.2 trillion economic impact on the United States, requires leading-node logic chips.
These chips are also necessary to maintain the U.S. military's technological edge. Will Hunt, a research analyst at Georgetown University's Center for Security and Emerging Technology, explains that leading-node logic chips "are required to ensure that the Department of Defense, the Department of Energy, and the intelligence community continue to field the most advanced computing capabilities."
Yet the supply chains for leading-node logic chips are predominantly in Asia. No U.S. firms manufacture these chips, while Taiwan's TSMC's manufactures 92 percent of global capacity and South Korea's Samsung manufactures the other 8 percent.
Critically, China largely controls the foundational minerals that are necessary to fabricate leading-node logic chips. In 2021, China produced 98 percent of all gallium, 71 percent of silicon, and 41 percent of arsenic. Chinese firms, besides controlling 80 percent of global cobalt refining, also control half of the Democratic Republic of the Congo's cobalt mining—nearly 25 percent of global production.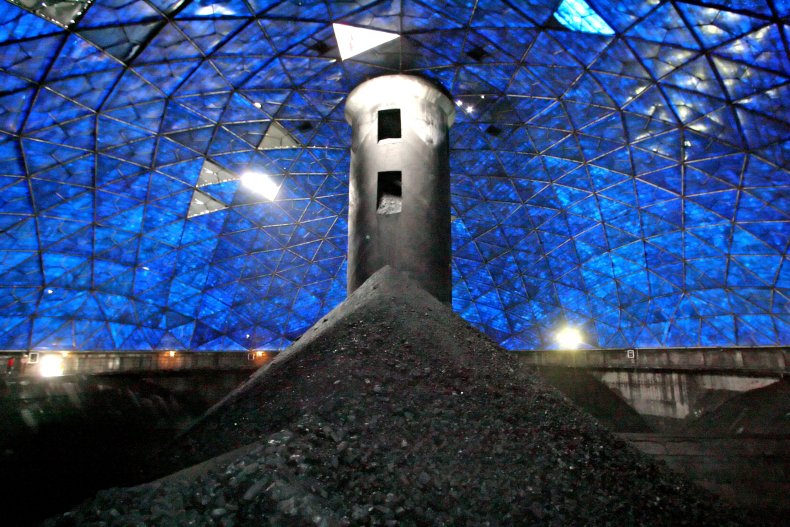 China also holds significant reserves of the minerals necessary for semiconductors: 51 percent of global tungsten reserves, 24 percent of antimony, and 37 percent of all rare earth elements. As Chinese leader Deng Xiaoping said, "The Middle East has its oil, China has rare earths."
Beijing isn't afraid to use its supply control as a geopolitical weapon. In 2010, amid a diplomatic dispute, China imposed an unofficial export ban on rare earth products to Japan. Then, during the U.S.-China trade war in 2019, the Global Times, a mouthpiece for the Chinese Communist Party, noted that "China's monopoly on the production of rare earths will help Beijing control the lifeblood of the U.S. high-technology sector." The article further remarked that reducing rare earth exports will "make the U.S. economy feel pain." Later, China's economic state planner warned that Beijing could restrict rare earth exports as a "counter-weapon" against the United States. Now, China is reportedly considering export controls that target the U.S. defense industry.
But even if China doesn't exploit these vulnerabilities, U.S. mineral supplies for leading-node logic chips face market risks. During the post-coronavirus economic recovery from early 2020 to September 2021, ruthenium and iridium prices increased over 100 percent, while silver and palladium prices increased by 40 percent. Price volatility, among other factors, will increase supply chain disruption risks, especially as demand increases for clean energy technologies that use critical minerals.
Given such geopolitical and market risks, the U.S. government is rightly concerned about supply chains for leading-node logic chips. The Biden administration highlighted leading-node logic chips in its supply chain report, and U.S. Representative Michael McCaul, ranking member on the House Foreign Affairs Committee, has urged that "We need to do all we can to develop and produce more of these tiny chips here in America that are the brains behind the innovations of tomorrow such as 5G, quantum computing, and artificial intelligence."
However, both the White House and Congress are prioritizing funds for fabrication—not mineral extraction and refining. For instance, the Biden administration recommends funding "to advance domestic manufacturing of leading edge semiconductors," but not mining or refining. Similarly, the CHIPS Act does not mention minerals, though it does note that mineral supplies may be eligible for financial incentives if they are considered "materials."
A dramatic course correction is deeply necessary if Washington intends to remain competitive in the world of critical future technologies.
Congress should pass legislation incentivizing critical mineral extraction and refining through two methods: subsidies and tax credits. Given this industry's high capital expenditure, complex regulations, and foreign competitors' use of subsidies, substantial U.S. government investment is necessary to incentivize firms to open and expand mines and refineries in the United States. The optimal course would be tax credits for the critical mineral industry, as these are inexhaustible, continual incentives, while subsidies are exhaustible, one-time incentives.
The White House, for its part, can help in two ways. First, since congressional legislation generally provides high-level funding guidance, the administration should issue detailed allocation criteria for funding critical mineral extraction and refining. Second, the administration can reduce permitting timelines affecting the industry, especially mining on federal lands. Onerous U.S. regulations affecting wages, work conditions, and environmental protections increase costs and de-incentivize domestic investment.
While domestic leading-node logic chip fabrication is important, critical minerals are what make fabrication possible. If the U.S. government wishes to both protect its national security and remain strategically competitive in the twenty-first century, policymakers must bolster critical mineral supply chains. Incentivizing mining and refining in the United States is the first place where they should start.
Shubham Dwivedi is a Fulbright Doctoral Fellow at Georgetown University's Science, Technology, and International Affairs Program. Gregory D. Wischer is a recent master's graduate from Georgetown University's Security Studies Program.
The views in this article are the writers' own.