We Must Stand Up for Tunisia's Democracy | Opinion
Since its 2011 revolution, Tunisia has endured its share of political instability, none the least of which has been the appointment of nine prime ministers and 11 governments in the span of 10 years. The country has witnessed economic stagnation and an accumulation of internal and external debt that is nearing 100 percent of its GDP.
Social unrest has been simmering due to the shrinking purchasing power of its people, deterioration of basic services and the proliferation of financial and political corruption. Stagnation has dominated most of the state's institutions (presidency, government and parliament), and all of them have been openly locked in conflicts, including during the last two years of rule by President Kais Saied. This grim scenario has understandably fueled public frustration and ire against the political class, but Saied has taken advantage of these circumstances to further inflame public opinion and incite it against politicians, parliamentarians, judges, businesspeople and the media, while unilaterally making decisions on behalf of the nation.
Saied's supporters have been preparing for popular rallies since January 2021, with the aim of overthrowing the government in Tunisia. They have been engaged in seven months of build-up and mobilization on social media platforms and have gone out to demonstrate in various governorates and in front of parliament in the capital, Tunis, though their number did not exceed a few thousand.
On the night of July 25, the president announced the suspension of parliament, dissolution of the government and the takeover of judicial powers, in a clear coup against the constitution and legitimate political institutions.
Perhaps the night between July 25 and 26 generated a sigh of relief and was welcomed by large segments of Tunisian society, but the outcome has been the paralysis of political factions and national organizations, which quickly evolved into national fear and uncertainty. After the president announced his series of exceptional measures, tanks were deployed in front of parliament and the governmental palace, and the speaker of parliament, parliament members and cabinet members were prevented from entering their workplaces. Saied placed travel bans and restrictions on access to land, air and sea borders for various businessmen, judges, politicians, ministers, parliamentarians and senior cadres in the administration, as well as hundreds of ordinary citizens, on suspicions of corruption. This is in addition to placing some 50 public figures under house arrest and referring two civilians—a parliamentarian and a lawyer—to the military court. And then began the populist rhetoric and intimidation of opponents, with terms such as traitors and agents creeping into his public speeches.
After the new measures were announced, Saied met with a group of Tunisian organizations on July 26 in an attempt to reassure them that he would respect the constitution, law and freedoms, stressing that he would adopt a participatory and democratic approach, but he quickly turned against his promises and refused since then to meet with any other local organization or political party, ignoring all calls by the latter for a clear roadmap to end the exceptional measures and clarify the parameters of the upcoming transitional period.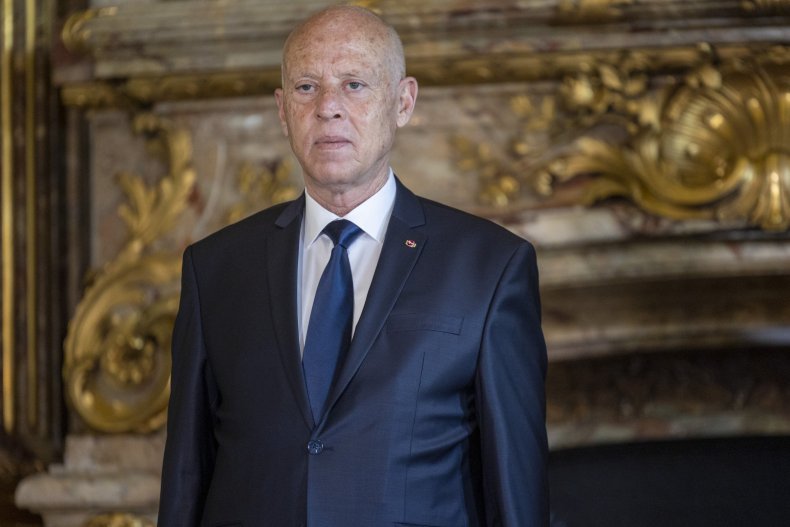 It should be noted that Saied repeatedly stated before and during his 2019 election campaign that all entities liaising between the people and the state—in other words political parties, national organizations and even independent public and constitutional bodies—perpetuate corruption and falsify the will of the people. Therefore, he does not believe in them and will seek to shrink their role and influence. Saied ignores the pivotal role played by national organizations in literally saving the country, such as in 2013, following the assassination of two political leaders, Chokri Belaid and Mohamed Brahmi. The country could have entered a phase of total chaos without the leadership of four major civil society organizations, namely the Tunisian General Labor Union, the Tunisian Confederacy of Industry, Trade and Handicrafts, the Tunisian Order of Lawyers and the Human Rights League, who led Tunisia through a comprehensive and difficult national dialogue, which in turn culminated in finding a political roadmap that all parties committed to. The quartet received the Nobel Peace Prize in 2015 in an exceptional event.
After a prolonged "wait-and-see" mode on the international arena, delegations from the United States and Europe visited Tunisia to try and gain clarity on what is happening in the country. Despite Saied repeatedly affirming respect for the constitution, rights and freedoms, Tunisians quickly understood that the reality of the situation does not reflect what was being said. The G7 nations thus issued a statement recently urging Saied to appoint a new prime minister and return to a constitutional order.
The actions taken by Saied represent threats to democracy, rule of law, institutional legitimacy and separation of powers. The consolidation of the executive and legislative powers in the hands of the president in the absence of a clear roadmap after months of a constitutional coup—and the exclusion and marginalization of political factions in the country—do not reflect in any way the participatory democratic approach he claims to be adopting.
The president's advisor, Walid Al-Hajjam, appeared on television on Sept. 10. He said Saied intended to dissolve parliament, cancel the constitution and draft a new one, temporarily re-organize public entities and fundamentally change the political system. Tunisian civil society entities that had previously been hesitant to vocalize their views are now strongly calling for a participatory approach and warning against monopolizing power and decision-making that would violate rights and freedoms.
Tunisia today is at a very dangerous crossroads and in a financial, economic and social situation that could collapse, threatening the state's very cohesion. The country has been without a government or a parliament for nearly two months. On Sept. 22, Saied announced in the official Tunisian gazette that he is ordering an indefinite freezing of parliament, continued control of all powers (executive, legislative and judicial) and that he will rule by decree and ignore parts of the constitution as he prepares to change the political system. This is a blow against the core principles and values of the Tunisian republic, threatening to bring into place unchallenged individual rule.
Today, more than ever before, and before it is too late, it is vital to unite all domestic and international efforts to support Tunisia financially and economically, to stand up for its democracy and to protect the very foundations of the republic.
The Tunisian and international community must urgently and unequivocally call on President Saied to rescind his dangerous measures, restore Tunisia's balance of power and end the path to autocracy. His actions are not only harming Tunisia's stability and security, triggering more national confusion and the possibility of an increase in violence, but will also have regional ramifications.
Saied must end the marginalization and exclusion of Tunisia's political groups from the country's decision-making processes. The solution to Tunisia's present crisis must be an internal Tunisian one, built on democratic consultation among the relevant national Tunisian factions, be they political parties, unions or civil society organizations. The deterioration that Tunisia has witnessed across all political, economic and social indicators, and the imbalance in the state's public finances, necessitates a broad, comprehensive and democratic dialogue that comprises all national forces as soon as possible. All those involved must understand that the outcomes of this democratic dialogue will be binding on all, whether in regard to the reactivation of parliament, appointment of a government, reform of the political and electoral systems and setting a precise roadmap for the next stage including election dates. The outcomes of this national dialogue must receive real support from Tunisia's international friends who share our values of democracy, rule of law, institutional legitimacy and respect for human rights and freedoms.
Ramy Salhi is the head of the Maghreb office at EuroMed Rights.
The views expressed in this article are the writer's own.