We Need to Start Talking About Trade Careers in High School | Opinion
When I was in high school, I—like many American kids—was pushed to pursue a four-year college degree. But I decided to follow another path. I had joined a Robotics club in school, which taught me something important about myself: I'm a hands-on learner. I love building things, taking them apart, learning how they work, and figuring out how to make them work even better. Once I started exploring robotics, I realized that I'm just not the type of person who would be happy sitting in a cubicle and doing the same job day after day for the rest of my life. I knew that I needed to do something different.
Instead of going to a traditional college, I enrolled at the Myrtle Beach, SC campus of PIA—School for Aviation Maintenance where I earned my Airframe & Powerplant license. With an A&P license, I can work as a mechanic in aviation, aerospace, power generation, and more. The wide variety of career paths that I could follow with my A&P license is why people sometimes call it "a license to learn." I was excited to earn my license in just 16 months, begin my career, and keep learning on the job.
I was also excited to be able to start my career without being in a huge amount of debt. According to 2022 student loan debt data, the U.S. has an estimated $1.7 trillion in total student loans owed by over 40 million people. This means one out of every eight Americans has student debt, averaging over $57,000 per household. That was not how I wanted to kick off my financial future.
By comparison, my PIA tuition, including the cost of materials, came to about $16,000 after grants and scholarships. I paid it with the help of $9,000 in student loans, which I have already fully repaid. But if I had gone to a four-year in-state college for a Bachelor's Degree, I would've paid closer to $10,000 per year, or $40,000 overall—and that total wouldn't have included the additional cost of room and board or other expenses. If I had gone to an out-of-state college, my tuition would've been even higher.
Instead, I was able to finish my schooling in less than two years, with much less debt, and begin earning a good salary in an industry that I'm excited to be part of.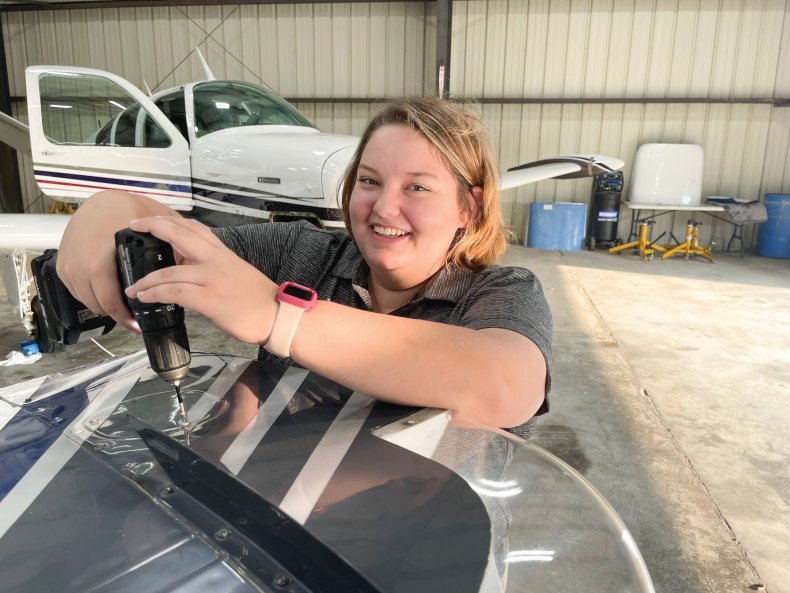 The feeling is mutual. Due to a drastic shortage of new mechanics entering the aviation industry, AMTs and avionics technicians are among the most in-demand jobs in the U.S.
How bad is this shortage? Even though the number of new AMTs is expected to increase 13 percent over the next 20 years, that will still be roughly 12,000 mechanics short of the minimum number needed to meet the operational needs of the commercial aviation industry by 2041.
As a result, aviation employers are very excited to see new talent that's eager to join the field. This was made clear during my own job "hunting" experience: Despite getting several job offers after I graduated from PIA, I had already lined up my current job even before I graduated, so I ended up declining all the other offers I received.
While people might be surprised to hear that a trade school graduate could get too many job offers, the truth is that mine isn't the only field where a lack of new entrants and a looming retirement wave is making it easier than ever to find a high-paying job without a four-year degree.
Despite this, just 30 percent of high school students say they've considered attending vocational or trade schools. This is often due to a lack of awareness; vo-tech programs are rarely discussed as viable and respectable alternatives to the traditional college expectation.
I truly believe that more young people would choose to attend trade school over a typical "four-year college to career" path if that option was talked about more often in high school. Despite focusing heavily on STEM education, schools don't always explain the different ways that students who love science, engineering and technology can make a living from it. They also don't usually explain how student loans work, how hard it can be to pay them off even if you get hired at a decent salary after college, and that you can also earn a decent salary and benefits at jobs that don't require a four-year degree.
I also believe that more young women would be inspired to enter fields like aviation maintenance if they were better encouraged to explore the mechanical trades. Currently, just 2.57 percent of AMTs identify as female. With such a drastic labor shortage in so many skilled trades, employers and educators should be doing all they can to make more young men and women aware of the value that these rewarding career paths provide.
Fortunately, my parents were extremely supportive of me attending trade school and pursuing a career in a typically male-dominated field because they saw how well I did with non-traditional learning programs. Granted, when I first pitched the idea to my parents, my dad was a bit hesitant because we didn't yet have all the information we needed to make a clear decision. But before I graduated high school, we went to the open house at PIA as a family, and all of our questions were answered. From that moment on, we all knew it was the right path for me.
I can only hope that more students will have similar discussions with their parents and receive the same enthusiastic support.
Marissa Estebanez is a January 2021 graduate of Pittsburgh Institute of Aeronautics Myrtle Beach Campus and is currently working as an Aircraft Maintenance Technician at South Carolina Avionics Services. This autumn, she will be honored as one of the 2022 "40 Under 40" Maintenance Professionals in the annual AMT awards from Aircraft Maintenance Technology magazine.
The views expressed in this article are the writer's own.