We Need a Strong U.S-E.U. Partnership To Counter China | Opinion
The United States and Europe have long shared a deep bond emerging out of our common roots, our belief in democracy and freedom, and the need to protect and defend these values around the globe. Yet in recent years, we've seen what might be perceived as a weakening of the transatlantic alliance, with America at times getting tough with our allies—and our allies at times looking to America's adversaries for succor.
We've seen a range of disputes. They include those over economic matters, such as the treatment of American technology companies in European markets, disagreements about military spending, such as the need for our allies to meet their existing NATO commitments, an occasional lack of a common approach to adversaries such as Iran and unhappiness with a series of rulings by the European Court of Justice that have upended political agreements between the U.S. and the E.U. on privacy standards. Recent polling, however, indicates that the alliance may be stronger than we think, and that citizens in the United States and Europe share common views on the single most important geopolitical threat facing our alliance: the rise of China. And this evidence of shared values comes at a particularly good time, given the Biden administration's recent announcement of a key initiative to work with our European allies on responding to China and the ongoing need for the transatlantic alliance to serve as a backstop against the very real Chinese threat.
In a poll conducted over the summer by Ipsos on behalf of the American Edge Project, both American and European voters made clear that they believe our nations share key values that China does not. By a six to one margin, Americans said that Europe shares our values more than China does. Likewise, the majority of voters in Germany and the U.K. said the United States shares their values more than China does. And these views remained steady over key issues such as the Chinese government's censorship of ideas, surveillance of political opponents and the use of state-sponsored companies to discriminate against and repress minority populations, with more than seven in 10 voters in both the United States and Europe criticizing China on these matters.
These concerns are perhaps unsurprising, given China's brutal treatment of its Muslim Uyghur population, its aggressive repression of democracy efforts in Hong Kong and its long-standing discrimination against religious and ethnic minorities. Yet the disparity between the common ground Americans and Europeans share on these issues and the paucity of actions actually taken by the alliance thus far on these matters is stark.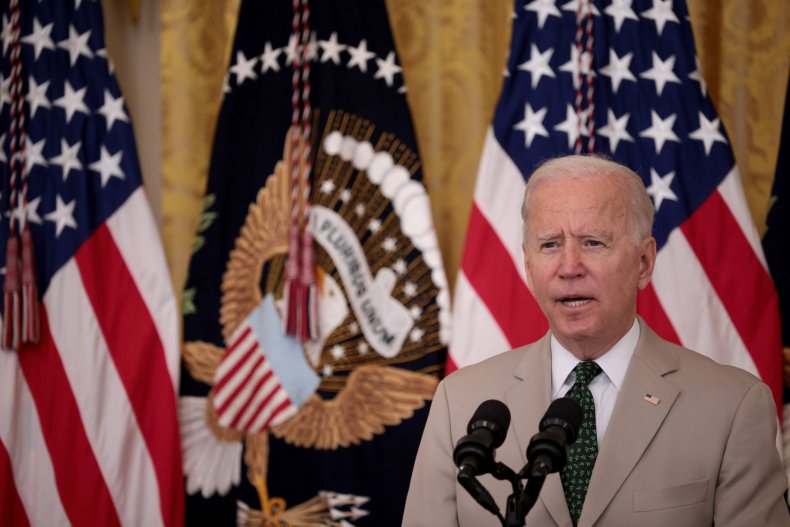 The concerns of American and European populations when it comes to China extend not only to political matters, but also to economic issues: 77 percent of American voters and 72 percent of European voters indicate that China's growing influence is a threat to our economies. More than seven out of 10 voters on both sides of the Atlantic also express concern about foreign nations obtaining a technological advantage over the U.S. and Europe—specifically, over the Chinese approach to rules governing technology and its ability to assert control over the global internet.
Again, these numbers are perhaps unsurprising given the extensive public discussion about the decades-long—and ongoing—theft of intellectual property from the United States and our allies by the Chinese government. And they also appear to reflect the increasing recognition, in the post-COVID era, of the supply chain threat posed by Chinese efforts to achieve dominance in areas like telecommunications infrastructure, semiconductor manufacturing and rare-earth metals. Yet once again, the concern expressed by voters across the Atlantic has seen limited joint action by our governments in these areas to date—except in the area of telecommunications, where the United States has seen some success in convincing some—although not all—its allies to avoid the use of providers such as Huawei and ZTE.
Given the fact that there is something of a stark divide between what American and European voters see as the threat and what our governments have done about it thus far, it is perhaps most interesting that American and European voters share a clear vision about what concretely ought to be done to confront the threat posed by China. By eight-to-one margins in both the United States and Europe, our populations believe that we must work together to protect against common threats, defend our shared values and preserve the economic, national security-related and other benefits of today's internet and related technologies.
This is good news for the Biden administration, as it reflects well on the potential opportunity offered by the new U.S.-E.U. joint initiative on China announced a few weeks ago. This new effort, centered around the U.S.-E.U. Trade and Technology Council, is focused on establishing new global trade standards for emerging technology, reducing our supply chain reliance on China, promoting democratic values online and increasing collaboration within the transatlantic alliance on critically important research and development efforts.
This new, values-based commitment is exactly what voters on both sides of the Atlantic want from our politicians—and represents the type of effort we need if we are to truly stand up to China. While the key will now be implementation, what is clear from this new data is that our transatlantic alliance is stronger than we think, and that our shared values and vision for the future can indeed serve as a bulwark against the very real economic and national security threat that China poses.
Jamil N. Jaffer is the former chief counsel and senior advisor to the U.S. Senate Foreign Relations Committee and currently serves as the founder and executive director of the National Security Institute at George Mason University's Antonin Scalia Law School. Jamil also currently serves, among other things, as an advisor to Beacon Global Strategies, was the co-author of the American Edge Project's National Security Policy Framework and previously served in a variety of senior national security positions on Capitol Hill and in the Bush administration.
The views expressed in this article are the writer's own.