'We Owe It to People': Extend $600 Unemployment Benefits Until Pandemic Ends, 114 Democrats Urge in Letter
Roughly half of the House Democratic caucus signed a letter on Wednesday urging House Speaker Nancy Pelosi and House Majority Leader Steny Hoyer to extend the additional $600 unemployment benefit that expired at the end of July.
"It has been 19 days since the weekly $600 enhanced unemployment benefits expired, leaving 30 million Americans in a lurch," the letter said. "We owe it to people waiting to get back to work across the country not only to extend unemployment benefits to help them pay their bills, but to tie these benefits to economic conditions so workers are not held hostage by another cliff like this one."
Last week, lawmakers left Washington, D.C., for their summer recess without a deal on new economic relief legislation, leaving millions of Americans without federal financial assistance as the coronavirus pandemic and economic hardships continue.
"Nearly 30 million Americans, or one in five workers, are currently relying on unemployment benefits to keep a roof over their head, put food on the table, and keep their kids healthy," the Democrats wrote.
"Since the $600 supplement has expired, countless constituents have reached out to our offices, expressing heartbreaking stories, in which they must choose between paying for groceries or their car payment," the letter added.
The House Democrats thanked Pelosi and Hoyer for scheduling a legislative vote over the weekend on U.S. Postal Service funding and asked that they also use that time to consider the proposed Worker Relief and Security Act, which "would extend unemployment benefits to those who need it and ensure benefits last for the duration of the recession by tying continued enhanced unemployment insurance to the health crisis and economic indicators."
The letter, whose signees are led by Representatives Scott Peters, Don Beyer and Derek Kilmer, noted that Congress extended these benefits 13 times during the last recession.
"As Democrats, we know how important it is to get aid to the people who need it most. While there are various proposals to extend unemployment benefits, the only way to provide financial relief to millions of Americans without being subject to political hurdles is to enact automatic stabilizers for unemployment benefits," the lawmakers wrote.
Newsweek reached out to Hoyer for comment but did not hear back before publication.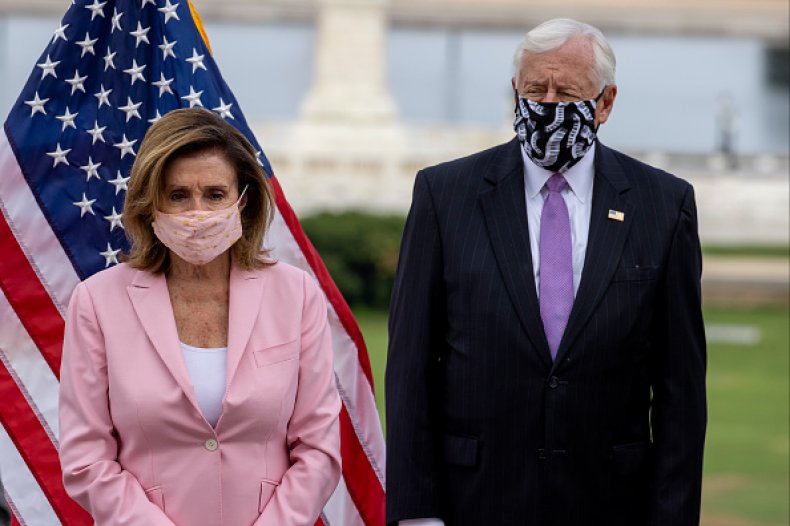 So far, Pelosi and Senate Minority Leader Chuck Schumer have been unable to come to any agreement with Treasury Secretary Steven Mnuchin, representing the Trump administration, over a new economic relief package.
House Democrats have pushed for the $600 unemployment benefits, which were approved in the CARES Act passed in March, to be extended in the next relief bill, while Senate Republicans have offered a much lower weekly $200 payment.
According to a new paper from the National Bureau of Economic Research, local consumer spending is expected to fall 44 percent without extension of the $600 payments. The paper said that even if federal aid is reduced to $200 a week, spending is expected to decline by 28 percent.
Newsweek reached out to the offices of Peters, Beyer and Kilmer but did not hear back in time for publication.